F
ind
Someone
The quickest way to find someone via Skype for Business is to start a search by typing the person's name, phone number, or IM address in the Search box on the Skype for Business main window. The results display automatically using the Global Address List and the user contact list.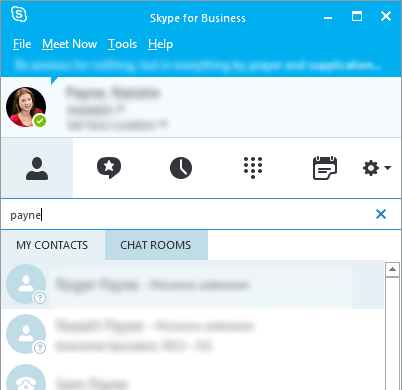 A
dd a Contact
The Contacts list simplifies communication and allows each other to see presence and contact information for the people contacted most often. To add a contact:
Using Skype for Business search, locate the person you want to add. (See previous section.)
Right-click the person's listing in the search returns
Click Add to Contact List
Click a group to add the contact to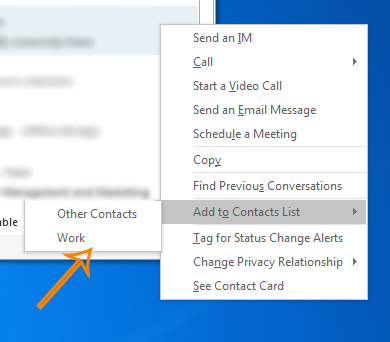 V
iew a Contact Card
The contact card contains details from a contact's company directory, such as the person's office location, phone numbers, organization, and Outlook calendar free/busy information. To see someone's card,
Find the person on your Contact list or via search
Place cursor on the photo area
Click the contact card icon (4th icon to the right)
Right clicking on the contact also provides options, such as starting a video call or sending an e-mail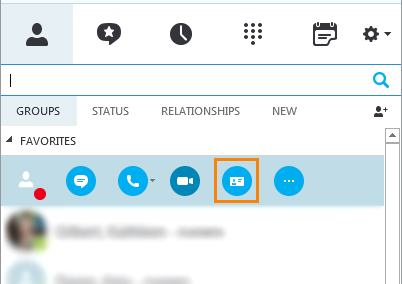 Send an IM
Use instant messaging (IM) to get in touch immediately with your available contacts.
In the Skype for Business main window, double-click the name or place the cursor on the picture area and select the IM icon (the first option)
Type the message in the message input area at bottom of the IM window, and then hit Enter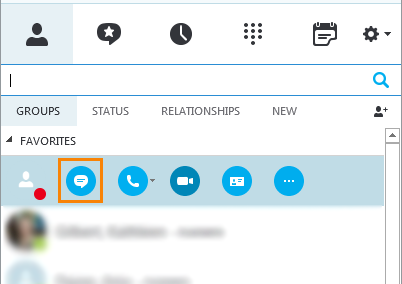 Accept an IM Request
If someone send an IM request, the request will appear in the lower right of the screen. Click anywhere on the picture display area of the IM request pane.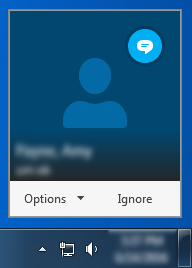 Switch between Multiple Conversations
If there are multiple conversations, chat sessions, or meetings going on at once, Skype for Business displays them all in one place, which allows the user to toggle between them. Click any tab to bring that activity to the foreground.