View Our Video Invitation! Share on Facebook Email this Page
Fall 2014 New Student Convocation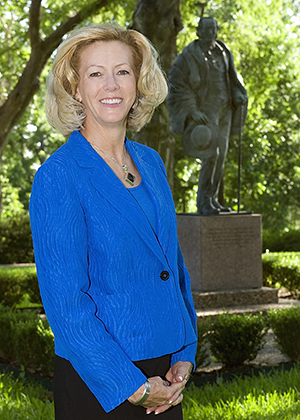 Students entering Sam Houston State University are embarking on a new and exciting phase of their lives. Sam Houston State University marks the beginning of that journey with New Student Convocation on Saturday, August 23, 2014. All new students are required to attend this event that marks the beginning of their academic journey at our university. Following New Student Convocation, all students and their family members are invited to enjoy a cookout, free live music, and other festivities at the Convention Center.
You and your family are invited to join President Gibson for a ceremony commemorating your transition as a new student at the University.
About New Student Convocation
Convocation is an opportunity to hear from our University President, Dr. Dana L. Gibson as well as meet fellow students and faculty.
This event is the official welcome for all new students entering into the Sam Houston State University academic community. It serves as the ceremonial start for our new students, just as Commencement serves as the ceremonial finish for our seniors. This recommended freshmen event is the highlight of Welcome Week and the official launch of the academic year.
For questions, please call the First-Year Experience office at (936) 294-3422.