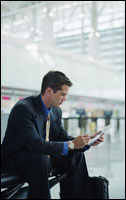 The Executive MBA in Banking and Financial Institutions is a two-year program run on a cohort basis limited to 25 students per year. The next class will be in-residence for two weeks beginning Sunday, August 3, 2014 and concluding Saturday August 16, 2014. The students will then work online in the six first-year courses over a span of one year. They will return for another two weeks in-residence for classes in August of 2015, followed by a second year of online courses in the six second year courses over the second year. The curriculum is a 36-credit hour program.
The University in cooperation with the Graduate School of Banking at SMU in Dallas, Texas will allow graduates of their program to get credit for six hours of course work toward the Executive MBA.
Not only is this a unique and quality-based program with a focus in banking and financial institutions, it is the best value for the money at $18,000 per year which includes books, room, breakfast, lunch, and tuition.
Student Testimonials
"The executive MBA program at SHSU is an excellent opportunity to develop and enhance your educational/ professional experience. The challenging curriculum is good preparation for the ever-increasing demands of a successful, professional career in the financial industry." Senior Level Regulator
"Sam's EMBA program is the cutting edge of banking. The residence program is one of the most intense educational experiences, but I can truly say that it has been one of the most rewarding experiences in my life." Utah Bank Lender
"What should you expect from the Sam Houston EMBA program? Expect a rigorous educational experience that will enlighten you, expect instructors who will challenge your capabilities, and expect course work geared toward molding you into a successful player in the financial services industry." Texas Bank Lender
You don't have to leave your current employment to get your MBA:
Two 2-week in-residence sessions
The rest on the web with professors
For More Information Contact:
James B. Bexley, Chair
Smith-Hutson Endowed Chair of Banking
Box 2056
Huntsville, TX 77341
Phone: (936) 294-3722
Fax: (936) 294-1523
E-Mail:jbbexley@shsu.edu