FACTS ABOUT THE BBA PROGRAM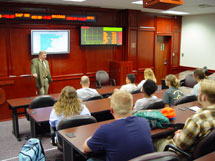 Latest technology is offered in the new banking center, including teleconferencing, internet connections at each table, LED picture wall, and stock ticker quotes delayed only 15 minutes from Wall Street.
Over 1150 students placed as interns receiving pay and college credit. The banking and regulatory internships allow the student to earn money and college credit while learning the banking industry.
Over 700 students placed in full-time banking positions upon graduation.
The program brings the student the best practical experience with academic training from faculty with banking experience.
A few career opportunities for graduates:
Credit analyst
Commercial lender
Branch manager
Bank examiner
COURSE OFFERINGS IN BANKING
FINC 3310 - Financial Institutions & Markets
FINC 4335 – Financial Statement/Credit Analysis
FINC 4325 - Selling Financial Services
ECON 4373 - Monetary Theory
FINC 4320 – Commercial Banking
FINC 4330 - Commercial Bank Lending
FINC 4389 – Undergraduate Internship in Finance
CURRICULUM: BBA MAJOR IN BANKING & FINANCIAL INSTITUTIONS
| | | | | |
| --- | --- | --- | --- | --- |
| First Year | Credit | | Second Year | Credit |
| ENGL 1301, 1302 | 6 | | Language, Philosophy and Culture | 3 |
| HIST 1301, 1302 | 6 | | ACCT 2301, 2302 | 6 |
| MATH 1324 | 3 | | ECON 2302, 2301 | 6 |
| Life and Physical Science | 8 | | POLS 2305, 2306 | 6 |
| BUAD 1305 or CSTE 1330 | 3 | | BANA 2372, BUAD 2301 | 6 |
| Creative Arts | 3 | | BUAD 2321 or COMS 2382 | 3 |
| ECON 1100, KINE 2115, or NGLI 1101 | 1 | | | |
| | 30 | | | 30 |
| | | | | |
| | | | | |
| | | | | |
| Third Year | Credit | | Fourth Year | Credit |
| FINC 3310, 3320 | 6 | | MGMT 3370, 4390 | 6 |
| BUAD 3335, BUAD 3355 or 3357 | 6 | | FINC 4335, 4330, 4320, 4345 | 12 |
| BANA 3363, MKTG 3310 | 6 | | FINC 4389, 3330, 4080, 4085, 4315, 4340, 4355, 4365, or 4390) | 6 |
| ACCT 3313, MGMT 3310 | 6 | | ECON 4373 or 4362 | 3 |
| FINC 4325 | 3 | | Electives | 3 |
| MGIS 3310 | 3 | | | 30 |
| | 30 | | | |
| | | | | |