'Press, Presidency' Course To Be Reintroduced For Spring
Oct. 28, 2015
SHSU Media Contact: Christopher Young
During President Ronald Reagan's administration, Peter Roussel was one of the men who stood between the president and the White House press corps.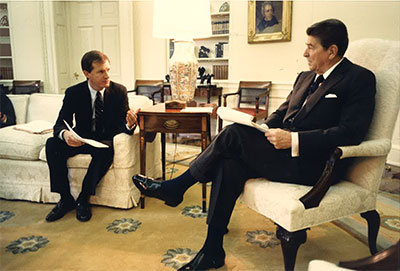 Peter Roussel (above, right; below, center, leaning over) worked in the White House under the Ronald Reagan administration as a deputy press secretary (above, with Reagan). On his first official day of duty, he was called to fly to Arizona to handle the media relations for the announcement of Sandra Day O'Connor (below, left) as the first female Supreme Court Justice. —Submitted photos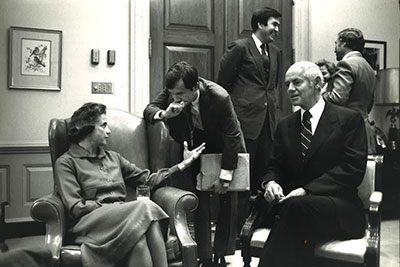 A White House deputy press secretary, Roussel performed duties such as responding to inquiries during regular press corps briefings and providing the media relations for the historic nomination of Sandra Day O'Connor as the first female associate justice of the United States Supreme Court in 1981.
Roussel also accompanied Reagan on domestic and foreign trips, ranging from summit meetings with Soviet Union President Mikhail Gorbachev to cross-country trips on Air Force One.
Now the Philip G. Warner Endowed Chair in Sam Houston State University's Department of Mass communication, Roussel will teach an expanded version of MCOM 3360, "The Press and the Presidency," to coincide with the 2016 election year.
Roussel's specialized writing seminar will be reintroduced for the spring 2016 semester, giving students the opportunity to learn about his firsthand experiences with both the press and the presidency.
"When I first came to Sam, this was one of the classes I was asked to teach," Roussel said. "Having had the perspective of being there and being part of that process, I was glad to do so and have tried to base the course on those experiences."
"The Press and the Presidency" is open to students from all majors and will be held Tuesdays and Thursdays from 2-3:20 p.m. in Dan Rather Communications Building Room 125. Students can register for the course (CRN 21945) beginning Nov. 6.
The special elective will cover "the modern presidency," from President Dwight Eisenhower to the current administration, a period during which modern media evolved from coverage dominated by print media to the emergence of television and to the more recent evolution of the 24-hour news cycle and the Internet.
While "The Press and the Presidency" will closely examine how the media covers the most important political figure in the United States, Roussel stressed that it will not be a class on political issues and platforms.
"We are not talking politics; we are talking process," Roussel said. "This course is about the relationship between the press that covers the presidency and the institution of the presidency."
More specifically, MCOM 3360 will focus on the relationship between the White House press corps and the White House spokesperson, a relationship Roussel indicated is a very delicate balance and is constantly in flux.
Roussel's longtime career as a political insider began in Houston and led all the way to Washington, D.C., when in 1969, he became press secretary for then-U.S. Rep. George H.W. Bush. Roussel's tenure as Bush's press secretary continued in the early 1970s through Bush's U.S. ambassadorship with the United Nations and service as chairman of the National Republican Committee.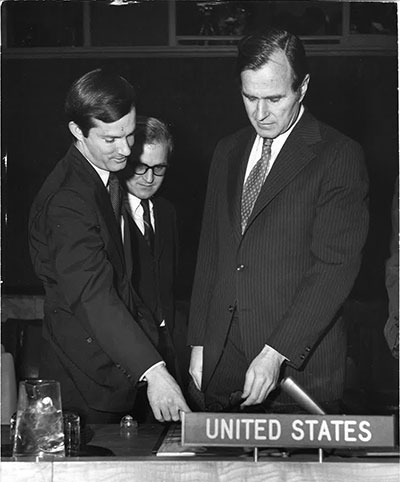 Roussel began his career working for George H.W. Bush during the time Bush was a congressman and, later, a United Nations ambassador.
In 1974, Roussel began the first of his two tours in the White House, where he worked as staff assistant to President Gerald Ford until 1976. Roussel went on to become a special assistant to Ford's campaign director (and future U.S. Secretary of State) James A. Baker III and eventually served as communications director for Baker's campaign for attorney general of Texas in 1978.
After working for President Reagan, Roussel returned home to Houston and worked in the private sector as executive vice president and managing partner of Neumann Roussel Public Relations and columnist and editor with Intown magazine before joining the faculty at SHSU.
His career in public relations and advertising also includes professional experience with five firms in three cities.
At SHSU, he advises the SHSU chapter of Public Relations Student Society of America and Priority One, a student-staffed public relations firm on campus, which is also a class.
Roussel is excited to reintroduce "The Press and The Presidency" in the midst of the 2016 presidential race.
"In my lifetime I cannot remember a presidential election that was this wide open," he said.
Registration for MCOM 3360 will be open to juniors, seniors or graduate students, regardless of major or program of study.
"I consider this class a democracy, in which everyone is free to participate," Roussel said. "I don't view this as a lecture class; I view it as a conversation. I want to hear my students' points of view."
- END -
This page maintained by SHSU's Communications Office:
University Communications Manager: Emily Binetti
Located in the 115 Administration Building
Telephone: 936.294.1836; Fax: 936.294.1834
Please send comments, corrections, news tips to Today@Sam.edu.
---