1980s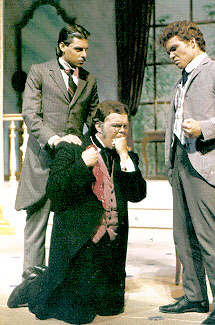 Drama student Freeman Williams begs for mercy while co-actors Michael Farris and Mark Mitchell listen with disgust.
Alcalde 1982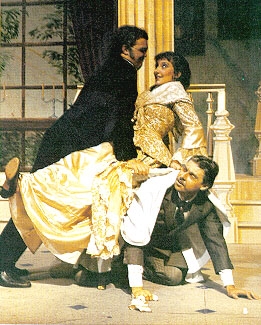 Tartuffe (played by Freeman Williams), Elimerea (played by Gina Peverley) and Organ (played by Michael Farris) share in a sticky situation.
Alcalde 1982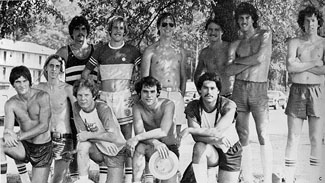 The Ultimate Frisbee Organization, or UFO, kept busy in its second year of existence while attending tournaments all over the state.
Alcalde 1982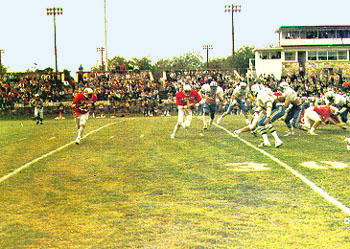 Bearkat football had a rough year. In 1982, they still played on Pritchett Field.
Alcalde 1982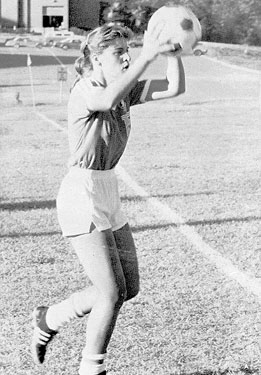 The SHSU Women's Soccer Team had a successful season posting wins over teams like Southwest Texas and Stephen F. Austin. This player is preparing to make a throw-in.
Alcalde 1982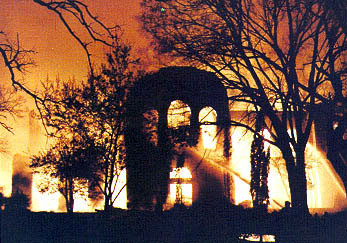 Blazes overwhelm the structure of Old Main.
Alcalde 1982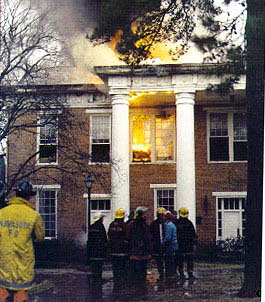 Firemen work to save the Austin College Building.
Alcalde 1982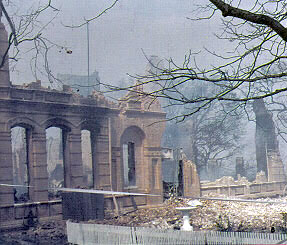 The smoldering rubble of Old Main is all that remains on the morning after.
Alcalde 1982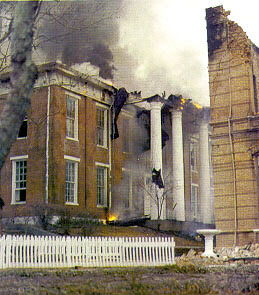 The roof of Austin College keeps burning many hours into the next day.
Alcalde 1982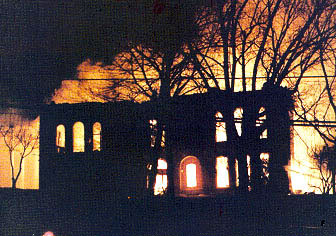 The remaining structure is illuminated by raging flames within the building.
Alcalde 1982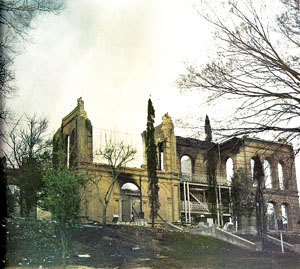 What was once the beautiful front of Old Main is left as a smoldering skeleton.
Alcalde 1982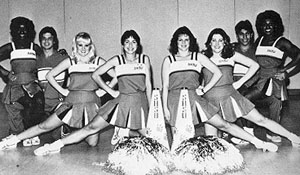 1982-83 Bearkat Cheerleaders.
Alcalde 1983
This student demonstrates tender, caring and loving qualities as she holds her pet.
Alcalde 1983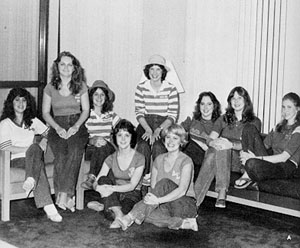 These are the Delta Sigma Phi Little Sisters. Here, these ladies dress for the theme of the mixer, "Woodstock."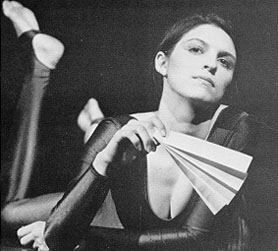 Fanning herself, Diane Wardell performs in the "Heatwave" dance.
Alcalde 1984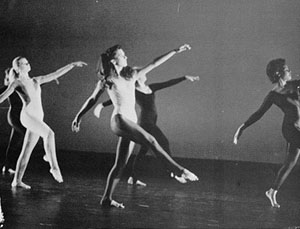 Grady Hillman recites a poem called "North San Gabriel" in the "Texas Suite" portion of the concert.
Alcalde 1984

Sammy Bearkat looks like he is expecting rain.
Alcalde 1984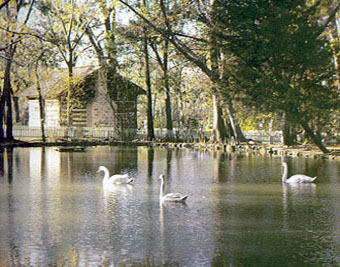 This pond looks serene. It's located in the Sam Houston Park near Sam Houston's homes.
Alcalde 1984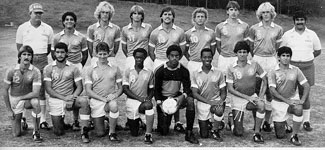 Bearkat soccer in 1984-85.
Alcalde 1984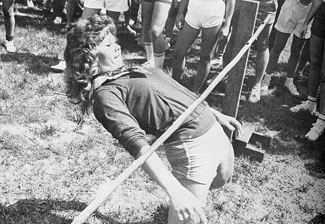 Paula Wood, Chi Omega, sizes up the limbo pole as she starts to slide under.
Alcalde 1984

Taken in 1927, this aerial photo shows Pritchett Field at the bottom. If you look carefully, you can see the baseball diamond and the tennis courts.
Alcalde 1984

Artist's conception of the future site (1985) of the Elliott T. Bowers Stadium and Fieldhouse
Alcalde 1984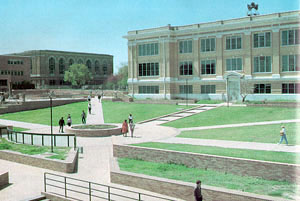 A view from above of the walkway behind the Administration building.
Houstonian 1985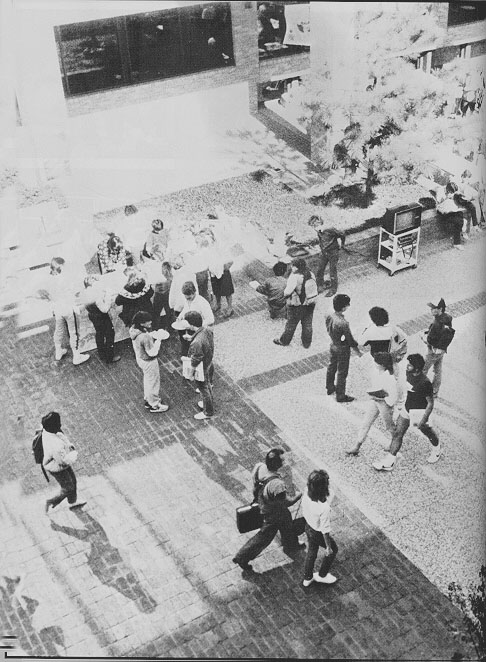 A view from above of the walkway between Frels-Wilson and Lee Drain Building.
Houstonian 1985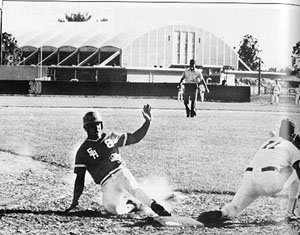 Steve Bates slides safely into third base against Northwestern Louisiana.
Houstonian 1985
Johnny 'Bearkat' Robinson helps to keep the Homecoming spirit alive.
Houstonian 1985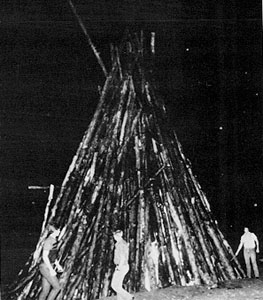 During Homecoming, SGA recruited students to help build a bonfire.
Houstonian 1985
Computer Services supported use of terminals like these for registration in a time before the Bill Gates revolution.
Houstonian 1985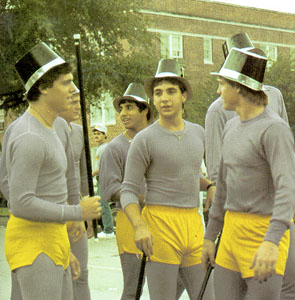 The Delt pledges formed a purple and gold walking team that managed to capture first place.
Alcalde 1985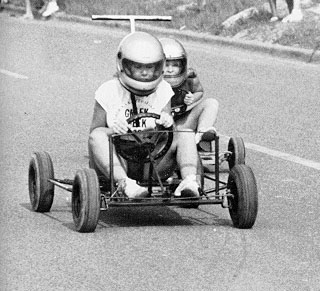 This Zeta member leads her race in the Soap Box Derby.
Alcalde 1985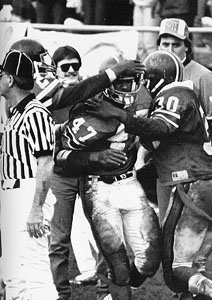 Another victory has been completed; freshman Ricky Royal and junior D.D. Jones greet freshman Tallford Thomas to celebrate their win.
Alcalde 1985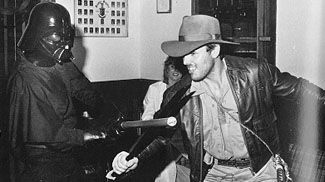 The Kappa Sigma fraternity enjoys its annual Halloween party.
Alcalde 1985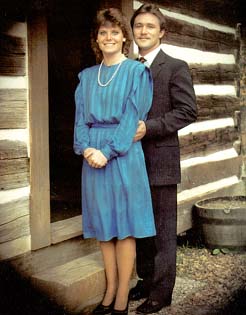 1984-85 Homecoming Queen and King, Beth McCombs and Glenn Cox.
Alcalde 1985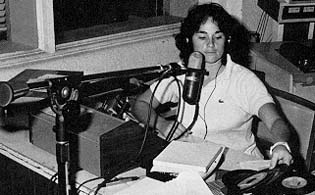 Toi Cudworth prepares for the KSHU 5 o'clock news.
Alcalde 1985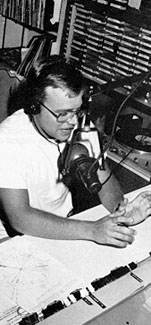 A student warns the KSHU listeners about the tornado watch during the KSHU Weather Report.
Alcalde 1985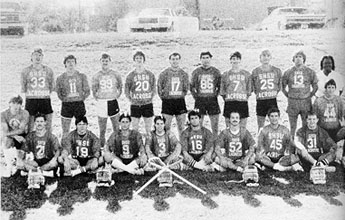 Sam Houston Lacrosse went 6-3 in conference play for the season. They had a great year marked by the recruitment of an All-American goalie from Colorado State University.
Alcalde 1985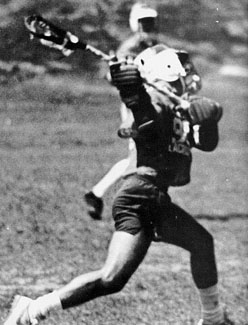 Pat Atwood, the leader in assists, takes a crank shot at the Tulane goal.
Alcalde 1985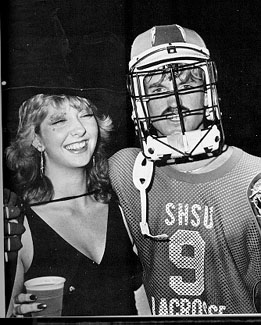 Students having a good time at a mixer.
Alcalde 1985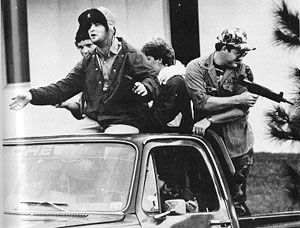 Lambda Alpha Epsilon members parade through the street in their Chevy truck, looking for crime.
Alcalde 1985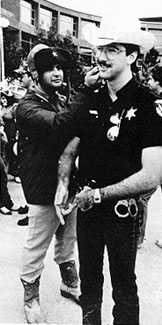 The Delta Chi Chapter of Lambda Alpha Epsilon, The American Criminal Justice Association had quite a busy year as it recruited 44 new members.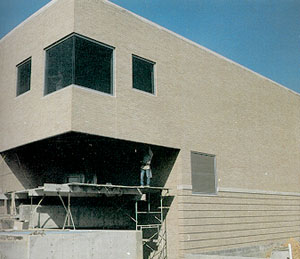 The Dan Rather Communications Building under construction.
Alcalde 1985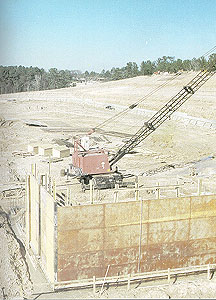 The Elliott T. Bowers Stadium and Fieldhouse under construction.
Alcalde 1985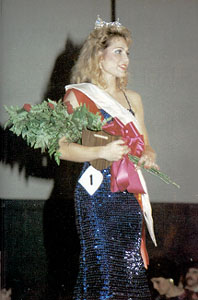 Lisa Pavelek begins her reign as Miss SHSU/Huntsville.
Alcalde 1985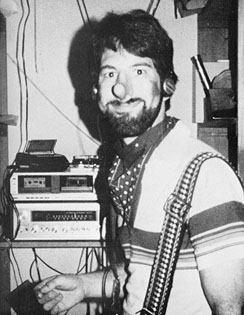 Newman members enjoy new wave music at the Halloween costume party.
Alcalde 1985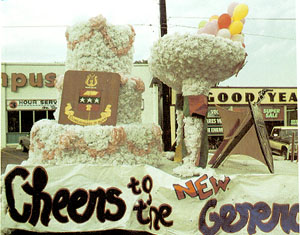 The ATO and AXO united to produce a 25th Anniversary float.
Alcalde 1985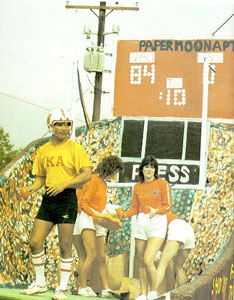 Kappa Alpha and Paper Moon Apartments combine their efforts to prepare this football float for the parade.
Alcalde 1985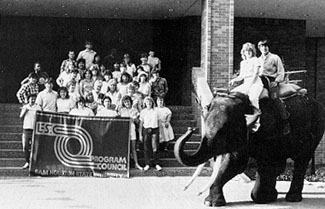 Program Council members get together for a group photo accompanied by a rather large friend.
Alcalde 1985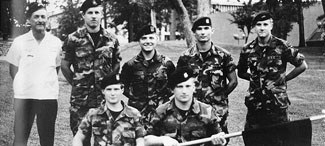 Hutcheson's Ranger Company was an extra-curricular training organization of the Military Science department. It's purpose was to provide training in small unit infantry tactics based on current U.S. Army Ranger doctrine.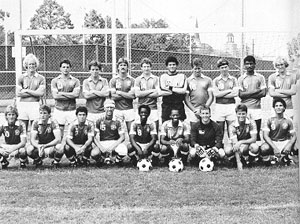 The Bearkat Soccer team posted an 8-4 record after making the difficult move from NCAA Division II to Division I.
Alcalde 1985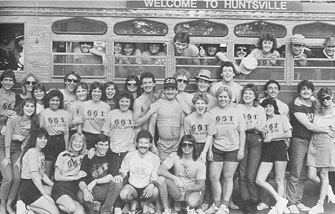 Members of SSI climb around the Huntsville Trolley for a group picture.
Alcalde 1985

An SHSU twirler pauses while the band plays at the last game in Pritchett Field.
Alcalde 1985