How Criminal Justice Students, Staff And Faculty Aided Disaster Relief
Sept. 28, 2017
SHSU Media Contact: Lane Fortenberry
Over a four-day period, Hurricane Harvey disrupted the lives of millions of people, dropping more than 40 inches of rain, causing catastrophic flooding in many areas.
According to various reports, the storm could cost up to hundreds of billions of dollars' worth of damage. The storm's wake left families without their homes, many of which were uninsured. It's estimated to take years for the affected areas to fully recover.
Many students, staff and faculty in Sam Houston State University's Department of Criminal Justice aided in disaster relief efforts, volunteering their time to help in numerous different ways. Below is a collection of their stories.
Security Studies' Professor Witnesses Storm's Devastation Firsthand
Natalie Baker, a new assistant professor in the Department of Security Studies at Sam Houston State University, studied people's reactions to disaster after Hurricane Katrina in New Orleans. During Hurricane Harvey, she experienced it firsthand.
Following the storm, Baker joined her cousin Chris Fredricks and a friend on kayaks to help rescue residents stranded in their neighborhood near FM 1960 and Kuykendahl Road in Houston. It didn't matter that she never paddled a kayak before or that she didn't have any oars. She joined the flotilla of boats, using her hands as paddles to get people out of harm's way.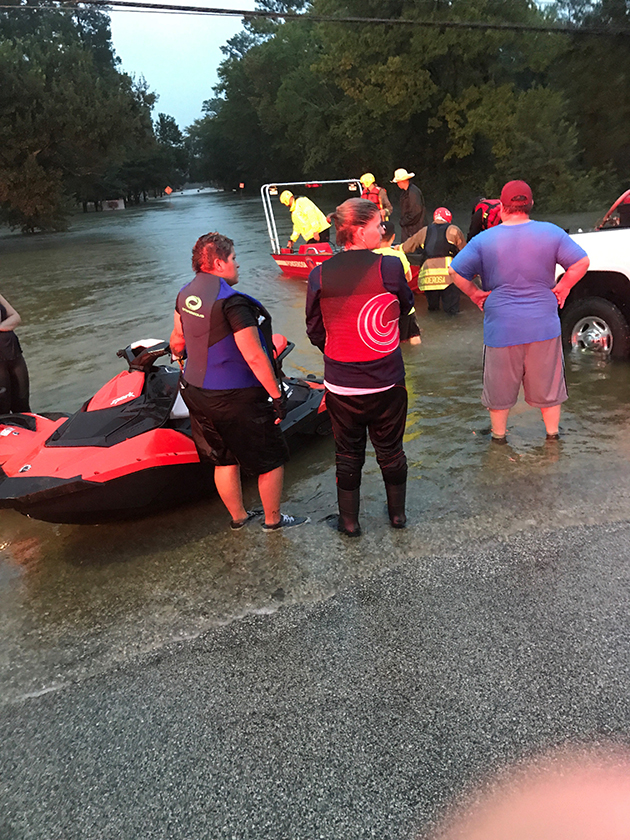 "The water in this neighborhood was like 10-feet high, and the sky looked like there could be a tornado," Baker said. "The street was a river, and the current just took you down the road."
Baker stopped at an apartment complex, where she saw residents stranded by floodwaters on their second story balconies—including children and seniors with pets—but no one wanted to evacuate. After checking on her cousin's client in the area, the current worsened, and the group of kayaks had to be dragged out by a jet ski. When her cousin went back on a second attempt, his kayak flipped and the jet ski got stranded, and they both had to be towed out by a motor boat.
Baker, a single mother, had to return to her daughter, while her cousin continued rescue efforts. From home, she found an innovative way to assist by identifying people that needed evacuation on Facebook and sending her cousin and crews to the addresses.
She learned that research and reality are very different.
"Having done disaster research, I could process it intellectually, but the heaviest part was that people's lives were going to be affected by this," Baker said.
Little did she know how much or how close this disaster would affect her family. Her grandmother died in Galveston County during the storm, and they were unable to retrieve her body from the house for over 24 hours due to flooding.
While she was trying to help save flood victims in Houston, another cousin Kyle Fredricks-Haines was marooned in Dickinson, another heavily hit area. After staying overnight with friends, Kyle stepped out of bed into water. He helped evacuate the house to a nearby church, but that flooded, as well. The church administration made the evacuees leave, so he and others caught a boat to Texas City, trying to make it home to his husband Robert Haines on the west side of Houston.
After frantically calling everyone he could and filling out a missing person's report, Fredricks-Haines received a call on Friday that his partner of 15 years had died in the flood, his body found by scuba divers. He learned that floodwaters in his home rose seven feet in 20 minutes after the release of water from the Addicks Reservoir. A week later, Robert Haines' body was still in the house because it was too dangerous to retrieve due to the high water and current. Kyle is haunted by what happened.
"They found my dog, who was up on a counter, and Bob was in there," Fredricks-Haines said. "My house, my husband, and everything we built over the last 15 years are gone."
Kyle Fredricks-Haines is currently staying with Baker, who is working with him to navigate the post-disaster process, including the wreckage of his house. In the meantime, a GoFundMe page has been set up for him.
Coming To The Rescue In Port Arthur
When the media plea from the Coast Guard came for help from anyone with boats, Adam Lee from Wisconsin and Justin Bloyer from Minnesota headed to Port Arthur.
Lee, a Security Studies graduate student at Sam Houston State University, joined a family friend who drove down from Minnesota to help rescue people trapped by rising floodwaters from Hurricane Harvey. The pair spent three days in Spring, Beaumont and Port Arthur, searching for victims and ushering those who wanted to evacuate to safety.
In Port Arthur, Lee and Bloyer spent one day rescuing seniors from nursing homes. At the Cypress Glen nursing home, they transported two wheelchair-bound residents via boat to a staging area, where they were loaded on Army helicopters and taken to Conroe. One resident couldn't speak; the second was in critical condition and quickly running out of oxygen. Other mobile seniors were taken to a theater waiting for their turn to leave.
"It was organized chaos," Lee said. "We were one of the first boats there (at Cypress Glen). You had nurses, volunteers and paperwork, which were put in a vest on each person. You would pull in to the staging area, and volunteers would be there to give you food and water and send you back out, and six to eight people would take the patient out of the boat then transport them to the helicopter."
The Port Arthur rescue effort went on for two days, with Lee and Bloyer sleeping in their truck at night in a CVS parking lot. Although the Army, first responders and National Guard were in the city, it was an effort run mainly by volunteers because of the extent of the need. The volunteers came from all over – from Georgia, Florida, Louisiana and Minnesota to help. It also included local residents, like Jamal, who hopped on the boat to help them navigate the city. "He was our tour guide, for lack of a better word," Lee said. "Jamal knew a lot of people."
Lee put his training from his homeland security classes into action.
"It was important to have a thorough understanding of emergency management and the incident command systems," said Lee. "But it was also great to have spontaneous volunteers. It was one of the most important resources we had."
Lee and Bloyer began their efforts working with the Spring Fire Department, but many residents did not want to leave their homes. When the Coast Guard called for volunteers with boats, the pair briefly worked in Beaumont, handing out food and water to residents trapped in an apartment complex. In Port Arthur, they launched their boat from the local mall to help rescue seniors from two of three nursing homes in the area. Eventually, medicine and medical files used for seniors were giving to Bloyer, and he was instructed to bring them to the staging area. Upon arrival, he was loaded on an Army helicopter to help with the transportation of residents to Conroe.
Following the rescue efforts, Lee drove from Port Arthur to Conroe, which took six to seven hours because the main road to the area was shut down due to explosions at the Arkema plant in Crosby.
After graduation in May 2018, Lee hopes to turn emergency management into a career, helping those in need in disasters around the country.
"I got to put everything I learned to good use," Lee said.
Security Studies Student Shines As CERT Volunteer
Last semester, graduate student John Watkins II was certified as a Citizen Emergency Response Team Member for Walker County as part of his Crisis Management class. He put his training to good use during Hurricane Harvey.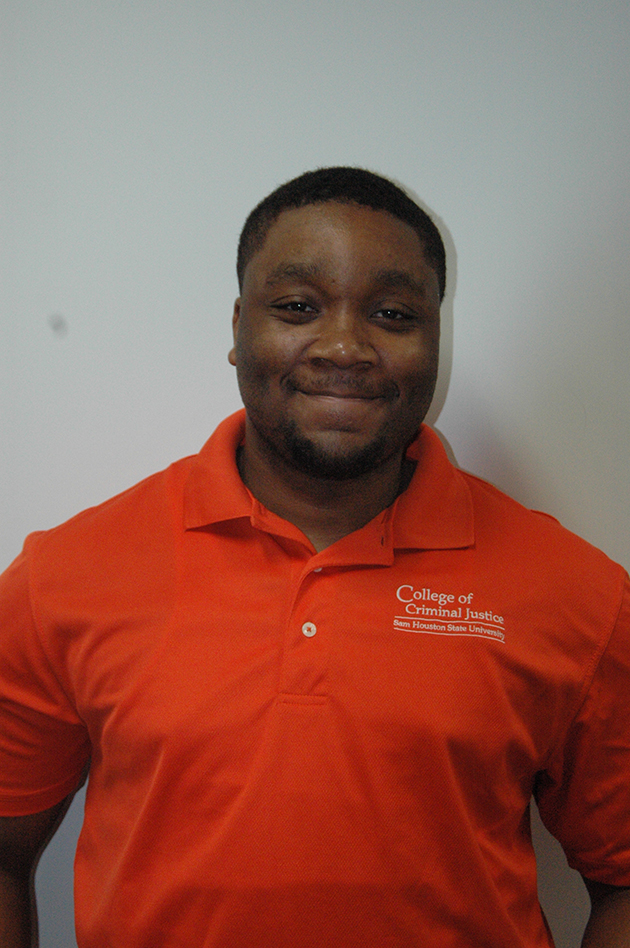 In his position as radio logistics coordinator, Watkins worked two 12-hour shifts keeping track of volunteers and personnel at the Emergency Operations Center, coordinating efforts to get supplies to emergency shelters, and uniting people with pets left during the disaster in Walker County. Before the storm, he also spent seven hours as a runner getting needed supplies, such as cots and food, to the shelter to assist evacuees from the storm.
"People were actually willing to help," Watkins said. "There were people of all races helping because the people in the shelter didn't have a home, and we wanted them to be comfortable. We were going to make this their home while they were here."
As a student in a crisis management course, Watkins became part of the volunteer corps in Walker County trained to response to disasters, such as tornados, floods, wildfire, hurricanes or a terrorist attack. The CERT course teaches basic disaster preparedness skills in fire safety, search and rescue, team organization and medical operations.
Watkins used those skills and more during his time at the Walker County Emergency Operations Office. Under the direction of Butch Davis, Watkins logged in volunteers and employees coming to or leaving from the shelter and helped coordinate the needs of 200 evacuees.
"They would need cots and once we had to get a hospital bed," Watkins said. "We needed cleaning supplies and Raid®. They also needed diapers, baby wipes, laundry detergent, and toilet paper. We even had requests for adult coloring book and crayons."
Watkins was also in charge of reuniting pets and their owners. Although the shelter did not allow pets, a local veterinarian agreed to temporarily house those brought to the shelter. In addition, animal control rescued animals abandoned in the storm. Watkins' job was to make sure the right pet went back to the right owner.
Throughout his experience, Watkins said he was awed by the ability of everyone to work together.
"We had people from high school, some were my age and others were older," Watkins said. "People stopping what they were doing to help others."
Arlington Police Answer Call For Hurricane Help
For more than a week, a team of 19 officers from the Arlington Police Department called the racquetball courts at Sam Houston State University home.
The SHSU team, led by Bearkat Lieutenant Kyle Dishko, was one of two sent from the northern Texas city to aid local law enforcement during Hurricane Harvey. During their stay, the team helped secure shelters, block roads, patrol streets and waterways, protect distribution centers and assist residents in Harris, Liberty and Montgomery Counties.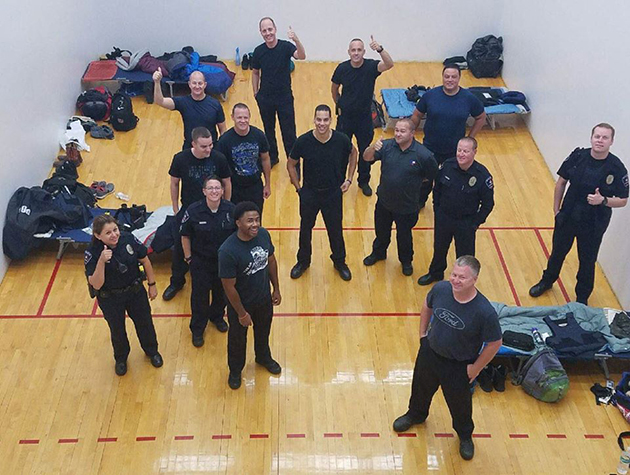 "It was really anything the first responders wanted us to do," Dishko said. "I think it is the duty of the first responder. We all have experienced tough times, and we can bring resources to the table. We want to help people in need."
The Arlington Police Department, located in the Dallas-Fort Worth metroplex, has been a longtime supporter of the College of Criminal Justice, hiring many graduates and regularly participating in recruitment events at Career Fairs and in the CJ Lobby. In turn, SHSU came to their aid during the storm, providing a separate rest area for them at the Health and Kinesiology Center.
Every morning, Matt Wagner, associate professor of Kinesiology brought them breakfast tacos or donuts before they hit the road. The university also made sure the officers had a meal at the end of their long shifts. "I am proud to be a Bearkat," Dishko said. "I am so proud of my university. A lot of people gave to us as we gave to other people."
During the storm, the SHSU team was in The Woodlands and Conroe, assisting the Texas Department of Public Safety in blocking roads and guarding shelters set up in the area. "Our guys stood out in the rain for 12 hours," Dishko said.
The team stayed in Montgomery County for several days, assisting in the flooded community of River Plantation, securing the shelter at the Lone Star Convention Center, and protecting the distribution Center on Pollok Road.
As the water receded, the group was assigned to Liberty County, where they patrolled Cleveland and the rest of the county. Some of the officers also aided Florida Game Wardens on the Trinity River.
As operations were scaled back and SHSU resumed classes, the team joined the second Arlington deployment in Houston, patrolling the streets of the city. In addition to one Lieutenant, five Sergeants, and 13 officers at SHSU, the second team assigned to the Houston Police Department included one Lieutenant, 2 Sergeants and 17 officers.
"Houston police officers have not had a day off since this started," Dishko said. "They have been working 12-hour shifts. This will allow officers to have a day off."
Giving Back To The Community During Hurricane Harvey
Sam Houston State University's Department of Forensic Science found ways to give back to their community by volunteering locally during Hurricane Harvey.
"We couldn't go to The Woodlands because of all the flooding, but we still wanted to give back," said Elizabeth Chesna, president of the Society of Forensic Science student organization.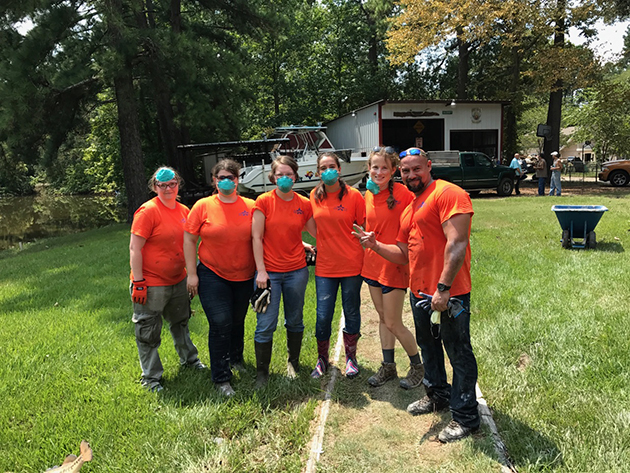 Students in the department cared for residents driven from their homes by floodwater at the Lone Star Cowboy Church and displaced pets at the SHSU Agriculture Center. The forensic science group also initiated a collection drive for non-perishable food items and clothing for those in the shelter at Huntsville High School.
"We were spared," said Lindsay Glicksberg, vice president of SFS. "We could drive around, and we had power. We wanted to help those that didn't."
Four students, including Chesna, Glicksberg, Rachel Houston and Carrie Mayes, helped care for about 40 dogs that were housed at the Agriculture Center, which served as an interim shelter for the pets of evacuees. They helped sort food for dogs and cats, swept and cleared the area, and walked the dogs. "We are all animal people," Glicksberg said.
At Lone Star Cowboy Church, about nine students helped with kitchen duties to supply hot meals to about 300 residents fleeing the storm or went out to Montgomery to clean out flooded houses. In one house, the first floor was completely destroyed along with the contents of a home-based business. The cleanup involved tossing out all furniture and ripping out floors, walls and insulation.
Among the students that helped at Lone Star Cowboy Church were Glicksberg, Mayes, Mackenzie Hale, Jessica Winborn, Stephanie Basiliere, Clarra Moore and Abby Guerin from the Department of Forensic Science; Illeana Moore from the College of Humanities and Social Sciences; and Elle Moise from the College of Business Administration.
The forensic science group also mounted a collection drive to serve families that escaped to the Huntsville High School, one of two shelters in Walker County.
Slider Photo Taken by Gerald Herbert/Associated Press
- END -
This page maintained by SHSU's Communications Office:
Associate Director, Communications: Emily Binetti
Telephone: 936.294.1836; Fax: 936.294.1834
Communications Manager: Wes Hamilton
Telephone: 936.294.1837; FAX: 936.294.1834
Communications Writer: Hannah Haney
Telephone: 936.294.2638; FAX: 936.294.1834
Thomason Building: Suite 102
Please send comments, corrections, news tips to Today@Sam.edu
---