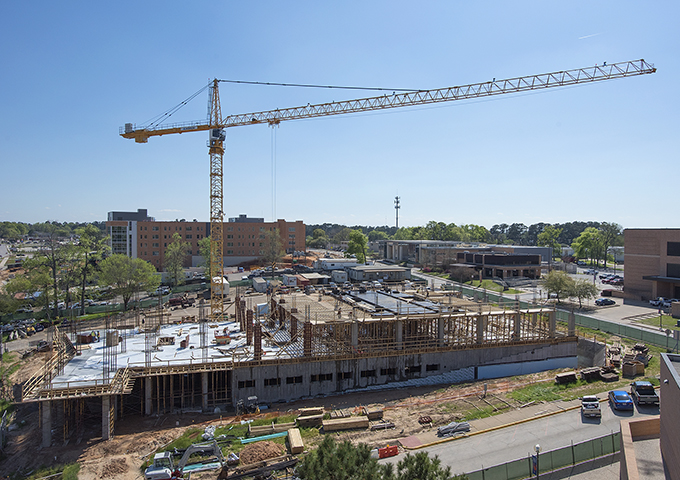 Progress continues on the Biology Building, which is scheduled to be open for the Fall 2018 semester. For specific information about what the building will house, see the Campus Notices website. — Photo by Brian Blalock
Share |
For Week Of March 26
CJ Students From China Explore Houston With LEAP
Eleven criminal justice exchange students from China spent a day during Spring Break visiting the Asia Society in Houston on a trip sponsored by SHSU's Center for Law, Engagement and Politics. The structure is considered an architectural marvel featuring art, a bamboo garden and water garden inspired by elements of Eastern culture. Details.
Study Investigates Civil Legal Needs Of Crime Victims
In a study of 80 victim and legal service agencies in Texas, researchers found that social service agencies frequently provide legal assistance on issues related to the criminal justice system, but rarely address related civil issues for victims. Details.
Teams To Take Stage In Art Song Competition
Sam Houston State University's School of Music will present an impressive array of highly talented vocalist and pianists competing for top prizes in the fourth annual SHSU Art Song Competition. The on-stage showcase featuring 21 SHSU student singer/pianist teams will take place April 2. Details.
Jazz Festival To Showcase Students, Professionals
SHSU's School of Music will hot host the 7th Annual Bill Watrous Jazz Festival March 31 through April 1 at the Gaertner Performing Arts Center. The event will feature performances from college, high school and junior high school jazz bands. Also performing will be renowned jazz trombonists Bill Watrous and Michael Dease, along with the SHSU Jazz Ensemble led by Aric Schneller. Details.
Spring Common Reader Events Begin Today
The Common Reader events for the spring semester begin today and will continue through Wednesday. The 2016-17 book is the award-winning "An Astronaut's Guide To Life On Earth," by Col. Chris Hadfield. Details.
Events Slated For Sexual Assault Awareness Month
A number of SHSU organizations and offices are partnering with the SHSU Sexual Assault Awareness Committee to sponsor a variety of events that will provide information and education about sexual assault issues during the month of April. Criminal Justice major Georgi Mcneese serves as chair of the committee. Details.
Woodlands Center To Host Interactive Health Fair
The theme of the interactive health fair is "95210," meaning nine hours of sleep, five servings of fruits and vegetables, two hours maximum of screen time, one hour of physical activity, and zero consumption of sugary substances or tobacco products per day. Details.
SHSU To Screen 1966 Texas Tragedy Documentary
Students and faculty on the University of Texas campus thought they heard leftover Fourth of July fireworks exploding into the hot southern sky. It wasn't until bodies started dropping to the pavement that the campus realized they were under attack by a mystery shooter. Details.
Oliver Pays Homage To Father Of America Policing
After 10 years of research and a bookcase full of documents, Willard Oliver, professor in Sam Houston State University's Department of Criminal Justice and Criminology, has published a comprehensive biography of August Vollmer, known as the "Father of American Policing." Details.
National Book Award Winners To Visit SHSU
U.S. Rep. John Lewis, writer Andrew Aydin and illustrator Nate Powell will discuss their 2016 award-winning book, March: Book Three, and talk about writing and publishing during SHSU's National Book Awards Festival next month. The book, which won the national Young People's Literature Award, is the third in a series that chronicles Lewis's involvement in the American Civil Rights Movement. Details.
SHSU Receives Grant For Student Success Initiative
Sam Houston State University is among 31 institutions and support partners across the nation selected to receive a $640,000 grant funded by the Bill & Melinda Gates Foundation to identify strategies for improving graduation rates, especially for low-income, first-generation and minority students. Brian Loft is the site team coordinator and principal investigator. Details.
Staff Excellence Award Nominations Due
March 24 is the deadline for submitting nominations for the 2017 Staff Excellence Award. The four staff members who are selected will receive a financial stipend and be recognized for their outstanding work and contributions as an employee to Sam Houston State University at the Fall 2017 General Faculty/Staff Meeting. Details.
LEMIT Launches Online Body Camera Course
The first program of upcoming online courses developed to address current trends and emerging issues, Body Worn Cameras, debuted in January. The course assists agencies in developing policies and practices on the use of these new devices at the local level. Details.
SHSU Researchers Find Capital Punishment Results
The study, "State- and Individual-level Predictors of Mexican Death Penalty Support," by doctoral student Alexander H. Updegrove and assistant professor Erin A. Orrick of the Department of Criminal Justice and Criminology at Sam Houston State University, was recently published by Crime & Delinquency. Details.
SHSU To Host "Night With The Houston Rockets"
The Sport Management Program will host "SHSU Night With The Houston Rockets" at the Toyota Center on April 7. The event is a joint project by graduate students in the revenue generation and sports class and the event and facility management class. Details.
Bocskor Inspires SHSU Women On Recent Visit
Nancy Bocskor, who has traveled through the U.S. and more than 25 countries to mentor, inspire and encourage women to effect change in their communities, recently came to SHSU to meet with several political science classes, a number of high-achieving female undergraduates, and with SHSU's Austin Interns. She was the guest of SHSU's Center for Law, Engagement and Politics. Details.
Homeland Security Students Assist In 100-Mile Race
Three security studies students helped provide first aid and support for last month's Rocky Raccoon Race, a 100-mile trail race through the woods of Huntsville State Park. Details.
Health Sciences Receives Grant For New Program
Sam Houston State University's College of Health Sciences recently received a monetary grant to bring its departments together in a pilot study for inter-professional simulation. Details.
Robbins Appointed Vice Provost
Mary Robbins, who served as associate vice president for academic affairs at Sam Houston State University for the past three years, has been appointed vice provost for the university. Details.
SHSU Graduate To Lead Untested Rape Kit Study
Bradley Campbell, Ph.D. graduate from Sam Houston State University, is using skills he learned while at SHSU to lead one of the first statewide studies to examine a backlog of untested rape kits in Kentucky. Details.
Events To Celebrate Women's History Month
Sam Houston State University will celebrate Women's History Month with multiple events throughout March hosted by the College of Humanities and Social Sciences including film screenings, craft talks, poem readings and lectures. Details.

SHSU Receives Arbor Day Honor Once Again
For the third consecutive year, the Arbor Day Foundation has recognized SHSU as a Tree Campus USA for its commitment to sound urban management. The announcement comes as SHSU prepares for Sam Houston Arbor Day, which will take place on March 30. Details.
This page maintained by SHSU's Communications Office
Associate Director: Julia May
Manager: Jennifer Gauntt
Writer: Lane Fortenberry
Located in the 115 Administration Building
Telephone: 936.294.1836; Fax: 936.294.1834
Please send comments, corrections, news tips to Today@Sam.edu.