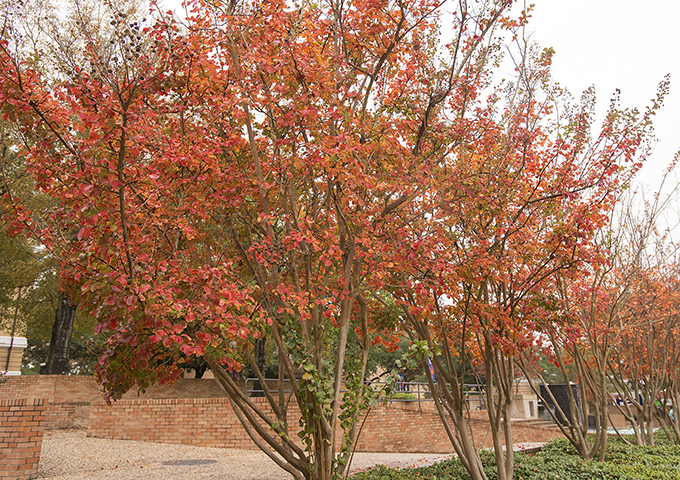 Students, faculty and staff returned from Thanksgiving break on Monday to find campus in full fall mode. This is the last full week many students will have to enjoy the colors, as the last official class day is Friday, and final exams will run Dec. 7-10. See the final exam schedule here. — Photo by Brian Blalock
College Collecting Toys For Children's Hospital Drive
For the past eight years, Sam Houston State University has set out to brighten the season for children and their families undergoing treatment at Texas Children's Hospital with a holiday toy drive, sponsored by the SHSU Department of Kinesiology, the School of Nursing and the College of Health Sciences. Donations of toys or money are due by Dec. 8. Details.
Study Finds Incarcerated Mothers Impact Children
"Impact of Maternal Incarceration on the Criminal Justice Involvement of Adult Offspring: A Research Note," by criminal justice associate professor Lisa Muftić and professors Leana Bouffard and Gaylene S. Armstrong, found a significant link between incarcerated mothers and children who are imprisoned as adults, even after considering common correlates of criminal behavior. Details.
Prof Named 2015 Distinguished Educator
Marcy Beverly, professor of animal science at Sam Houston State University, recently was awarded the 2015 Non-Land Grant Agriculture and Renewable Resources Universities' Distinguished Educator Award. Beverly is the fourth consecutive SHSU faculty member who has recieved the prestigious award. Details.
Alumni To Address More Than 1,700 Fall Graduates
Two Sam Houston State University alumni who have achieved success in their respective fields will share their thoughts and secrets to success with approximately 1,763 graduating students during commencement exercises on Dec. 11-12. Details.
SHSU Finds Success In Inaugural Moot Court Season
Sam Houston State University's first moot court team has earned a spot in the "Sweet 16" after participating in scrimmages at the University of North Texas Law School and a regional tournament at the Texas Tech Law School. Details.
SHSU's Thompson Selected For Regents' Award
Chris Thompson, who serves as associate athletic director for student services and senior women's administrator for the SHSU athletic department, has been selected to receive the 2016 Regents' Staff Member Award by the Board of Regents of The Texas State University System. Details.
SHSU's Governing Body Holds Quarterly Meeting
Among the items approved by the Texas State University System Board of Regents during their quarterly meeting on Nov. 12-13 were a department name change, a new online Master of Arts degree in political science, and the design development documents for the Bernard G. Johnson Coliseum renovation project. Details.
KatSafe Rolls Out New, Enhanced Information
SHSU has upgraded its KatSafe emergency notification system to include a new website, mobile app, and a series of videos. Details.
Caution Urged Near 'Tunnel Project' Construction
Facilities Management has begun what is being called the "Tunnel Pipe Replacement Project," which will include the replacement of underground chilled water lines and supports, as well as the installation of lighting and communication lines within the tunnel located underneath the surface in the Quad area on the west side of campus. Details.
SHSU Awarded $200K For Nursing Program
The Texas Higher Education Coordinating Board is awarding funding to SHSU's nursing program to work toward meeting the state's growing demand for nursing professionals. Details.
'Press, Presidency' To Be Reintroduced For Spring
Students can explore the interactions between the press and the White House, while also considering how those interactions impact the upcoming presidential campaigns, in a mass communication elective that will be offered in the spring and taught by a man who worked in the White House for many years. Details.
SHSU, Fire Marshals Team Up To Study Fire Deaths
More than 60 fire marshals, investigators and attorneys recently visited SHSU and took part in one of only two fire death investigation courses in the country using human case studies. Details.
Prof's Journalistic Work To Be Featured In Newseum
On Nov. 13, the Newseum will open its "Inside Today's FBI" exhibit, featuring firsthand accounts concerning the coverage of critical moments for journalists and law enforcement, among those whose stories will be shared will be several from Kelli Arena, Sam Houston State University's Dan Rather Endowed Professor and founding executive director of the Global Center for Journalism and Democracy. Details.
Grad Students Create Online Literary Journal
The Gordian Review, edited by English graduate students at Sam Houston State University, will accept applications from master's and doctoral students around the world through mid-November for their inaugural edition, to be released in December. Details.
This page maintained by SHSU's Communications Office
Associate Director: Julia May
Manager: Jennifer Gauntt
Writer: Tammy Parrett
Located in the 115 Administration Building
Telephone: 936.294.1836; Fax: 936.294.1834
Please send comments, corrections, news tips to Today@Sam.edu.