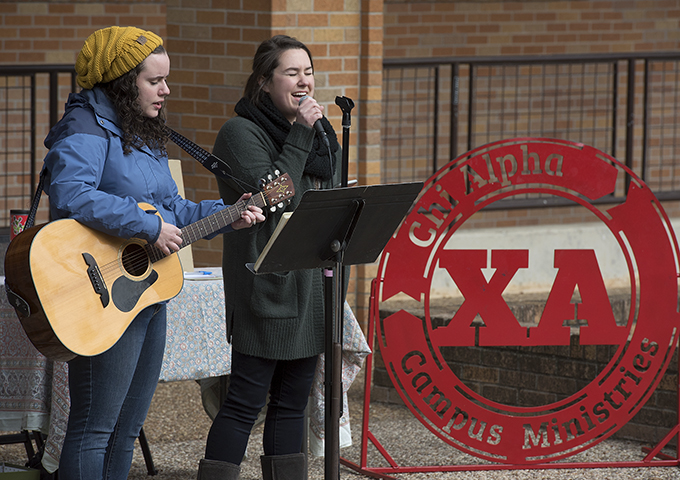 Emily Smith and Alanna Thibodeaux, interns with Chi Alpha Campus Ministries, entertain students outside the LSC during the noon hour. Classes for the Spring 18 semester officially began on Thursday. – Photo by Brian Blalock
---

NEW - Going Social with SHSU


For each segment, our team sits down with different influencers around the SHSU community to share their story. This time, we sat down with SHSU Alumnus and New York Best Selling Author Shea Serrano about the importance of "shooting your shot." Details.
---
SHSU Stories

Biological Sciences Receives Grant From Coastal Chemical
In collaboration with SHSU, Coastal Chemical Company is lending its support to the department of Biological Sciences for more than $100,000 in grant funding, equipment and labor in an attempt to devise a cost-effective and ecofriendly method that would reduce the level of oxygen from natural gas streams. Details
LEAP Hosts Ice Cream Social
Students can get the scoop on spring events hosted by the Center for Law, Engagement and Politics (LEAP) by attending an ice cream social on Wed. Jan. 24, from 4:00-5:30 p.m. in the Holcombe room of the College of Humanities and Social Sciences. Details
Spring Welcome Week Beckons Bearkats Back
The Department of Student Activities will jump start the new year by welcoming students back to campus during Welcome Week: Spring Edition, Jan. 15–19. Details
Staff Council Selects Spotlight On Staff Winner
Sam Houston State University's Staff Council's December Spotlight on Staff winner is, Brad Herget, assistant director of Event Services & Technology. Details
Runyan Named Dean Of College Of Health Sciences
Sam Houston State University has approved the appointment of Rodney Runyan as dean of the College of Health Sciences. Details
College of Criminal Justice Ranked No. 1 for Online Graduate Education
For the second year in a row the College of Criminal Justice has earned the No. 1 position among 60 universities across the country offering online graduate programs in criminal justice. Details
New Associate VP Of Research And Sponsored Programs Appointed
Associate Professor of Biology, Chad Hargrave, has been appointed Associate Vice President of Research and Sponsored Programs for Sam Houston State University. Details

COE Alumni Honored As School Namesakes
Sam Houston State University College of Education alumni and power couple, Jim and Pam Wells, were commemorated as the namesakes of one of the newest elementary schools in their community of Cypress-Fairbanks. Details
Resolution Approved For The Sam Houston Republic of Texas Presidential Library
The 85th Legislature of the State of Texas approved a resolution introduced by Representative Ernest Bailes for the creation of the Sam Houston Republic of Texas Presidential Library at Sam Houston State University. Details
Student Activities Grows From Giving Back
In the spirit of the season, the Department of Student Activities fostered the gift of giving to the Sam Houston State University community by hosting their annual canned food drive benefitting the Good Shepard Mission of Huntsville at the Tree of Light Ceremony on Nov. 28. Details
Bobby Lane Humbled By Excellence In Teaching Award
Professor Lane was honored in a ceremony in Washington D.C at the Annual Meeting of the Association of Public and Land-grant Universities where he was recognized as one of the regional United States Department of Agriculture Food and Agriculture Sciences Excellence in Teaching Award recipients. Details
Ag Business Senior To Defend First-Place Title At Top Pro Rodeo Challenge
In defense of his first-place title and $21,000, agricultural business senior Ty Arnold will compete against 33 other contestants in the 2017 Permit Challenge at the South Point Arena in Las Vegas, Nevada, Dec. 7. Details
Campus Goes Green With Campaign To Save Energy
The Go Green campaign is designed to promote efficient energy use. Students are encouraged to save energy across campus through simple acts like turning off lights and adjusting the thermostat to recommended temperatures. Details
Students Embarked Upon 'Trip Of A Lifetime' To Thailand
Students from the College of Education were able to check a mark off of their bucket lists when they traveled to Thailand as a part of a study abroad for education. Details
Tis' The Season Of Bearkats Giving
In the spirit of giving, departments across Sam Houston State University are hosting events and programs in order to encourage those on campus to give back to the community. Details.
Graphic Design Meets the Stage in Dance Spectrum
Mike Esperanza's creative approach to dance will be featured in the upcoming Dance Spectrum, Nov. 30 – Dec. 2. Details
SHSU Leadership Academy Honored With Development And Diversity Award
The American Association of State Colleges and Universities honored Sam Houston State University's High Potential Employee Leadership Academy with the Leadership Development and Diversity Award. Details
Criminal Justice And Criminology Ranked Third Globally
The Department of Criminal Justice and Criminology is now ranked third in the world among criminology and penology programs by the Center for World University Rankings. Details
This page maintained by SHSU's Communications Office
University Communications Manager: Emily Binetti
Located in the 115 Administration Building
Telephone: 936.294.1836; Fax: 936.294.1834
Please send comments, corrections, news tips to Today@Sam.edu.