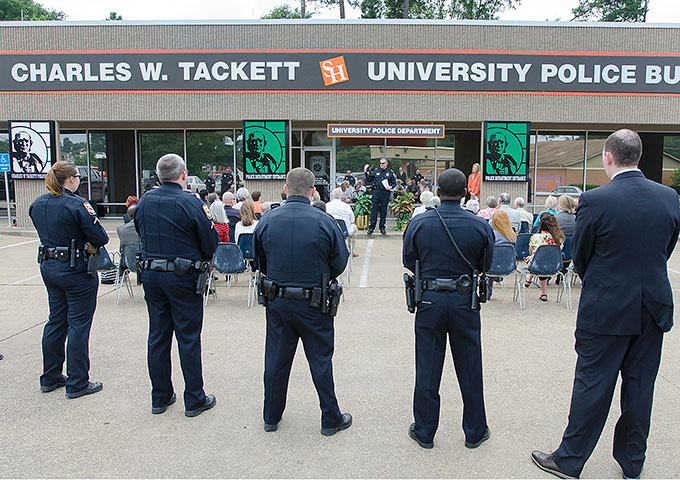 Sam Houston State University Police Department Chief Kevin Morris speaks during the formal dedication of the Charles W. Tackett Building on Tuesday afternoon, as UPD officers stand in the foreground. The building now carries the name of the longtime UPD chief, whose family was in attendance during the ceremony. — Photo by Brian Blalock
Study Identifies Partner Violence Victims Barriers
Texas has a shortage of beds for survivors of intimate partner violence, and although alternatives may be offered, survivors may find themselves isolated from much-needed services, such as crisis intervention, legal advocacy, support groups, medical advocacy, individual counseling and others, according to a study by the Crime Victims' Institute at Sam Houston State University. Details.
Museum Offers Free Admission Through Blue Star Program

For the fifth year, the Sam Houston Memorial Museum is joining more than 2,000 museums across America to offer free admission throughout the summer to military personnel and their families in collaboration with the National Endowment for the Arts, Blue Star Families and the Department of Defense. Details.
Lyons Named Criminal Justice Dean, Director
Phillip Lyons, professor of criminal justice at Sam Houston State University, has been named dean of the university's College of Criminal Justice and director of its affiliated Criminal Justice Center, effective Sept. 1. The announcement was made today by SHSU Provost and Vice President for Academic Affairs Jaimie Hebert. Details.
Prof Receives State Association's Mentoring Award
For his work with dozens of graduate and undergraduate students in the SHSU Department of Biological Sciences, Madhusudan Choudhary recently was recognized as the recipient of 2013-2014 Texas Branch American Society for Microbiology Faculty Mentoring Award. This recognition also includes a $1,000 cash award. Details.
SHSU Recognized For Promotional Efforts
Sam Houston State University's promotional and advancement efforts have earned the university four Communicator Awards of Distinction by the Academy of Interactive and Visual Arts, as well as three awards by the Council for Advancement and Support of Education. Details.
SHSU Alumnus Named To Board Of Regents
Texas Gov. Greg Abbott has appointed Alan Tinsley, a Sam Houston State University alumnus from Madisonville, to serve as a member of the Texas State University System Board of Regents. His term will expire Feb. 1, 2021. Details.
Internal Grant Recipients Announced
Twenty faculty members who have shown the beginnings of excellence in innovative projects have been selected to receive internal research grants. The program through which they were named is overseen by the Office of Researchand Sponsored Programs. Details.
This page maintained by SHSU's Communications Office
Associate Director: Julia May
Manager: Jennifer Gauntt
Writer: Tammy Parrett
Located in the 115 Administration Building
Telephone: 936.294.1836; Fax: 936.294.1834
Please send comments, corrections, news tips to Today@Sam.edu.