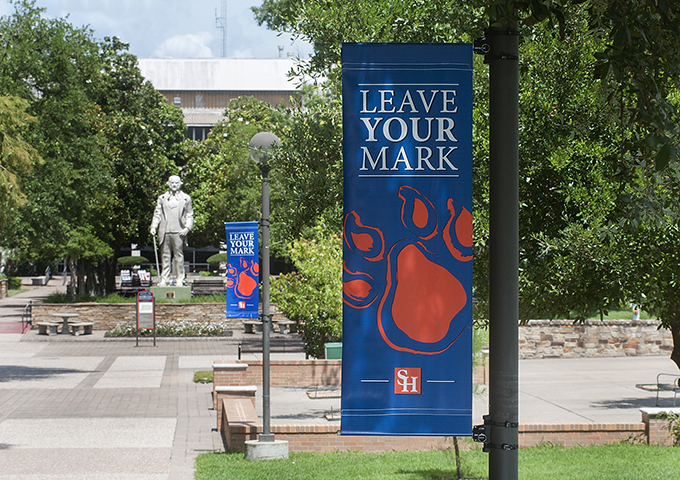 The first class day for the second summer session is Tuesday, July 7. The last day to register and process schedule changes is July 8. Please refer to the Schedule of Classes for details. — Photo by Brian Blalock
Study Investigates Parent-Child Visitation In Prison
Two-thirds of those children report having negative experiences such as fear, anger, anxiety, and related reactions, according to a study funded by the National Institute of Justice by Melinda Tasca, assistant professor of criminal justice and criminology at Sam Houston State University. Details.
Four Selected For Faculty Excellence Awards
The 2015 Faculty Excellence Award recipients include Karen Miller, Academic Community Engagement; Mary Alice Conroy, Service; Scott Chapman, Scholarly and Artistic Accomplishment; and Nancy Baker, Teaching. Details.
Austin Interns End Session On High Note
Following five months in Austin, the eight participants in Sam Houston State University's Austin Internship program approached their final day of work with bittersweet feelings. Their final day, however, turned out to be more sweet than bitter, involving a meeting with Gov. Greg Abbott and receiving recognition from the House floor. Details.
Woodforest Donates $100,000 To Banking Program
Woodforest Bank's donation to Sam Houston State University will sponsor the Bank Executives and Directors Seminar and Golf Tournament, which provides scholarships to banking students and support for the programs under the Smith-Hutson Endowed Chair of Banking. Details.
Four Recognized With Staff Excellence Awards
This year's recipients include Kelly Bentsen, ERP analyst IV for IT@Sam; Megan Hobbs Barrett, assistant to the art department chair; Lisa Langlais, administrative associate II for the department of mathematics and statistics; and Edward "Bubba" Miller, rodeo coach in the department of agricultural sciences and engineering technology. Details.
Study Identifies Partner Violence Victims Barriers
Texas has a shortage of beds for survivors of intimate partner violence, and although alternatives may be offered, survivors may find themselves isolated from much-needed services, such as crisis intervention, legal advocacy, support groups, medical advocacy, individual counseling and others, according to a study by the Crime Victims' Institute at Sam Houston State University. Details.
Museum Offers Free Admission Through Blue Star Program

For the fifth year, the Sam Houston Memorial Museum is joining more than 2,000 museums across America to offer free admission throughout the summer to military personnel and their families in collaboration with the National Endowment for the Arts, Blue Star Families and the Department of Defense. Details.
Lyons Named Criminal Justice Dean, Director
Phillip Lyons, professor of criminal justice at Sam Houston State University, has been named dean of the university's College of Criminal Justice and director of its affiliated Criminal Justice Center, effective Sept. 1. The announcement was made today by SHSU Provost and Vice President for Academic Affairs Jaimie Hebert. Details.
This page maintained by SHSU's Communications Office
Associate Director: Julia May
Manager: Jennifer Gauntt
Writer: Tammy Parrett
Located in the 115 Administration Building
Telephone: 936.294.1836; Fax: 936.294.1834
Please send comments, corrections, news tips to Today@Sam.edu.