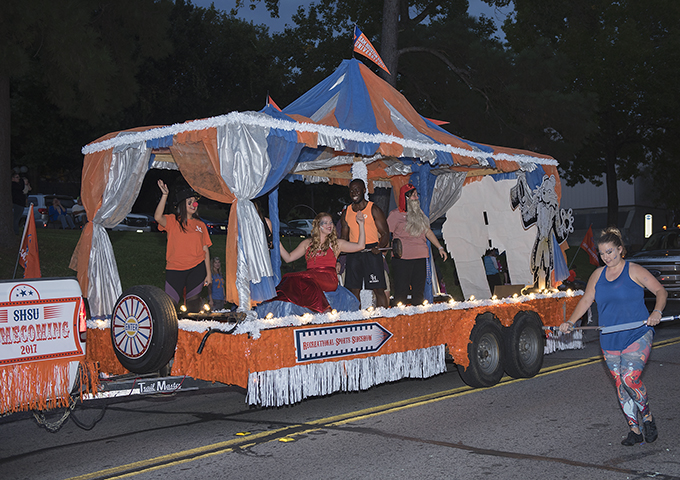 Recreational Sports won the 1st overall prize of $1,000 and the Creativity Award from Student Activities for the 2017 Homecoming Parade on Thursday, Oct. 19. Other winners included: Student Government Association for the 2nd overall prize of $500, Alpha Delta Pi and Sigma Chi for the 3rd overall prize of $250 and Committee's Choice, Wesley Foundation for Appearance, and Alpha Chi Omega and Delta Tau Delta for Use of Theme. --- Photo by Brian Blalock
---

NEW - Going Social with SHSU


For each segment, our team sits down with different influencers around the SHSU community to share their story. This time, we sat down with SHSU Alumnus and New York Best Selling Author Shea Serrano about the importance of "shooting your shot." Details.
---


SHSU Stories
Veterans Alliance Training Scheduled For Nov. 1
The Veterans Resource Center will offer an informative session to support veteran student success. Details.

SHSU To Host Geography Annual Meeting For First Time
For the first time, Sam Houston State University will host the Southwest Division of the American Association of Geographers (SWAAG) annual meeting from Oct. 25-28. Details.
New York Dance Festival Returns To SHSU
The SHSU Department of Dance and VON USSAR danceworks will present the ninth annual Dance Gallery Festival, featuring original works from emerging and renowned choreographers from around the country on Oct. 27-28. Details.
Fresh Check Day Aimed At Building Mental Health Awareness
SHSU departments have joined forces to build awareness and engage in conversations on the topic of mental health. The free event will take place on Oct. 25 from 10 a.m. to 1 p.m. in the Lowman Student Center Mall Area. Details.
Student-Produced TV Show Launches Fall Season
"City Spotlight," the 30-minute Sam Houston State University student-produced television show that focuses on people, places and events in Huntsville and on campus, will begin airing of shows for the fall semester on KSHU-TV, Channel 7, on Wednesday, Oct. 18, at 4 p.m. Details.
Top 10 Ways To Enjoy The Fall Season At SHSU
It's the sound of football stadium cheers, the feel of crisp cool air and the smell of pumpkin-spiced everything to get those warm and fuzzy feelings of the fall season flowing. To help you get into the mood (before it warms up again!) here's a quick top ten (or maybe 12) list of ways to enjoy the fall season on campus. Details.
Muftić Leads Special Issue Of Criminal Justice Review
Lisa Muftić, associate professor in the Department of Criminal Justice and Criminology at Sam Houston State University, served as a guest editor of Criminal Justice Review for an issue on special victim groups. Details.
Professor's Book Published In Croatian, Turkish
Mitchel Roth's book, "An Eye for an Eye: A Global History of Crime and Punishment," originally released in 2015, recently has been re-published in Croatian and Turkish language editions. The book chronicles the history of crime and punishment across the world. Details.
Steve Pemberton To Share Story Of Resilience In President's Speaker Series
Steve Pemberton will share his compelling story as a part of the President's Speaker Series on Oct. 31 beginning at 10 a.m. in the James and Nancy Gaertner Performing Arts Center's Payne Concert Hall. A book signing will follow. Details.
Domestic Violence Awareness Month Events Set
Learn more about violence against women during Domestic Violence Awareness Month at Sam Houston State University during the month of October. Details.
Beta Alpha Psi Places First At National Competition
Sam Houston State University's chapter of Beta Alpha Psi received first place in leadership development at the 2017 Best Practices Competition, held at the Annual Meeting in Anaheim, California on Aug. 3-5. Details.

SHSU Mourns The Loss Of Beloved Music Professor
SHSU faculty, staff and students are mourning the loss of Sheryl Murphy-Manley, beloved music professor. Sheryl was devoted to her career as an educator and despite her battle with cancer, her passion for education and music inspired her to continue teaching as long as possible. A recent Today@SAM story highlighted her dedication to her work as an educator and artist. Our thoughts are with her family and friends. Read the Today@Sam Story.
SHSU Receives Grants For Child Abuse Cases Study
The study by Lisa Muftić of the Department of Criminal Justice and Criminology at SHSU is being funded through grants from the Children's Justice Act and Children's Advocacy Centers of Texas. Details.
Memorial Museum To Sponsor Annual Photo Contest
The Sam Houston Memorial Museum has announced its 2017 Photo Contest. The categories for submission this year are Floral, Animals, Action, Open Spaces, Personality, and Architecture. The deadline to enter is Oct. 29 by 4:00 p.m. Details.
Fall Diversity Reader Revealed
"The House on Mango Street" has been selected as the Diversity Reader at Sam Houston State University for the fall 2017 semester. Details.
Holmes Named Woodlands Chamber Chairman
Frank Holmes, vice president of university advancement at Sam Houston State University, has been elected as the 2017-2018 chairman of the board for The Woodlands Area Chamber of Commerce. Details.
Distinguished Alumni To Be Honored At Gala
Those who will be honored during the Distinguished Alumni Gala on Oct. 20 include Distinguished Alumni Richard Mills, John Simmons and the late John Phelps; Outstanding Young Alumnus Justin Burnett; and Service Award recipients Susan Lenamon and Albert McCaig Jr. Details.
SHSU Appoints New Associate Vice Provost
Christopher Maynard, who most recently served as associate dean of the College of Arts and Sciences at the University of North Alabama, has been appointed associate vice provost for Sam Houston State University. Details.
The Woodlands To Offer Language, Culture Classes
To help those who wish to become more proficient in English, Sam Houston State University will offer Language and Culture classes in the fall and spring at SHSU—The Woodlands Center. Details.
Faculty, Staff Service Recognized At Annual Meeting
Sam Houston State University President Dana Hoyt recognized university employees for their service and outstanding accomplishments during the annual Faculty and Staff General Meeting on Sept. 7 in the Gaertner Performing Arts Center Concert Hall. Details.
Kat Tracks Shuttle Steams Ahead For Fall
Facilities Management and Academic Affairs at Sam Houston State University has officially launched the "Kat Tracks" convenience shuttle that will provide transportation to the Huntsville Walmart and Target shopping centers for students to safely acquire necessities. Details.
This page maintained by SHSU's Communications Office
University Communications Manager: Emily Binetti
Located in the 115 Administration Building
Telephone: 936.294.1836; Fax: 936.294.1834
Please send comments, corrections, news tips to Today@Sam.edu.