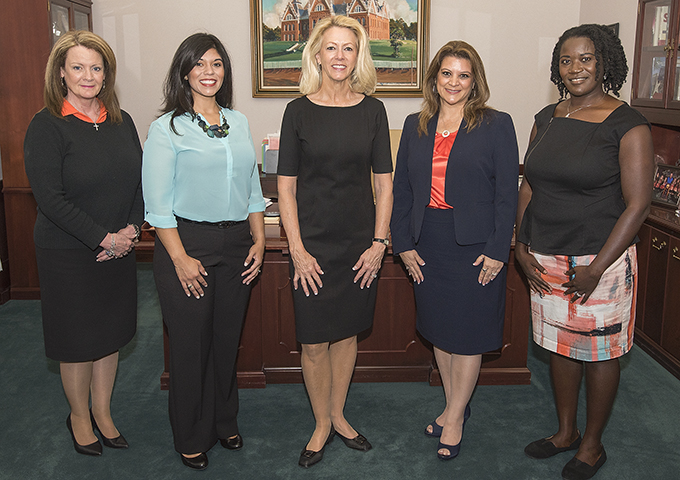 SHSU President Dana Hoyt (center) congratulates the 2016 Staff Excellence Award winners (from left) Kay Angrove, Deanna Briones, Staci Baker, and Stephanie Bluth, who, in total, received 26 nominations from their peers recognizing their outstanding abilities, efficiency, motivation, innovation, and contribution to SHSU's students. Read more about the recipients here. —Photo by Brian Blalock
Share |
For Month of June
Museum To Participate In Blue Star Museums Program
For the sixth year, the Sam Houston Memorial Museum is joining more than 2,000 museums across America to offer free admission throughout the summer to military personnel and their families in collaboration with the National Endowment for the Arts, Blue Star Families and the Department of Defense. Details.
SHSU Recognizes Four Faculty For Excellence
Four Sam Houston State University professors whose teaching, scholarly accomplishments, service, and academic engagement stand out among their peers have been honored with SHSU's 2016 Faculty Excellence Awards. Details.
Hoover Named Distinguished Professor
Larry Hoover, professor of criminal justice at Sam Houston State University, recently was named a Distinguished Professor at the annual College of Criminal Justice's Leadership Luncheon on April 28. Details.
SHSU Hosts Annual 'Scouts@Sam'
Girl Scouts and Boy Scouts from all over the state gathered on Sam Houston State University's campus on April 30 for the seventh annual Scouts@Sam event. Details.
Garage Summer Special Available Again
Faculty and staff who will be on campus this summer have the opportunity to purchase access to the Sam Houston Parking Garage. An All Access card was available for the first time last summer and proved to be a hit. The card is available once again for those who already have a valid 2015-16 parking permit. Details.
Art Exhibitions To Wrap Up Spring Semester
More than two dozen Sam Houston State University art students will end the semester by highlighting the work they've spent 16 weeks completing during two exhibits, including the "Huntsville Narratives" show, on display through June 6 in the Satellite Gallery. Details.
Prof Celebrates Shakespeare With International Performances
Thomas Prior, associate professor of theatre at Sam Houston State University, is nearing the end of a three-month faculty development leave, during which he has directed and acted in a play with the Prague Shakespeare Company. Details.
'College 101:' Making The Most Of Your Summer
With summer vacation approaching, a lot of students have one thing on their mind—money. MarCom student writer Dawine Bergeron uses her experiences to share with students how summer internships can be valuable not only through compensation but also in experiences that can help them with their career potential. Details.
Study Finds Laws Protecting Child Witnesses Lack Uniformity

"The Child as Witness: Evaluating State Statutes on the Courts Most Vulnerable Population" explores differences in state laws regarding testimony by child witnesses and victims, as well as recommends model policies to address the rights of children. Details.
History Prof Named Pulitzer Prize Finalist
Congratulations to Brian Jordan, whose book, "Marching Home," has been selected as one of three finalists for the 2016 Pulitzer Prize in History. "We are beyond thrilled that Dr. Brian Matthew Jordan and his important work on a neglected aspect of Civil War history have been recognized by the Pulitzer committee," said Abbey Zink, dean of the College of Humanities and Social Sciences. "Brian exemplifies the teacher-scholar model to which we aspire in the college." Learn more about Jordan and his book here.
CJ Prof To Discuss New Book On Mexican Cartels
Nathan Jones, Sam Houston State University assistant professor of security studies, recently published his first book based on his dissertation research on drug cartels and government interventions in the drug trade in Mexico. Details.
Hebert To Leave For Georgia
SHSU Provost and Vice President for Academic Affairs Jaimie Hebert will leave Huntsville this summer to assume the presidency of Georgia Southern University. Associate Provost Richard Eglsaer will serve as interim provost while the university conducts a search to fill the position. Details.
This page maintained by SHSU's Communications Office
Associate Director: Julia May
Manager: Jennifer Gauntt
Writer: Tammy Parrett
Located in the 115 Administration Building
Telephone: 936.294.1836; Fax: 936.294.1834
Please send comments, corrections, news tips to Today@Sam.edu.