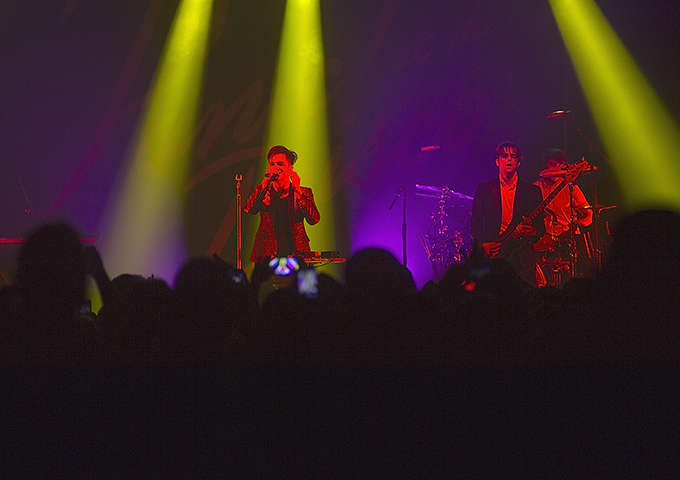 Panic! at the Disco had students on their feet Wednesday night as the Sammypalooza headliners. Before Brendon Urie and his group took stage, Bearkats were treated to Mary Lambert and Cassadee Pope, who performed a variety of original songs and covers. —Photo by Brian Blalock

For Week of March 22
Conference To Update Public On Technology Issues
In a fast-paced world, the technology that surrounds us is constantly changing. For those who are looking to learn about these changes, the 2nd Annual Sam Houston Association of Computer Scientists Future Tech Conference, April 10-11, might present the perfect opportunity. Details.
Leadercast 2015 To Highlight 'Brave Ones'
Sam Houston State University will host the 2015 Leadercast "The Brave Ones" on Friday (May 8), filled with such speakers who have demonstrated bravery as Malala Yousafzai, Peyton Manning and Rudy Giuliani. Early bird registration ends March 31. Details.
Oliver Goes Three For Three With Publications
Willard M. Oliver, professor of criminal justice at Sam Houston State University, recently published his third co-authored/co-edit book in the past three months. The publications include a book on federal law enforcement agencies, an encyclopedia of drugs in American society and a volume on homeland security. Details.
Groups 'Pump It Up' For Sexual Assault Awareness
The Criminal Justice Graduate Student Organization is teaming up with Lambda Alpha Epsilon and the National Association of Blacks in Criminal Justice to kick off Sexual Assault Awareness Month with Sam Houston State University's inaugural Walk a Mile in Her Shoes event on Wednesday (April 1) from 3-5 p.m. outside of the Bernard G. Johnson Coliseum. Details.
Fourth Event To Recall Lives Of Lost Bearkats
The Orange Keys will lead in the official remembrance of the recently departed faculty members, as well as other "fallen" Bearkats, during its fourth annual Raven's Call on April 17, at noon in front of the Ron and Ruth Blatchley Bell Tower. Details.
'Great Colleges' Survey Deadline Is April 13
Faculty and staff who are randomly selected to participate in the 2015 "Great Colleges To Work For" survey have until April 13 to voice their opinions online. The email indicating those who were selected to participate this year will come from ModernThink. Details.
Theatre Department Wins Big At Regional Festival
Sam Houston State University's Department of Theatre and Musical Theatre recently received 15 regional and five national awards for its production of Sophie Treadwell's "Machinal" at the weeklong Region VI Kennedy Center American College Theater Festival in San Angelo. Details.
SHSU Recognized As 'Tree Campus USA'
The Arbor Day Foundation has honored Sam Houston State University as a 2014 Tree Campus USA for its commitment to sound urban forest management. The announcement comes as SHSU is preparing for Sam Houston Arbor Day, which will take place March 26 with activities beginning at 2 p.m. for students, faculty, and staff. In addition to planting trees on campus, individuals will be able to participate in educational activities to increase their knowledge about trees and the significance of Arbor Day. Details.
SHSU Ranked First In Post-Graduation Employment
Sam Houston State University has been ranked first in the state for having graduates employed following graduation. The SHSU Career Services Office offers a number of programs to help students prepare for entering the workforce. Details.
'Terrorist's Son' To Discuss Peace At SHSU
Two-time TED Talk speaker Zak Ebrahim will share his stories and experiences of growing up as the son of a terrorist and his path he took in practicing preaching the message of peace on April 7. Details.
Award Winning Filmmaker To Speak On April 1
Lawyer-turned-filmmaker Dawn Porter will be the featured speaker at the SHSU Distinguished Lecturer Series presentation on April 1 in the Mafrige Auditorium of the Smith-Hutson Business Building. Her award-winning documentary, "Gideon's Army," will be shown in the auditorium at 2 p.m. prior to her lecture at 3:30. Details.
Festival To Celebrate Jazz Experience
Two days of jazz will swing in full force on Friday and Saturday (March 27-28) as music talent from across the state takes to the James and Nancy Gaertner Performing Arts Center stage for the 57th annual SHSU Bill Watrous Jazz Festival. Details.
Program Gives Students Law School 'Experience'
The SHSU Center For Law, Engagement, And Politics—in conjunction with the South Texas College of Law—recently gave pre-law students the opportunity to participate in a simulated law class through its "Mock Law Class." Details.
SHSU Grad Wins $600,000 In Rodeo Competition
Former Bearkat rodeo team member Taylor Price won the bareback bronc riding competition at The American Rodeo at AT&T Stadium in Arlington on Sunday. He defeated the world's top 10 bareback bronc riders. See the Huntsville Item story here.
SHSU, Rockets Match Up For Second Annual Event
Sam Houston State University students, faculty, staff and alumni are invited to join in on the fun as the Houston Rockets take on the Minnesota Timberwolves for "SHSU Night with the Houston Rockets" at Houston's Toyota Center on March 27. Details.
Regents Approve Construction, Name Changes
A summary of action taken regarding Sam Houston State University by the Texas State University System Board of Regents quarterly meeting on Feb. 19-20 can be found here.
CJ Prof Takes Reader Deep Into Crime, Punishment
Mitchel P. Roth's latest book "An Eye For An Eye: A Global History Of Crime And Punishment" covers just about every crime and form of punishment imaginable from petty wrongdoings to serial murders and stoning to lethal injection, along with the role they have played in cultures and societies throughout the world. Details.
Teaching Conference To Explore Online Education
Sam Houston State University Online will engage professors in topics related to distance education during its fourth annual Teaching and Learning Conference, March 26-27 in the Lowman Student Center. Details.
This page maintained by SHSU's Communications Office
Associate Director: Julia May
Manager: Jennifer Gauntt
Writer: Tammy Parrett
Located in the 115 Administration Building
Telephone: 936.294.1836; Fax: 936.294.1834
Please send comments, corrections, news tips to Today@Sam.edu.