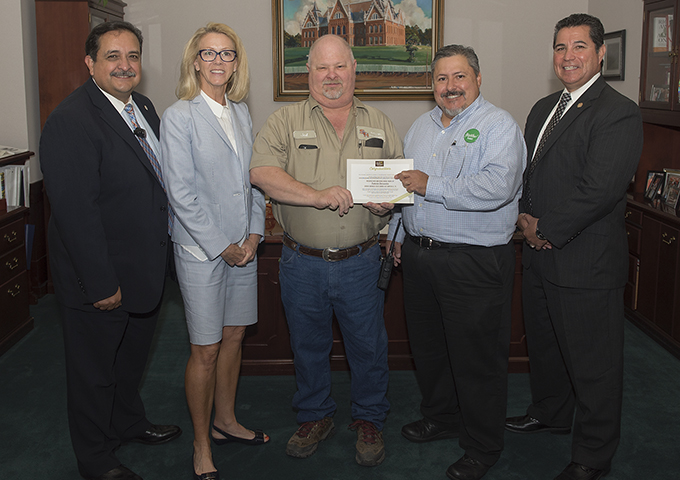 Jeb Cryer, facilities management, was nominated and awarded an Olive Garden Never Ending Pasta Pass from General Manager Robert Benavides for his outstanding service to the university during the Hurricane Harvey cleanup efforts. Cryer, among others, helped dry out buildings and clean up debris everyday after the storm hit to get campus ready for the safe return of students, staff and faculty.
From left, Carlos Hernandez, vice president for Finance and Operations, President Dana Hoyt, Jeb Cryer, facilities management, Robert Benavides, general manager of Olive Garden, and Juan Nunez, associate vice president for Facilities Management. —Photo by Brian Blalock
Share |
Hendrickson's Last Lecture Series Set For Oct. 2
If you knew you had one last chance to address an audience, what would you say? Ken Hendrickson, professor and dean of Graduate Studies, will give his Last Lecture on Oct. 2 at 2 p.m. in College of Humanities and Social Sciences Room C070. Details.
Former Enron CFO To Discuss Business Ethics
Andrew Fastow, former CFO of Enron, will address the 2001 collapse of the company and discuss his role and that of Enron's culture during his presentation, "Rules vs. Principles," on Oct. 3. Details.
SHSU To Host Conflict Resolution Month
In an effort to equip the Sam Houston State University community with useful insights and tools to effectively resolve disputes, SHSU's Student Legal and Mediation Services will host the fifth annual Conflict Resolution Month in October. Details.
SHSU Appoints New Associate Vice Provost
Christopher Maynard, who most recently served as associate dean of the College of Arts and Sciences at the University of North Alabama, has been appointed associate vice provost for Sam Houston State University. Details.
The Woodlands To Offer Language, Culture Classes
To help those who wish to become more proficient in English, Sam Houston State University will offer Language and Culture classes in the fall and spring at SHSU—The Woodlands Center. Details.
LEAP Center To Offer heART Of Huntsville
Sam Houston State University's LEAP Center is bringing the heART of Huntsville program to campus and the community for a third consecutive year. The three-week program, designed to highlight the art and architecture in the community, will be held on the first three Tuesday nights in October. Details.
MFA Faculty Member To Read From Latest Book
The Sam Houston State University MFA Program in Creative Writing, Editing, and Publishing will celebrate the launch of Assistant Professor Olivia Clare's newest book, "Disasters in the First World" (Black Cat/Grove Atlantic), with a reading and book signing on Sept. 19. Details.
Gaddis Geeslin Gallery To Host Photography Exhibit
The Gaddis Geeslin Gallery in the Department of Art at Sam Houston State University will present "Photography in Place," a curated exhibition of contemporary photography, from Sept. 18 through Oct. 13. Details.
Faculty, Staff Service Recognized At Annual Meeting
Sam Houston State University President Dana Hoyt recognized university employees for their service and outstanding accomplishments during the annual Faculty and Staff General Meeting on Sept. 7 in the Gaertner Performing Arts Center Concert Hall. Details.
Kat Tracks Shuttle Steams Ahead For Fall
Facilities Management and Academic Affairs at Sam Houston State University has officially launched the "Kat Tracks" convenience shuttle that will provide transportation to the Huntsville Walmart and Target shopping centers for students to safely acquire necessities. Details.
Art Students Lend Perspective To Living Community
Tony Shipp, associate professor of art at Sam Houston State University, assigned students in his summer sculpture course to create a new statue for campus. Details.
Faculty Recognized At Annual Awards Dinner
SHSU faculty members who have attained significant honors and achievements during the year were recognized at the 13th Annual President's Academic Awards Dinner on Aug. 22. Details.
Faculty Excellence Award Recipients Announced
Four Sam Houston State University professors, whose activities and accomplishments demonstrate exemplary achievements and contributions, have been honored with SHSU's 2017 Faculty Excellence Awards. Details.
Franklin Appointed Director Of SHSU's CVI
Cortney Franklin, associate professor in the Department of Criminal Justice and Criminology at Sam Houston State University, has been appointed director of the Crime Victims' Institute at SHSU, a research center that studies the impact of crime on victims and society. Details.
SHSU To Offer Doctorate In Higher Ed Leadership
Sam Houston State University has been approved to offer a new doctoral program in higher education leadership by the Texas Higher Education Coordinating Board, beginning in the spring 2018 semester. Details.
Alternate Routes, New Parking Spaces Available
Students may have to walk a little farther to get to classes, but the good news is that additional parking spaces will be available when the semester begins. Details.
Health Science Interns Reflect On Experiences
A number of Sam Houston State University College of Health Science students interned at four different companies this summer. The companies included the Cleveland ISD Child Nutrition Program, Healing Species of Texas, the Leukemia and Lymphoma Society, and Make-A-Wish Foundation. Details.
Counseling Professor Receives Lifetime Award
Distinguished professor of counseling and Texas State University System regents' professor Richard Watts recently received the Lifetime Service Award for his service to the Association for Spiritual, Ethical and Religious Values in Counseling. Details.
SHSU Receives Grant To Develop East Asian Studies
The One Asia Foundation recently awarded a $50,000 "Grant for Opening a Course on the Asian Community" to history professors Eric Vanden Bussche and Thomas Cox to promote East Asian studies at Sam Houston State University. Details.
SHSU Receives National Science Foundation Award
The National Science Foundation has awarded Sam Houston State University an intended total amount of more than $2 million to support the project entitled, "A Comprehensive Model for Improving the Success of STEM Majors through the STEM Center." Details.
This page maintained by SHSU's Communications Office
Director of Marketing & Communications: Jeff Olsen
Writer: Lane Fortenberry
Located in the 115 Administration Building
Telephone: 936.294.1836; Fax: 936.294.1834
Please send comments, corrections, news tips to Today@Sam.edu.