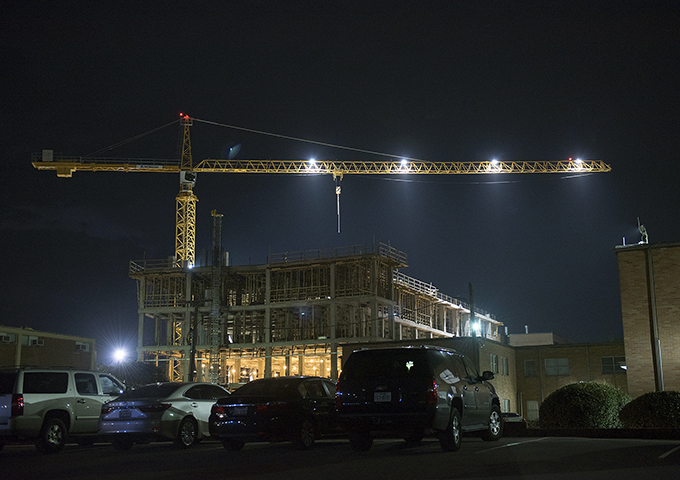 Construction is moving along for the SHSU Biology Laboratory Building, which is scheduled for completion in the summer of 2018. The 97,000-square foot building will house laboratories with instructional, research and administrative areas. -- Photo by Brian Blalock
Share |
For Week Of May 7
Orientation Heats Up For The Summer
Registration is officially open for incoming freshman and transfer students to be a part of Sam Houston State University's tradition of Bearkat Orientation's summer sessions. All incoming freshmen are required to register for and attend one of the nine two-day Freshman Orientation sessions. Details.
New Program To Help Prepare Future Educators
The College of Education at Sam Houston State University is developing a program, Grow Your Own, which will help prepare future educators during their junior and senior years of high school. Details.
Musical Theatre Student Wins National Award
A student in SHSU's musical theatre program has received a full ride scholarship to a prestigious summer institute in New York City after winning a national award for his performance at the Kennedy Center American CollegeTheatre Musical Festival. Details.
Regents Approve New Programs For SHSU
The Texas State University System Board of Regents approved several new academic offerings, as well as faculty tenure and promotions, for Sam Houston State University during its quarterly meeting on Friday, May 19, at Texas State University in San Marcos. Details.
CVI Begins Series On Sexual Assault On Campus
The Crime Victims' Institute at Sam Houston State University has launched a new series of reports on sexual assault on college campuses, which will investigate high-risk populations, bystander intervention, criminal justice responses and best practices. Details.
Compliance Officer Speaks At Texas A&M University
Sam Houston State University's new compliance officer Joseph Agins shared his knowledge about best practices with other compliance professionals at Texas A&M University's quarterly compliance meeting in College Station earlier this month. Details.
Vienne Honored By National Organization
SHSU Assistant Vice President for Student Affairs Kristy Vienne has been recognized for her contributions to the campus card industry with the 2017 Distinguished Service Award. The award was presented at the National Association of Campus Card Users last month in Orlando. Details.
Researchers Study DNA From Explosives
In a study published in "Forensic Science International: Genetics," a team of graduate students and faculty from the Department of Forensic Science investigated several methods to recover and analyze DNA from improvised explosive devices. Details.
Student Completes IRONMAN Texas Triathlon
The athletes have 17 hours to complete the race. One Sam Houston State University student took on the challenge and succeeded. Jacob McCauley, computer science major from Montgomery, completed the triathlon—his first ever. Details.
Oliver's Exhibit Honors Father Of American Policing
The exhibit, which runs through September at the Berkeley Historical Society, was created by Willard Oliver, a professor in the Department of Criminal Justice and Criminology at Sam Houston State University, in honor of the former Berkeley police chief. Details.
Student Named National Emerging Forensic Scientist
Lindsay Glicksberg has received the Emerging Forensic Scientist Award by the Forensic Science Foundation for her research on the stability of "bath salts" in biological evidence. She studied the stability of 22 synthetic cathinones, a dangerous class of designer drugs that emerged in the U.S. in 2009. Details.
Low Heart Rate Linked To Stalking Behaviors In Men
The study found that males with a low resting heart rate were at significantly greater risk of engaging in stalking behavior. Based on arousal theory, those with low levels of arousal are less fearful, more likely to seek opportunities to pursue victims to feel stimulated, and are more likely to exhibit impulsive behaviors. Details.
New Center To Provide Transition Services Support
The SHSU College of Education has received approval to establish the Eleanor and Charles Garrett Center on Transition and Disability Studies. The center is the first of its kind in Texas to have a dedicated focus on the practitioner aspects of transition services to help facilitate positive post-school results for students with disabilities. Vickie J. Mitchell is the Eleanor and Charles Garrett Endowed Chair in Special Education at SHSU and co-director of the Garrett Center. Details.
This page maintained by SHSU's Communications Office
Associate Director: Julia May
Manager: Jennifer Gauntt
Writer: Lane Fortenberry
Located in the 115 Administration Building
Telephone: 936.294.1836; Fax: 936.294.1834
Please send comments, corrections, news tips to Today@Sam.edu.