Students classified as a Senior, Masters, or Doctoral completing the requirements for degree this term must apply for graduation online. If you do not intend to graduate this term, please do not attempt to apply to graduate. The Application for Graduate fee is a non-refundable fee and does not roll forward to any future terms.
The deadline to submit an Application for Degree for fall 2015 is 5pm Monday, September 14.
Please note: Submitting an application for degree after the deadline date could result in the student's name NOT appearing in the official commencement program.
The application fee is $35.00. After the deadline the fee will be $60.00.
To apply for graduation, login to My Sam. Select Student Tab, Banner Self Service and select the following:
Student
Student Records
Apply to Graduate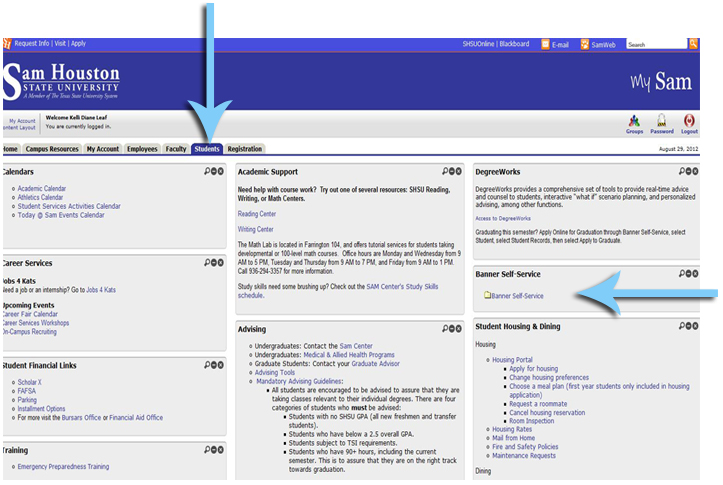 Payment is due upon application. Payment options: ACH, Pin-less debit, or Credit Card (American Express, Discover, or Mastercard).
Regarding the name to appear on the diploma/commencement program:
Within the online application process, you will be permitted to edit the name for your diploma and commencement program. Keep in mind that surnames and titles will not be printed. Only first, middle, last name, and suffix will be printed on the diploma and program. NOTE: Editing your name for the diploma/program does not change your name officially with the university. If you would like to change your name officially on your record, you must submit the needed documentation to the Payroll Office.
Regarding the Curriculum (degree program/major):
Should you find that the degree program listed is incorrect, simply email the Registrar's Office to request a review of your curriculum information on file. The email address for the Registrar's Office is registrar@shsu.edu. Please note that the online Application for Degree process provides the student an opportunity to review the curriculum on file so any updates to the curriculum may be made in a timely manner prior to the posting of degrees and printing of diplomas.
What if I fail to submit my Application for Degree?
Students who do not submit an Application for Degree will NOT have their degrees posted to their academic transcript, will NOT receive a diploma, nor have their names included in the commencement program. It is very important that students abide by the published deadline date in order to be considered a degree candidate for that term.

For more information about the Application for Degree and the Commencement Ceremony, please visit our Graduation website.
The application fee neither rolls forward into a future term, nor is refundable. Students who apply for graduation and do not complete degree requirements within that term will be required to submit a new application for graduation and pay another application fee.