2015-2016 ORANGE PRIDE DANCE TEAM TRY OUTS
Dates:

Spring Tryout: May 9-10, 2015 *Must attend BOTH days*


Summer Tryout: June 13, 2015 *One-day Tryout*

Location:

Academic Building 3, Room 101

1922 Avenue J

Huntsville, TX 77340

Spring Tryout

Approx. Times:

Saturday, May 9th: 3pm to approx. 9pm

Sunday, May 10th: 9am until the final cut is made

Summer Tryout

Approx. Times:

Saturday, June 13th: 9am to approx. 3pm

Cost:

$20 per tryout (not per day)
It is highly recommended to attend the Spring Tryout for placement on the team. Summer Tryouts are used to full any positions not filled during the Spring Tryout. Candidates not selected at the Spring Tryouts may also attend the Summer Tryouts. Candidates are also encouraged not to wait for Summer Tryouts if possible in the event that all positions are filled during the Spring Tryout.
---

REQUIREMENTS FOR TRYOUTS
New students must be admitted to Sam Houston State University for the upcoming Fall Semester in order to tryout. Students cannot be admitted on any type of probation.
Sam Houston State University students must have a 2.2 cumulative grade point average and be in good standing with the university. Students cannot be on any form of academic and/or disciplinary probation.
An application form and current transcript or copy of a letter of acceptance into SHSU must be turned in along with the $20 application fee.
Candidates need to bring a copy of their insurance to the audition.
Returning members of the team must have left the team in good standing the previous year.
---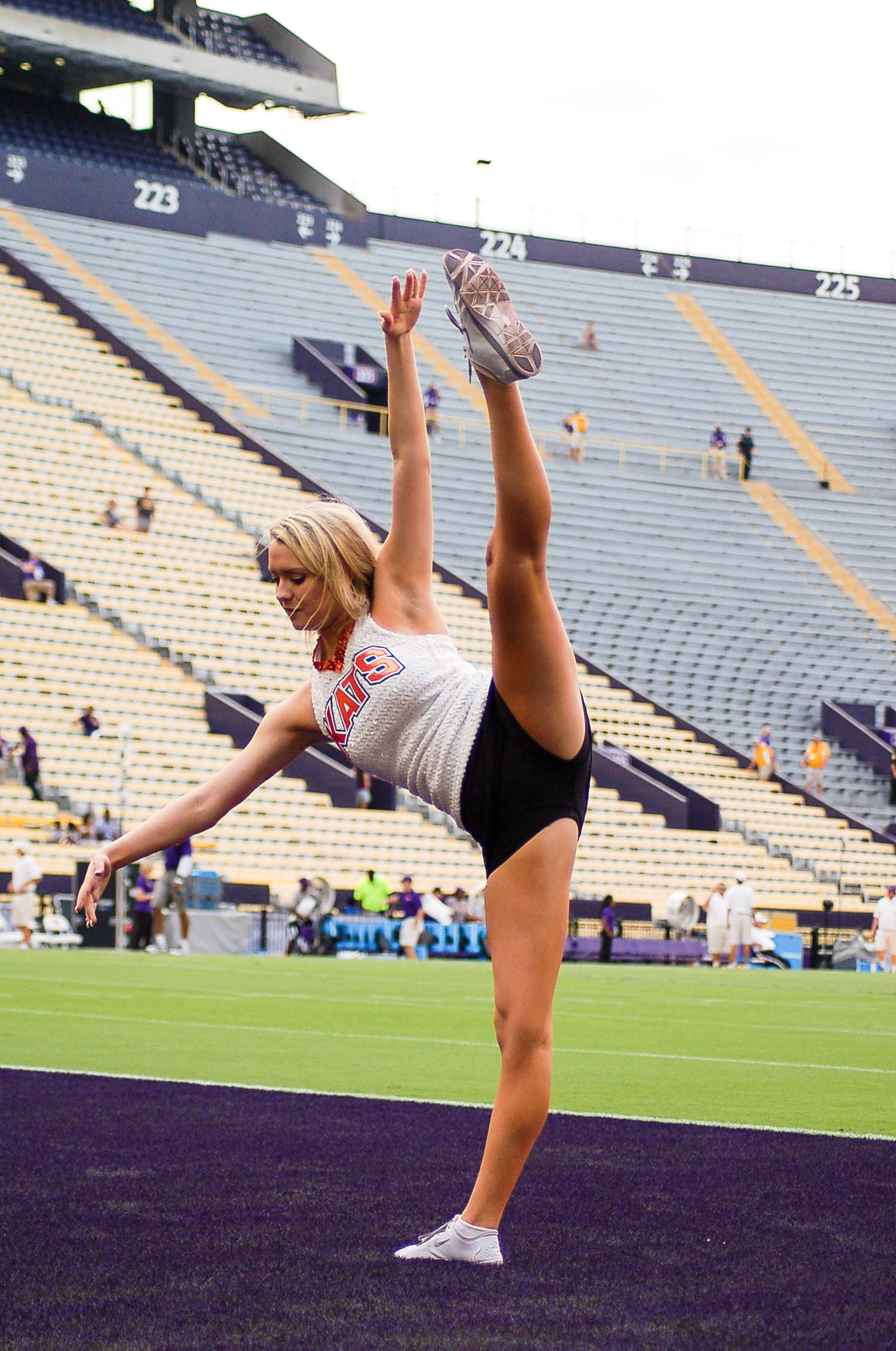 TYPICAL SPRING TRYOUT SCHEDULE
The following is a guideline of the tryout process, however the Coach reserves the right to change the order, times, or content if desired.
Saturday's Expected Schedule


1:00pm - 3:00pm

Check-in

Turn in application, proof of enrollment, and $20 fee
Sign liability release form
Have questions answered by Coach
Receive tryout number (to be worn during the entire tryout process)
Dancers are expected to warm themselves up in one of our open rooms before 3:00 when the tryout will promptly begin.

3:00pm - 6:00pm

Technique Round

Learn technique combinations
Execute technique combinations across the floor, in small groups, or individually as instructed

- Technique Cut -

The Technique Cut will be made at the end of or throughout the Technique Round. Dancers will then be given a short 30 minute to 1 hour long break to eat and prepare for the next round. Those not cut will return to move on to the Choreography Round.

6:30pm - 9:00pm

Learn Choreography

Learn the choreography to be evaluated on the next day (or possibly at the end of the night if desired by Coach). The cmaterial taught could be one or more routines but will always consist of at least one Jazz Combination.
Given time to practice the tryout choreography, ask Coach questions, and prepare for the next round of cuts.

- Possible 2nd Cut -

The Coach and/or judges may feel it necessary to make an additional cut before dancers are dismissed for the night. However, if no cut is made at this point, the dancers will be dismissed to prepare for the next day.

Sunday's Expected Schedule


7:00am - 9:00am

Check back in

Warm up by 9:00am
Open practice time to prepare
Get help or critiques from Coach

9:00am - 11:00am

Choreography Round

Evaluated in small groups of 3 to 4 dancers on choreography learned the night before as well as any technique that Coach would like to see

- Choreography Cut -

The Choreography Cut will be made at the end of or throughout the Choreography Round. Then the dancers will be given a lunch/open practice break, after which those not cut will return for the Final Round.

*Dancers are free to either leave or stay in one of the open practice rooms during this break, but will need to be present and warmed up by the time the Final Round begins, which will be announced during the actual tryouts and may differ from this estimated tryout schedule.*


1:00pm - 3:00pm

Final Round

Depending on what it is felt is necessary to pick the next team dancers will either learn a combo in a different style, learn more technique progressions, or both.
Review previously learned routines and technique progressions.

3:00pm - 6:00pm

Final Evaluation

Candidates will be called in for evaluation in a variety of different groups and may be asked to show any of the combinations or routines taught throughout tryouts
Candidates may be interviewed individually or in small groups by the Coach and any present Judges.
Candidates are typically asked to choreograph their own 8-count combination across the floor to show their personal strengths and style

- Final Cut -

Any last call-backs, meetings, or interviews will be determined and called for by the Coach during the process of making the final cut.

Some dancers will be asked to return during the Summer Tryout for further evaluation or to be given the chance to improve certain skills.

The dancers selected to join Orange Pride will then remain for approx. 30 minutes to fill out necessary paperwork, meet one another, receive a packet of team information/calendar/etc., and prepare to start the year!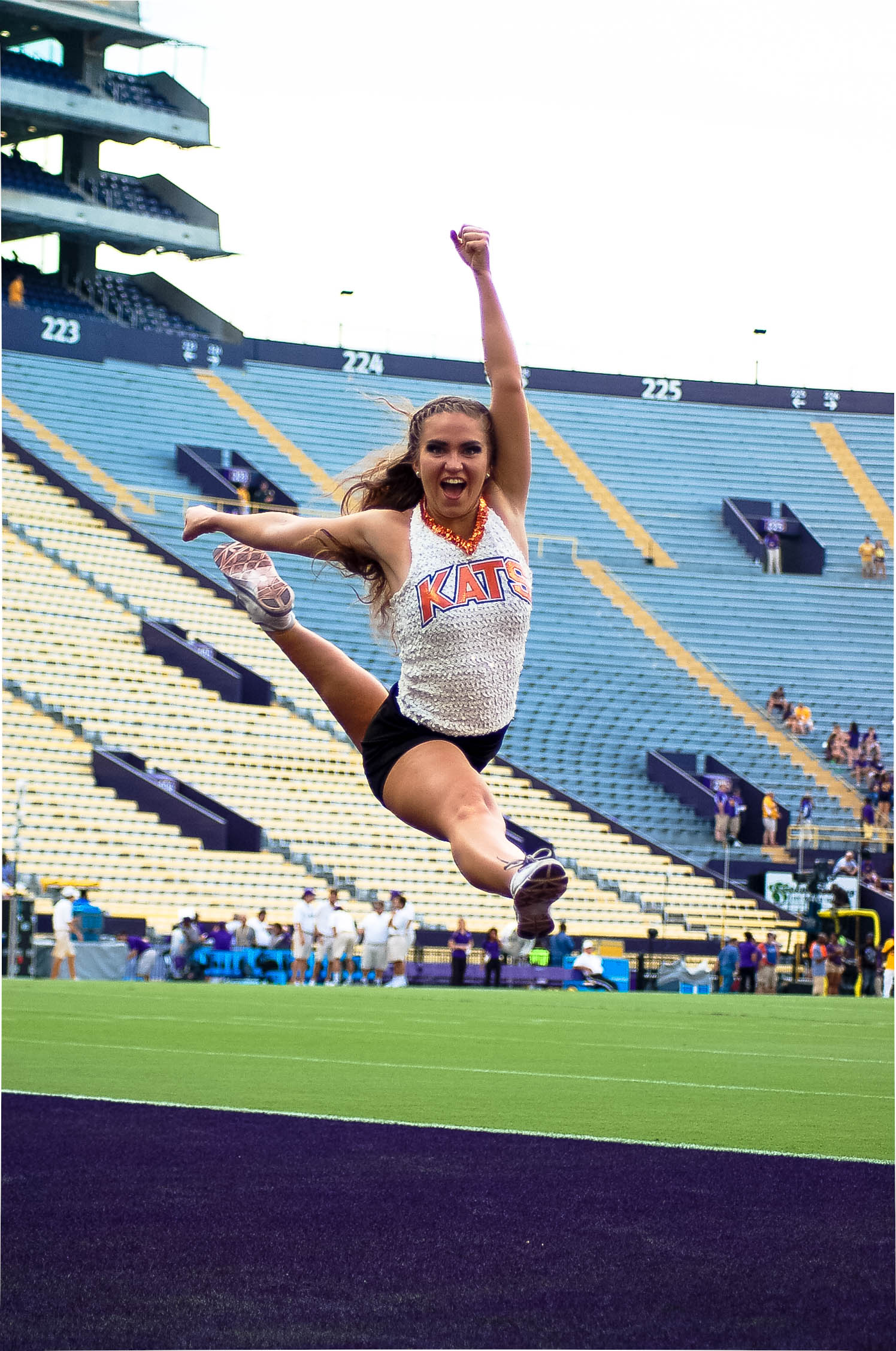 COMMON TRYOUT QUESTIONS:
---
What are the recommended skills?
There are no skills required for selection on the Orange Pride Dance Team, but dancers need to have a solid technical background and show an understanding of collegiate-level execution. Different combinations with a variety of leaps, turns, and extensions will be taught throughout the tryout. Candidates will also be asked to show several 8-counts of choice across the floor and are encouraged to show skills that highlight their strengths and would be an asset for a collegiate team. Showing the ability to take corrections and the desire to improve and work hard may also be considered by the coach during the selection process.
The following skills are not a comprehensive list for try-outs but can be used as a guide for the types of skills typically being evaluated:
Triple/Quad Pirouettes (executed in a variety of positions such as passe, coupe, attitude, and pencil)
Leaps on the Right, Left, and in Second
A Variety of Switch leaps (e.g. Switch Arabesque, Switch Tilt, Switch Center)
Turning Leaps (Calypso, Turning Disc, and Variations of Both)
Kicks, Leg holds, Turning Leg Holds and Extensions
Fouette Combinations with a variety of arm and leg placements
What should I wear?
Candidates may arrive, warm up, and learn material in comfortable/loose fitting clothing, but will be required to tryout in a crop top or sports bra and spandex or fitted shorts. Tops and shorts may have colors or be decorated/rhinestoned, but dancers are encouraged to avoid busy patterns and text of any kind. Bring both jazz shoes and tennis shoes. Candidates are expected to look polished and game day ready. There will be an area provided for you to dress and fix hair and makeup.
**Returning members may not wear anything denoting past membership on the team or as part of SHSU Spirit Programs, including during registration or warm up.**
If I mess up, can I do the routine again?
It is completely at the discretion of the judges if a candidate will be given more than one opportunity to perform the routine. Usually a candidate is given a second opportunity if she does not execute enough of the routine for them to determine a score.
Will you narrow down the pool during the tryout?
Yes, after all the candidates have performed the routine there will be an initial cut. Tryouts will then continue with a second phase of performances.
When will we find out who has been selected for the team?
The final results will be announced at the conclusion of the tryouts. There is not a predetermined number of candidates that will be selected, but the team usually consists of around 30 dancers.
Can my family and friends watch the tryout?
Guests are welcome while the tryout material is being taught, however, the actual tryout is not open to the public.
---