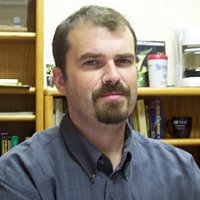 Associate Professor
Molecular Systematics
Ph.D., Ohio State University
Office: LDB 141
Phone: (936) 294-1554
Fax: (936) 294-3940
Website: www.shsu.edu/~bio_cpr
E-mail: randle@shsu.edu
Research Interests
My research interests lie in understanding the connections between molecular and organismal evolution in plants. More specifically I have focused on the evolution of photosynthetic genes in non-photosynthetic, holoparasitic plants. Holoparasites obtain all nutrients from host plants and therefore do not require photosynthetic apparatus. The null expectation is that photosynthetic genes will undergo increased rates of mutation in such plants, resulting in degraded, non-functional sequences called pseudogenes. This expectation is largely met, but there is also evidence that in some parasitic plants, photosynthesis related genes may be "borrowed" in other non-photosynthetic pathways, resulting in conservation of nucleotide/amino acid sequence.
Recent Selected Publications
Randle, C.P. and K.M. Pickett. 2006. Are non-uniform clade priors important for Bayesian phylogenetic inference: a response to Brandley et al. Systematic Biology 55(1): 147-151
Randle, C.P. and A.D. Wolfe. 2005. The evolution and expression of r bcL in holoparasitic sister-genera HarveyaHook. and Hyobanche L. (Orobanchaceae). American Journal of Botany 92(9): 34-44.
Wolfe, A.D. and C.P. Randle. 2004. Recombination, heteroplasmy, haplotype polymorphism, and paralogy in plastid genes: Implications for plant molecular systematics. Systematic Botany 29: 1011-1020.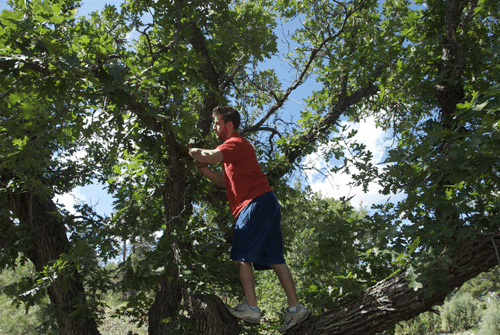 Fearless: Ryan Reid (Senior) is studying the mechanisms by which parasitic plants recognize host plants. Ryan is seen here obtaining mistletoe specimens from high in an oak in Cloudcroft, New Mexico.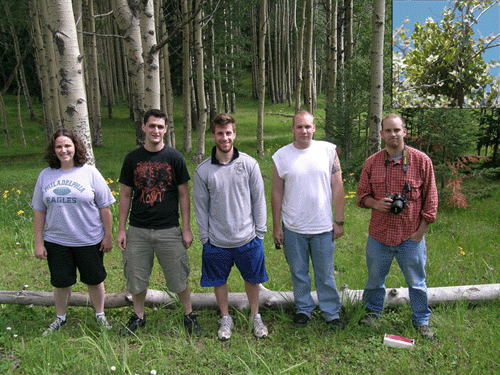 Randle Lab NM 09: In July 2009, a team of students, post-docs, and one SHSU professor (Chris Randle, not shown) attended the meetings of the Botanical Society of America in Snowbird, Utah. This trip also doubled as a ten day field trip to collect tissues of mistletoe (Phoradendron serotinum; see inset) a tree parasite, and its host, poplar, for molecular genetic studies. During this fieldtrip, specimens were collected in west Texas, New Mexico, Arizona, Utah, Wyoming, and Colorado. Shown here from left to right are botanists Angela Hawkins (SHSU Master Student), Victor Tarson (SHSU, Randle lab research assistant), Ryan Reid (SHSU Senior), Jacob Landis (former SHSU REU-site grant fellow and current Masters student at the University of Kansas), and Nick Levsen (post-doctoral fellow, University of Alaska, Fairbanks).