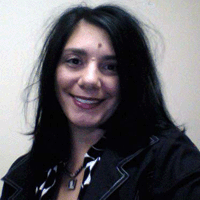 Assistant Professor
Ph.D., The Ohio State University
Office: LDB 142
Phone: (936) 294-1550
Fax: (936) 294-3940
Website: http://www.shsu.edu/~cpr003
E-mail: bucheli@shsu.edu
Research Interests:
As a researcher of entomology, I am particularly interested in systematics of our disappearing planetary biodiversity -- those invertebrate lineages which are numerically the greatest yet remain the least well-understood to science. Systematic studies naturally lend themselves to studies of behavioral and ecological evolution, and are, I believe, the very backbone necessary for such work. My research is multidimensional fold but united in the commonality of the study of basic biodiversity and evolutionary research, in particular, the evolution of insect-food selection.
I am interested in the spatial and temporal distributions of insects native to the Pineywoods ecoregions of Texas. I am involved in several biological inventories, including the Thicket of Life Consortium. I am concerned with establishing baseline knowledge of the diversity of insects, but with the idea that these data can be implemented to answer additional questions of distribution and host association, and also operate as gauges of regenerated areas. This area of research holds a great potential for studies of population dynamics and gene flow in insects, a topic that has never been broached before with quantitative methods.
I'm committed to teaching the scientific method and demonstrating to my students the power they possess through understanding and employing it. In our rapidly changing world, I believe that it is crucial for students to be immersed in nature to gain an appreciation for it. I think that studies of entomology are vital in an undergraduate curriculum because of the profound influence insects have in our daily lives. I feel that the best way for me to teach entomology is to show students that they are a part of nature, not separated from it. I take my students outside for field trips as often as I can. I think entomology is an excellent way to teach students about nature. Insects are ubiquitous. They exhibit behaviors as complicated as a mammal's. They are present at all times of the year, one just needs to know where to find them. In a half hour tour of my favorite places on campus, we encounter all varieties of insect life, conducting business as though they were in the middle of an untouched forest, from leaf-cutter bees nesting in the ground next to the main library to whirly-gig beetles hunting on the surface of a pond. To be a good teacher, I believe I must be willing to learn along with my students. Nature is dynamic and is as much a learning experience for me as it is for my class. I am as excited as my students when we discover something new; perhaps sometimes more so.
Selected Publications
Bucheli, S.R., J.A. Bytheway, S.M. Pustilnik, and J. Florence. 2009. Insect successional pattern of a corpse in cooler months of subtropical southeastern Texas: A case report. Journal of Forensic Sciences 54 (2), 452 – 455.

Song, H. and S.R. Bucheli. 2010. The utility of insect genitalia in morphological analyses. Cladistics 26(1), 23-35. Published Online: Aug 25 2009 5:18AM
Bucheli, S.R., J. Florence, D. Gangitano and J.A. Bytheway. 2010. Necrophagous caterpillars provide human mtDNA evidence. Journal of Forensic Science. 55(4):1130-1132.
Lindgren, N.K., S.R. Bucheli, A.D. Archambeault, and J.A. Bytheway. Exclusion of forensically important flies due to burying behavior by the red imported fire ant (Solenopsis invicta) in southeast Texas. Journal of Forensic Science International. 204(1-3):e1-e3.
Raghavendra R., C.P., Randle , and S.R. Bucheli 2011. Identification of a deathscene maggot using standardized molecular methods: Sarcophaga bullata Parker 1916 (Sarcophagidae) Out-numbers Blowflies (Calliphoridae) on an Urban Cadaver in Southeastern Texas. Journal Forensic Research 2:135.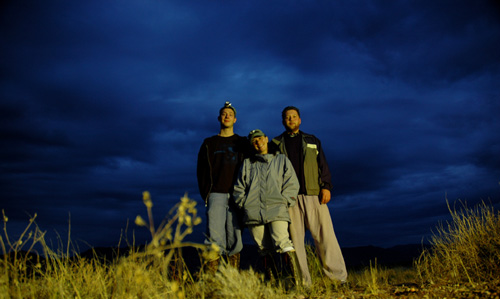 Brent Rahwles, Sibyl Bucheli, Alan Archambeault collecting insects in the desert at night. Portal, AZ.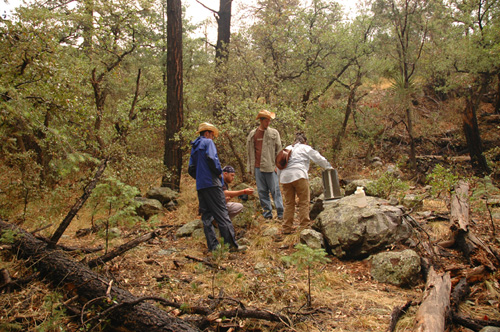 Putting out a bucket trap. Portal AZ.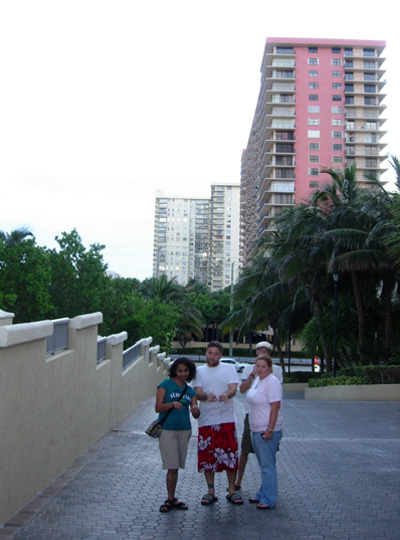 Rekha Ragavendra, Alan Archambeault, Melissa Sisson. North American Forensic Entomology Conference 2009. Miami, FL.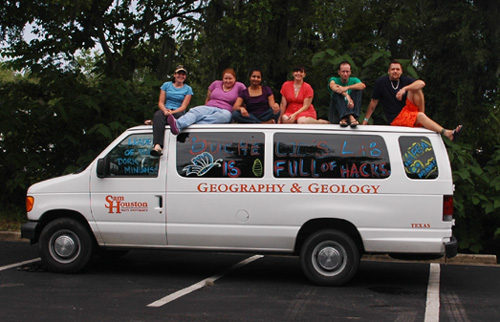 Natalie Lindren, Melissa Sisson, Rekha Ragavendra, Sibyl Bucheli, Jeff Kelly, and Alan Archambeault. North American Forensic Entomology Conference 2009. Miami, FL.