Maximizing The Value Of An SHSU Degree
There has been a lot of publicity and discussion on the rising cost of a college education. But, just focusing on "costs" can be misleading and does not adequately represent the benefits of life-long learning. Instead, the conversation should focus on how to maximize the return on investment a college education can offer.

In October, the Federal Reserve Bank of New York updated unemployment rate data for college graduates and other groups. Young workers, aged 22 to 27 without a college degree, posted an unemployment rate of 8.2% which is more than double that of their contemporaries who graduated from college. When you factor in college graduates aged 22 to 65, the rate drops to 2.5%. The data consistently shows that employability increases with the level of education.
The story is the same for earnings—a college graduate will make significantly more over a lifetime than an individual without a degree. The Fed's data shows the 2016 median annual earnings for a recent college graduate with a bachelor's degree is $43,000 compared to $26,000 for someone with a high school diploma.
Obviously, increased earnings and employability are benefits associated with a college degree. But what about costs? It was not until 2011, that the total cost of a degree at Sam Houston caught up with the average cost of a new car. While both are significant investments and remain comparable in pricing, the value of an education appreciates over time while a car's value begins to drop as soon as it is driven off the lot. Cars also must be replaced—the average American will purchase twelve vehicles over a lifetime. In addition to the purchase price, the expense associated with car ownership is close to $9,000 per year according to the American Automobile Association.
While this puts college tuition in perspective, costs and debt are important issues and, if not managed properly, will impact the return of a college education. One of our values at SHSU is operational efficiency. We are working very hard to find new and innovative ways in which to offset some of the imbalances created by a decline in state funding, larger unfunded mandates and rising costs of goods and services. SHSU is 37 out of 38 public universities in state funding for students and for capital improvements.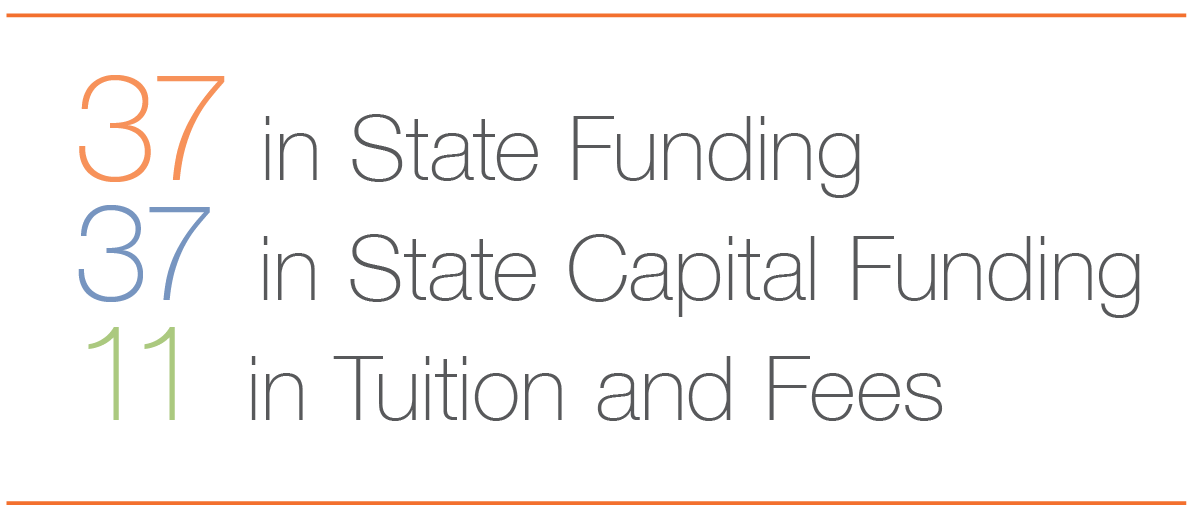 Our goal is to achieve a higher return on expenditures through a combination of expense reduction and efficiency enhancements. Today, the number of employees per 100 students at Sam Houston is 11.7 compared to 15.6 for the state. To build long-term value in the future, we must continue to maximize the resources used to educate and service our students.
Back to top