Putting Treasured Words Into Meaningful Action
T
he university's motto, "A measure of a Life is its Service," has been a part of SHSU's culture and tradition since President Harry Estill authorized its inscription on an Old Main chapel window a century ago.
|
Details

Exemplifying A Tradition Of Service
Part of the powerful transformation of a Sam Houston State University student includes developing a combination of knowledge, skills, values and motivation to make a significant difference in the world. | Details

The Tree With Nearly 100 Years of Holiday Spirit
Each December, the holiday spirit spreads across the university as members of the Bearkat community gather around the "Tree of Light" to celebrate the season of giving. | Details

Tripod: 'The Three-Legged Don Juan of College Hill'
This is how Harmon Lowman began his eulogy for Tripod at his funeral on Friday, Jan. 12, 1962. Classes were called off, and the student body turned out in great numbers to say goodbye to this cherished "unofficial" mascot of Sam Houston State University. | Details
Back to top
---
Putting Treasured Words Into Meaningful Action
The university's motto, "The measure of a Life is its Service," has been a part of Sam Houston State University's culture and tradition since President Harry Estill authorized its inscription on an Old Main chapel window a century ago.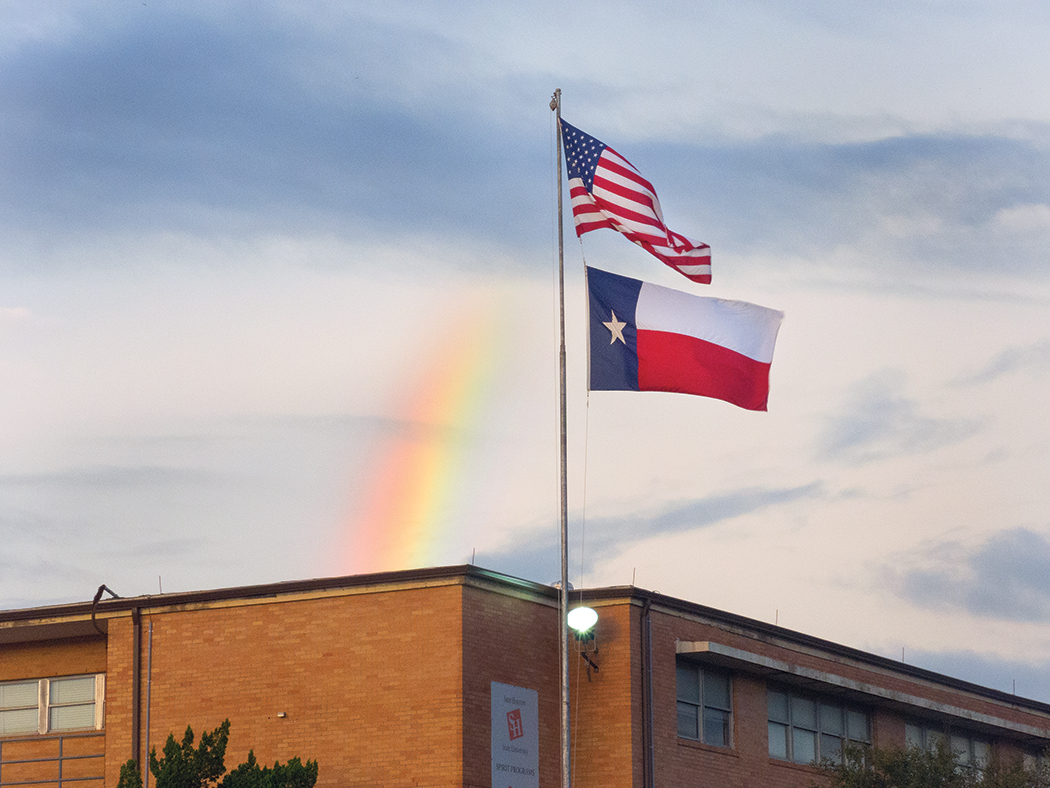 The words, now engraved in stone, continue to inspire the campus community from Bearkat Plaza, where students often have their photographs taken to mark major milestones in their academic journey.
The sentiment of these very words echoed throughout southeast Texas in August, when Hurricane Harvey slammed into the Texas coast, and members of the SHSU family from students to alumni came together and exemplified the motto in ways that are too numerous to count.
When classes were cancelled due to the hurricane, the Bearkat community immediately sought out opportunities to help those who needed rescuing and were displaced by the flooding from the storm. Gina Sereni, a senior mass communication major from League City, was one of those who was so touched by the devastation she was seeing on television, that she went into action.
"When we learned that Huntsville had been designated a storm shelter, the store where I work began accepting donations for those that were coming in," she said. "We collected them and took them to the distribution center in town."
However, the shop had to close because of the weather, and Sereni was driven to do something more on her own.
"I knew that my sorority, Zeta Tau Alpha, had some t-shirts in storage that had never been worn, so I called our president and asked if we could donate them. I loaded my vehicle with as many boxes of shirts that it would hold and took them to the distribution center." The boxes contained almost 300 new t-shirts.
"It was a very humbling and rewarding experience for me," Sereni said. "I was thinking about my family and friends back home, and I felt so helpless that I was not there with them. It made me feel a little better knowing that I could do something from Huntsville that might benefit those affected in Houston."
Members of the Gamma Epsilon Chapter of Alpha Gamma Rho agriculture fraternity at SHSU and Beta Nu Chapter from Texas A&M University joined to raise money, gather donations and provide hands-on help for hurricane victims.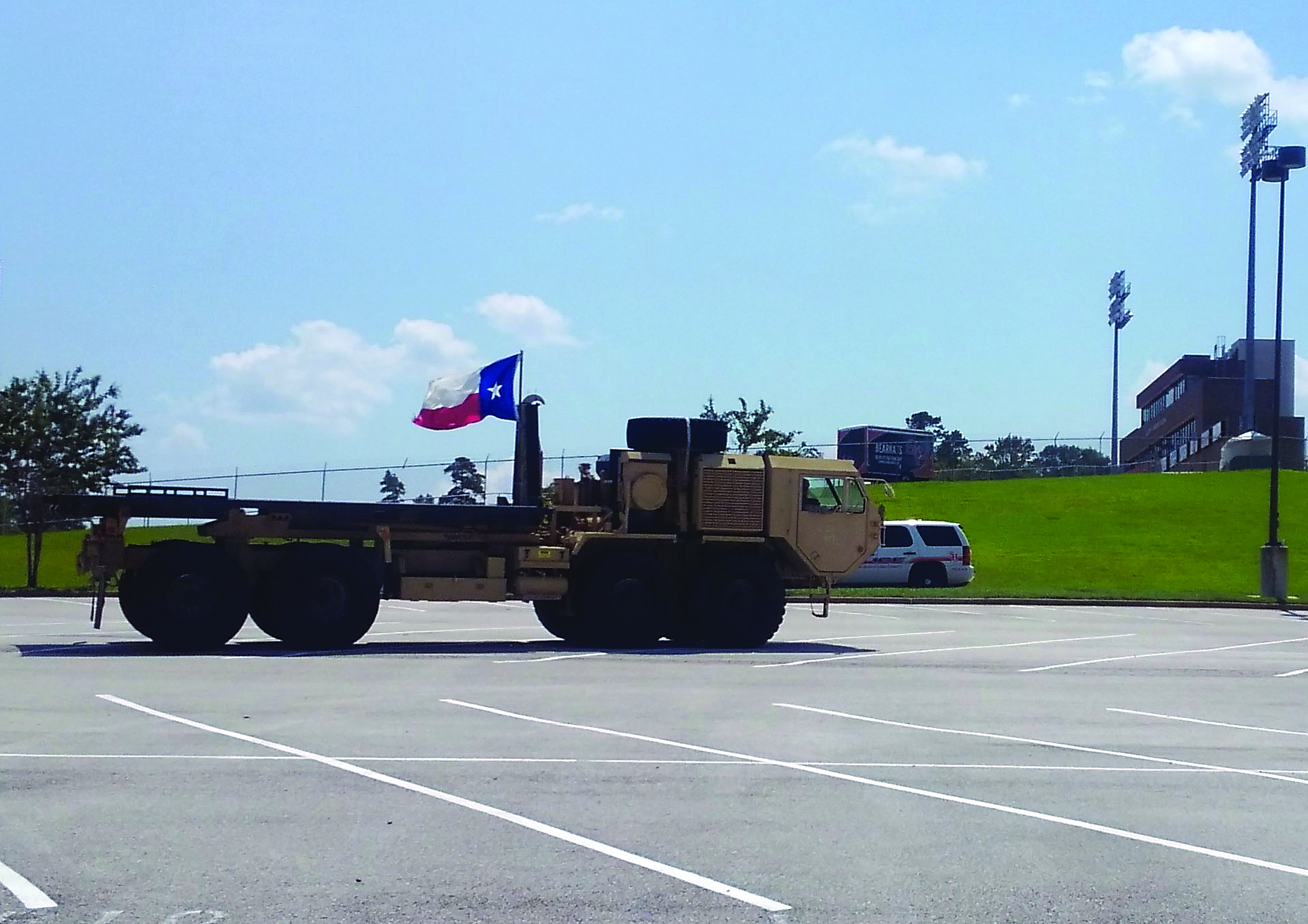 "Texas is our home and it was heartbreaking to see (on TV) the suffering that was taking place across the area," said Shawn McCauley, an officer in the SHSU chapter, from Tomball. "We wanted to do something to help, and it happened that one of the alums, Kyle Laqua, reached out to us about volunteering.
They collected water, canned goods, trash bags, blankets, towels, clothes, pet food, diapers, baby formula and bottles at Gibbs Ranch and utilized social media to provide an option for those who could not drop off items to electronically send in financial contributions. The two chapters then met in LaGrange, which was deeply affected by flooding from the Colorado River, to deliver the collected supplies and provide desperately-needed manpower. While they were there, they assisted flood victims by emptying storage units, cutting out drywall, and removing damaged insulation, flooring, baseboards, and ruined appliances.
"Everyone was exhausted when they returned, but it gave us great satisfaction to know that we had been able to lend a hand where it was needed," McCauley said. "A couple of years ago, one of my professors told a class I was in that we would have opportunities in our lives to help others, and we should take advantage of those opportunities. I'm truly thankful to be a part of a group that was so willing to serve."
The devastating images on television and concern for members' families sparked the leaders of Alpha Kappa Psi business fraternity to organize an effort to collect needed items and travel to Houston to volunteer.
"We dropped off donations and went to the M.O. Campbell Education Center where we sorted clothing donations," said business major Lashante Sherman. "After sorting was complete, we worked with families who were displaced to find clothes that met their needs."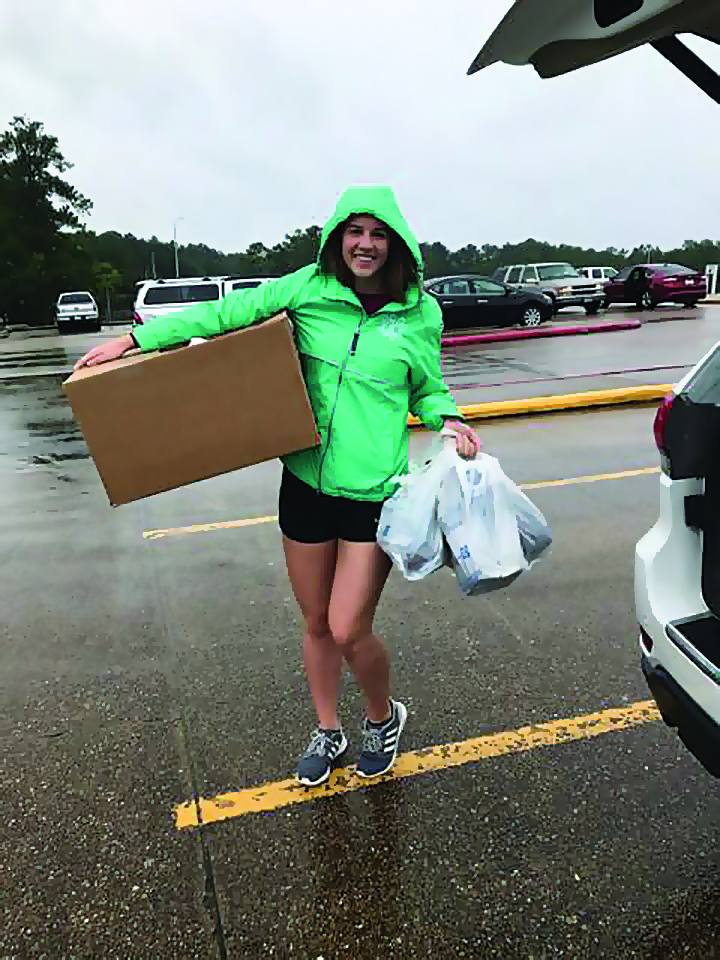 The organization also volunteered at St. Luke Missionary Baptist Church to assist individuals with finding the items they needed.
"It was so rewarding that we were actually able to participate in helping others instead of just sitting around in Huntsville watching TV," Sherman
said. "We definitely felt like we were demonstrating the university's motto."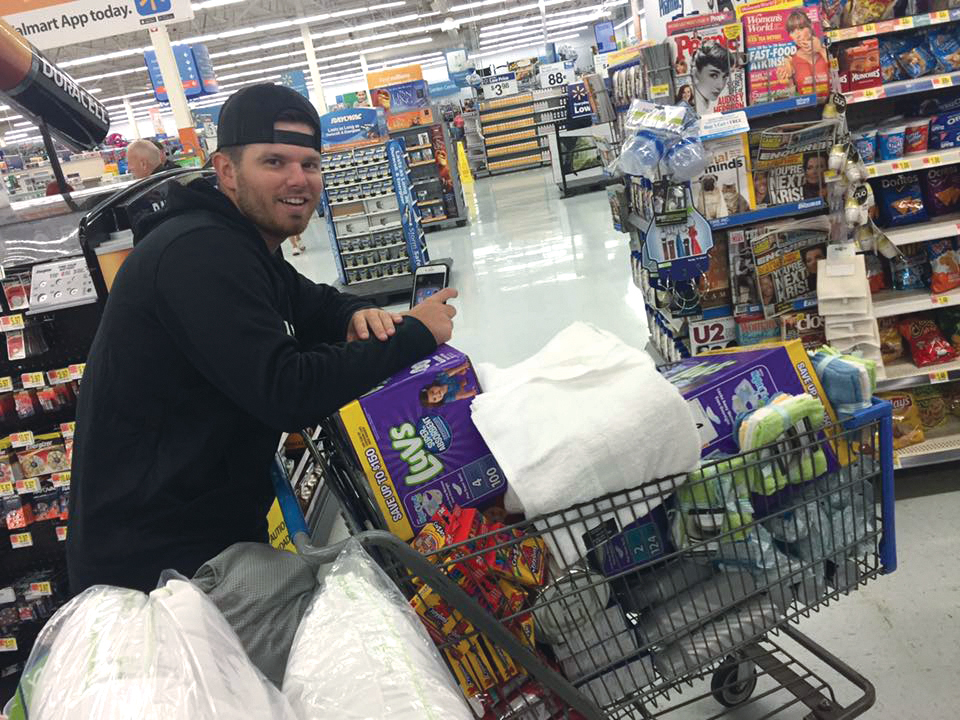 Bearkat athletic teams went into action, as well. More than 60 student-athletes traveled with the SHSU chapter of Fellowship of Christian Athletes to help the Southern Baptist Convention disaster cleanup crews in Houston. Teams were divided among five different sites where they cleaned out houses.
In addition, the men's basketball team responded to a call for help from their team manager.
"He came to us and said, 'Coach, my neighborhood was hit really hard. Do you think anyone might be willing to help out?' I told him I thought it was a great idea, and sure enough, the team responded," said Coach Jason Hooten.
"An elderly lady in his neighborhood, who had been rescued by boat from the flooding had lost her home," Hooten said. "She had no family or anyone close by to help her, we completely gutted her home so restoration could begin as soon as possible."
The team took up floors and carpet, knocked out sheetrock, and moved all her destroyed furniture and appliances outdoors to be hauled off. As they were completing work on her house, several players moved to other houses in the neighborhood to help those families.
"Our guys worked so hard," Hooten said. "It was an exhausting effort, but completely worth seeing the joy and gratitude that the people in the neighborhood felt toward us. We were complete strangers when we arrived, but by the time we left, they were hugging us and telling us how much we meant to them."
The university itself served as a staging area for the Texas Department of Public Safety, the Arlington Police Department, and the Army National Guard from Texas, Arkansas and Indiana.
SHSU helped with logistical coordination, including the use of the General's Market for dining, IT support, the coliseum for sleeping and showering, rooms to set up operation centers, and route coordination for convoys.
In addition, during down time and to help with morale, the responders were able to have a friendly game of volleyball in the coliseum, with members of the SHSU volleyball team furnishing homemade cookies and refreshments.
"Everyone was great," said SHSU Director of Emergency Manage
ment David Yebra. "Bearkat alumni Brian Smith brought in coffee for the troops and Scott McCarley furnished water. Our guests were very appreciative of how they were treated while on campus, and they expressed their gratitude over and over."
The need for help continued in the aftermath of the storm, and SHSU religious groups were among those who stepped up to answer the call.
A week after the storm hit the Texas coast, the SHSU Wesley Foundation (Methodist Student Ministry) sent a team to help in relief efforts. They went to the Dairy-Ashford area of Houston and joined forces with the SHSU cheerleaders. Although the homes in this area had initially survived Harvey, they flooded when the reservoirs had to be opened. Most of the homes damaged had six feet of water for several days before the waters receded and families were allowed to return to gut their homes and salvage whatever they could.
"Our clients had high spirits and a strong sense of hope and new beginnings, and we worked and worked until we had done all we could do," said Greg Oberg, SHSU Wesley campus minister. "We came back tired out, but with filled hearts for taking our roles in the great recovery process."
Victoria White, the SHSU admissions counselor whose inspirational message of encouragement through singing at the Lonestar Expo Center received social and mainline media attention from coast to coast, summed up the Sam Houston State University spirit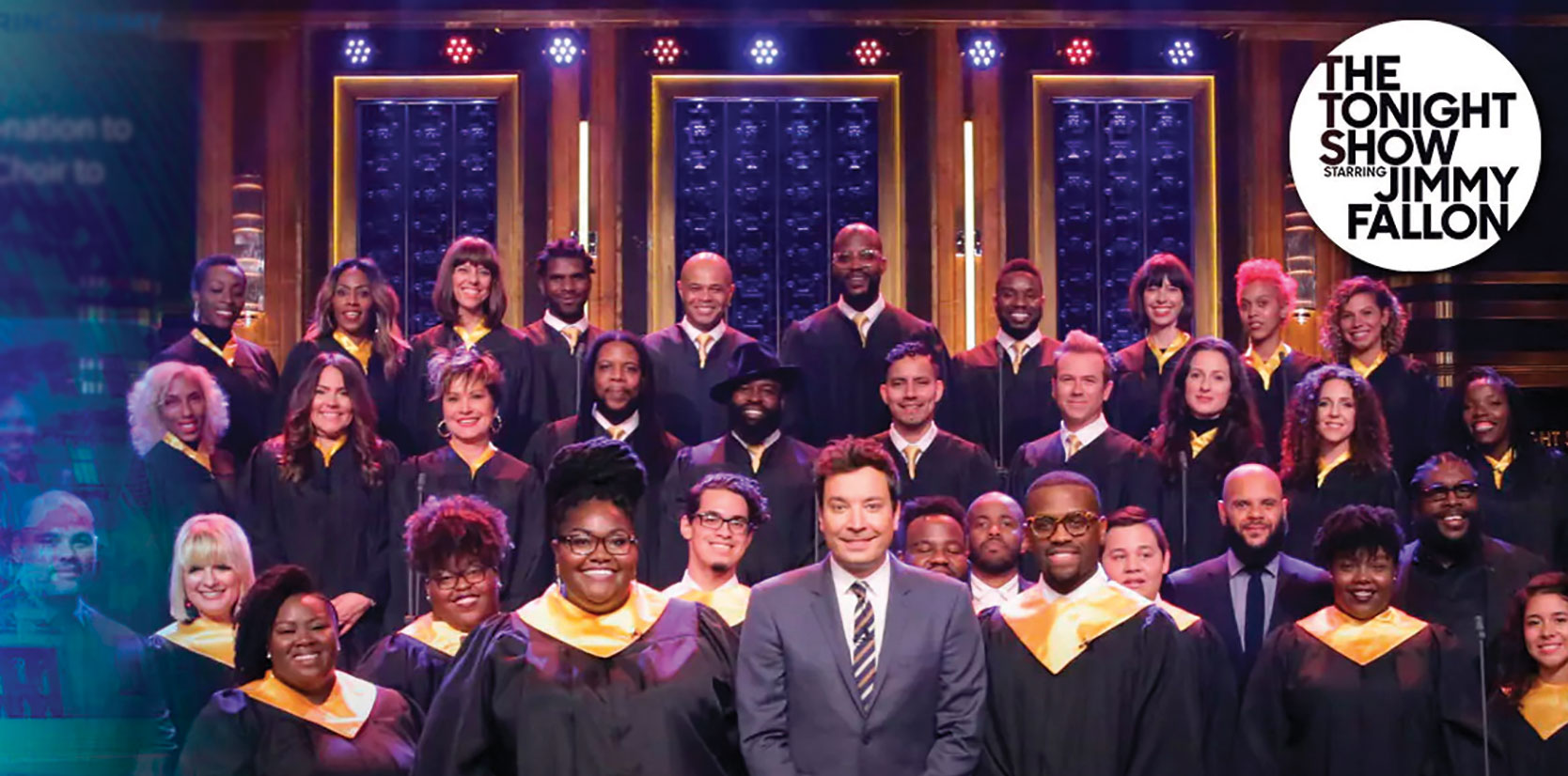 in her Facebook post after the YouTube video of her performance went viral:
"While I am blessed by this outpouring of love and support that I have gotten, PLEASE don't let this take your focus off serving! Let God's love and the people devastated by this tragedy continue to be the highlight of this video! Get out and SERVE if you can! If you're in the Houston area and you can get out…GO SERVE those who were impacted the most by the storm! If you're in California, or New York, the Carolinas or Alabama— SERVE!!! Let this video be a reminder that you can use whatever gifts and resources, big or small, to bless someone else!"
To read more stories about heroic efforts faculty, staff and students performed during Hurricane Harvey, go online to the Today@Sam article on disaster relief from Sept. 28, 2017.
---
Exemplifying a Tradition of Service
Part of the powerful transformation of a Sam Houston State University student includes developing a combination of knowledge, skills, values and motivation to make a significant difference in the world. With that important undertaking comes the long-time Bearkat tradition of community service represented by the university's motto, "The measure of a Life is its Service." One SHSU student organization has taken the university's motto to heart so much that chapters at other universities across the nation are following its example.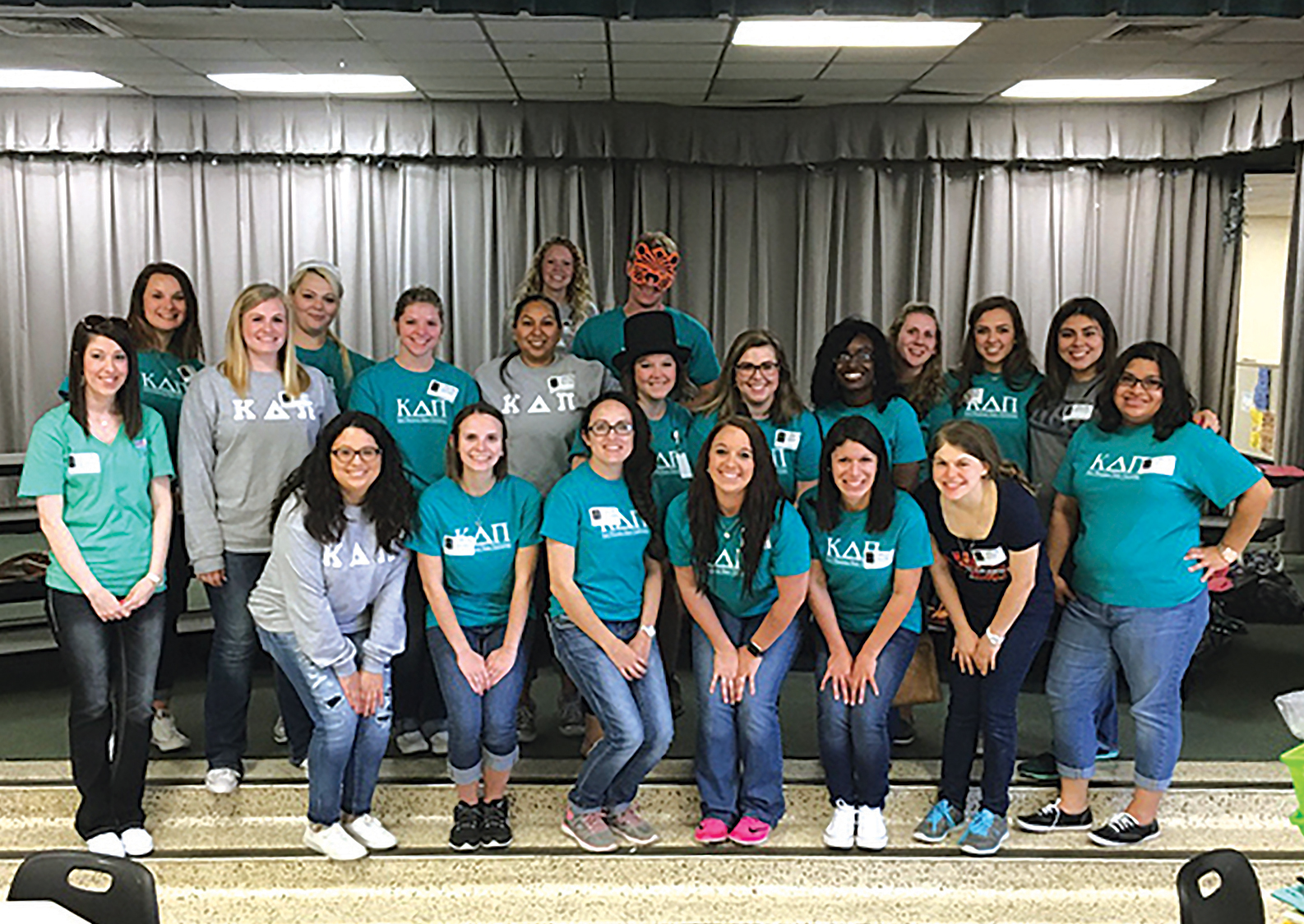 "The SHSU motto fits very well into what the organization believes because we're all here to serve students whether they're secondary, elementary, second language learners, or special education," said Donna Cox, associate professor in the university's language, literacy and special populations department and faculty adviser of Kappa Delta Pi.
SHSU's Delta Theta Chapter of Kappa Delta Pi honor society in education has been part of the university for 80 years. KDP has a long tradition in the history of SHSU, with many faculty and staff who are members. To be invited into the organization, students must first be admitted into the teacher education program and state that their desire is to continue in education.
"It's not just a student organization but also a professional organization. When they become a KDP member, it's another step to being a professional educator. They receive the same publications a classroom teacher would receive," Cox said. "It doesn't only benefit you at the undergraduate level, but can go with you throughout your career."
When choosing which service projects to do, the organization looks to the needs of the community.
"We have to be a little selective in what we choose because a lot of our students are already involved in so many service projects. We fluctuate between from 100- 200 members at any given time, so trying to keep up with who participated in what can be a little overwhelming," Cox said.
"That's why we usually restrict our projects to one per semester, but sometimes the opportunity presents itself to do more, and it's a really nice fit for us. There are also other SHSU organizations that do service projects and will ask us to join them, and we'll consider that, too," she said.
Two big projects that the organization does every year are "Literacy Alive!" and "Change for a Change in the Weather."
For the "Literacy Alive" project, KDP donates books to a second-grade class at a local elementary school. The students also pay a visit to the classroom to conduct a fun reading and art activity with the second graders, helping to promote a love for literacy.
"'Literacy Alive!' is a project in which the honor society participates as a whole and can take various forms. The one we do is based on a certain book, and one of the members dresses up as a character in the book and acts it out as the other member reads it aloud. All of the activities that we do for the next hour go along with the book," Cox said.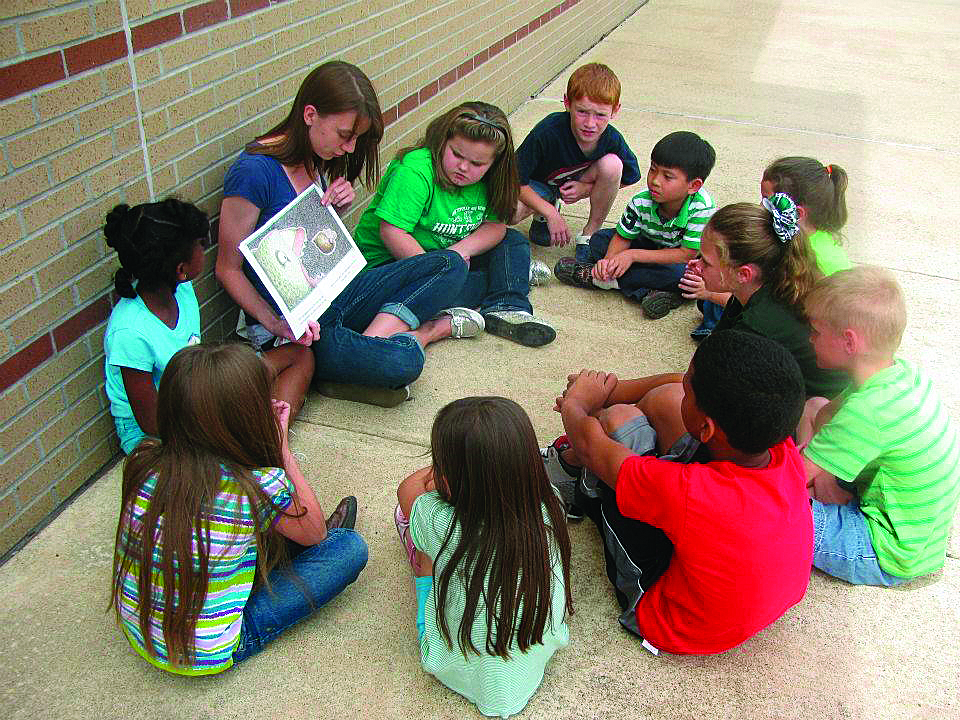 Through this service project, more than 2,000 books have been given to children in the Huntsville area over the past nine years.
The "Change for a Change in the Weather" project originated with the SHSU chapter and like the literacy initiative has become an important KDP community service tradition. Through the collection of loose change during the fall semester the organization is able to raise the funds to buy winter coats for children in need attending Huntsville's Head Start program. Through this project, approximately 80 coats have been donated.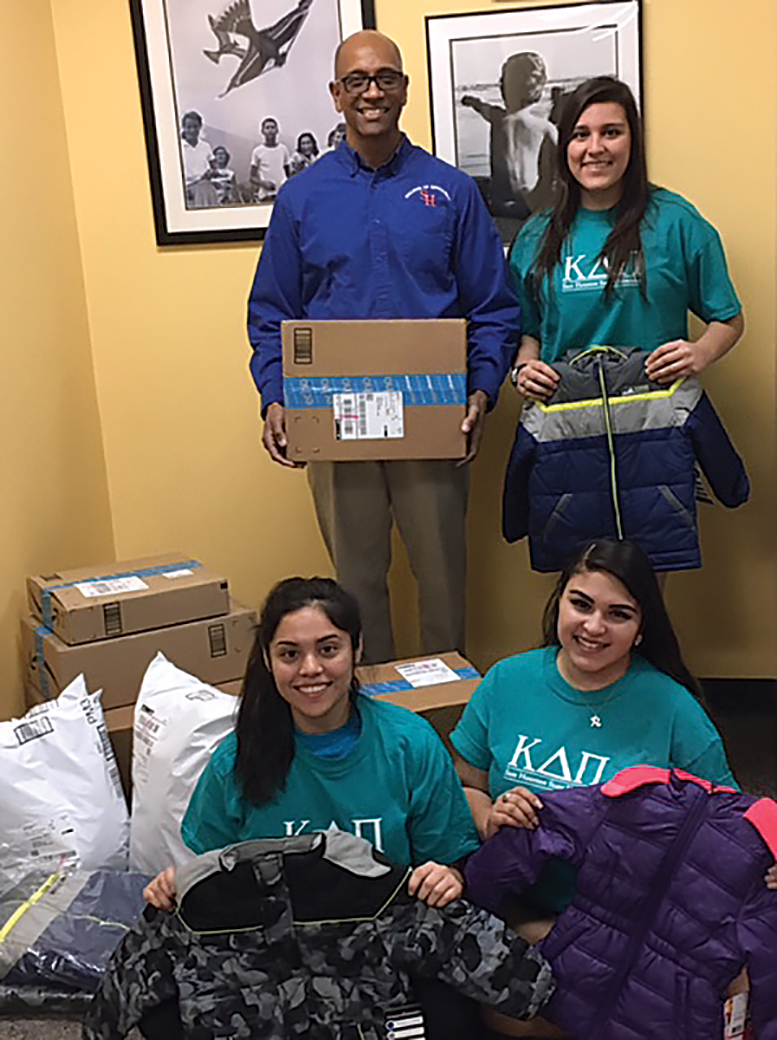 Successful community service is often "contagious" inspiring others to also make a difference and indeed that has been the case with KDP's initiative. The project
has made such an impact that other chapters throughout the nation have now included the project as one of their service activities, partnering with other Head Start programs.
"The regional director of KDP was so excited that she shared our experience with other directors across the nation and now, chapters at other universities are doing the same thing," Cox said. "To me that's really rewarding that something that originated here at SHSU now has an impact on children in other Head Start programs throughout the country who need coats."
The dedicated work of our KDP chapter provides just one example of SHSU's long tradition of shaping the future through community service. Teaching Bearkats the power of helping others not only enhances the learning experience for students but can be transformative in improving quality of life for others beyond campus.
---
The Tree With Nearly 100 Years Of Holiday Spirit
Each December, the holiday spirit spreads across the university as members of the Bearkat community gather around the "Tree of Light" to celebrate the season of giving.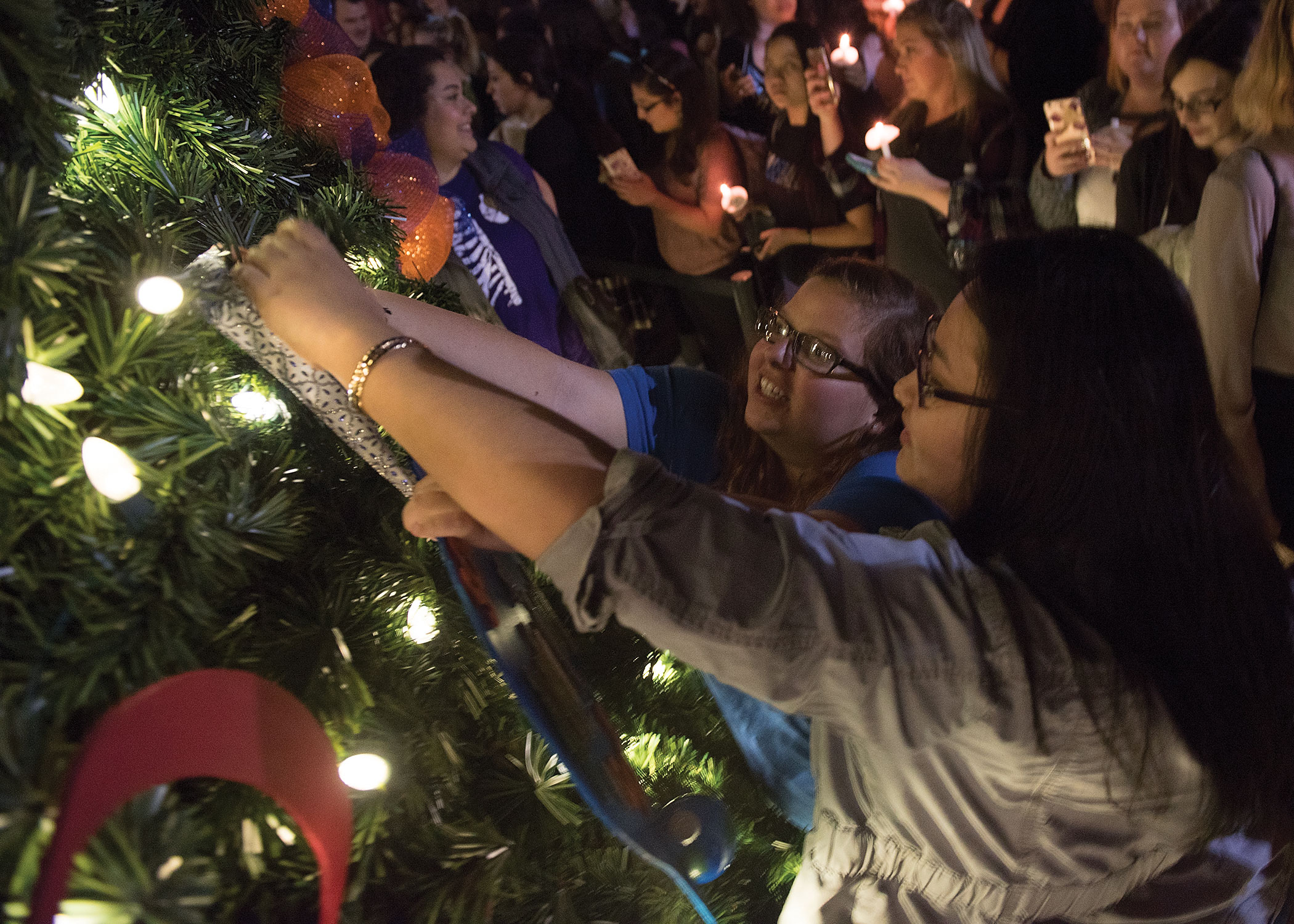 Richly steeped in the history of Sam Houston State University, the ceremony has opened the Christmas season since 1921 when a large cedar "west of the Training school" was decorated for the first tree lighting ceremony.
Although recognized in 1938 as a symbol of "unwavering courage in the face of discouragement, of cheerfulness that never frowns" by President Harry F. Estill for "bravely maintain(ing) its beauty throughout the year," the tree that was first used was scheduled to be demolished twice as part of planned construction.
For undocumented reasons, it was saved both times and still stands today in the Evans Complex garden, between the two buildings that make up the complex.
In 1966, university officials decided that the Evans Complex cedar tree was no longer visible enough, and the ceremony was moved to a large cedar in front of Old Main, where it was held for the next 14 years. This tree was a casualty to the fire that destroyed Old Main on Feb. 12, 1982.
Beginning in 1980, a new tradition that would last for more than two decades began, and the "Tree of Light" ceremony was moved to a large circular planter where the Bell Tower is now located. As part of the tradition, a large, fresh-cut tree was brought in to serve as the "Tree of Light."
As construction began on the Bell Tower, the "Tree of Light" ceremony moved in 2004 to the Academic Building I Mall Area, on the east side of present-day Bearkat Plaza, where the ceremony was held for several years.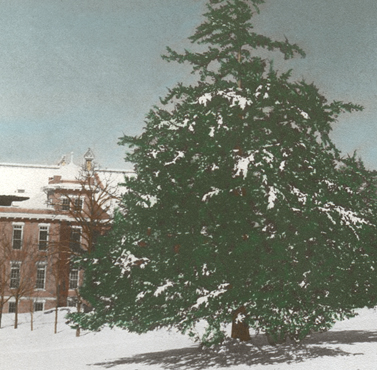 In 2005, real trees were replaced with an artificial tree in an act of preservation, which itself began to grow by adding a new base ring annually.
"The Tree of Light Ceremony is really a program at the 'heart' of what Sam Houston State University is all about, bringing Bearkats together," said Brandon Cooper, assistant director for Student Activities. "It's a program that the university has hosted for over three quarters of SHSU's existence in an effort to bring students, faculty and staff and alumni together.
"We are still amazed at the support and turnout we receive for this program," Cooper said. "It just grows every year."
To share the holiday spirit with those in need, the Student Activities Department continues its tradition of collecting canned goods for a drive that will benefit an area organization.
During the ceremony, several different university groups perform, including the SHSU Choral and the Orange Pride Dance Team. Student organizations are also invited to decorate the tree with an ornament. Hot chocolate and cookies are always served.
"The Tree of Light is the university's oldest and most cherished tradition," said Angie Taylor, director of Admissions. "This tree-lighting ceremony is also a time of giving and reminds students and the university community what the holiday season is all about."
Back to top
---
Tripod: 'The Three-Legged Don Juan Of College Hill'
"Because there was no room for him in their trailer or automobile, Tripod was left behind by a veteran and his family when the young G.I. graduated in 1948. Tripod crossed the street and became a fixture of the campus. Here, he dominated the canine life of the campus for fourteen years."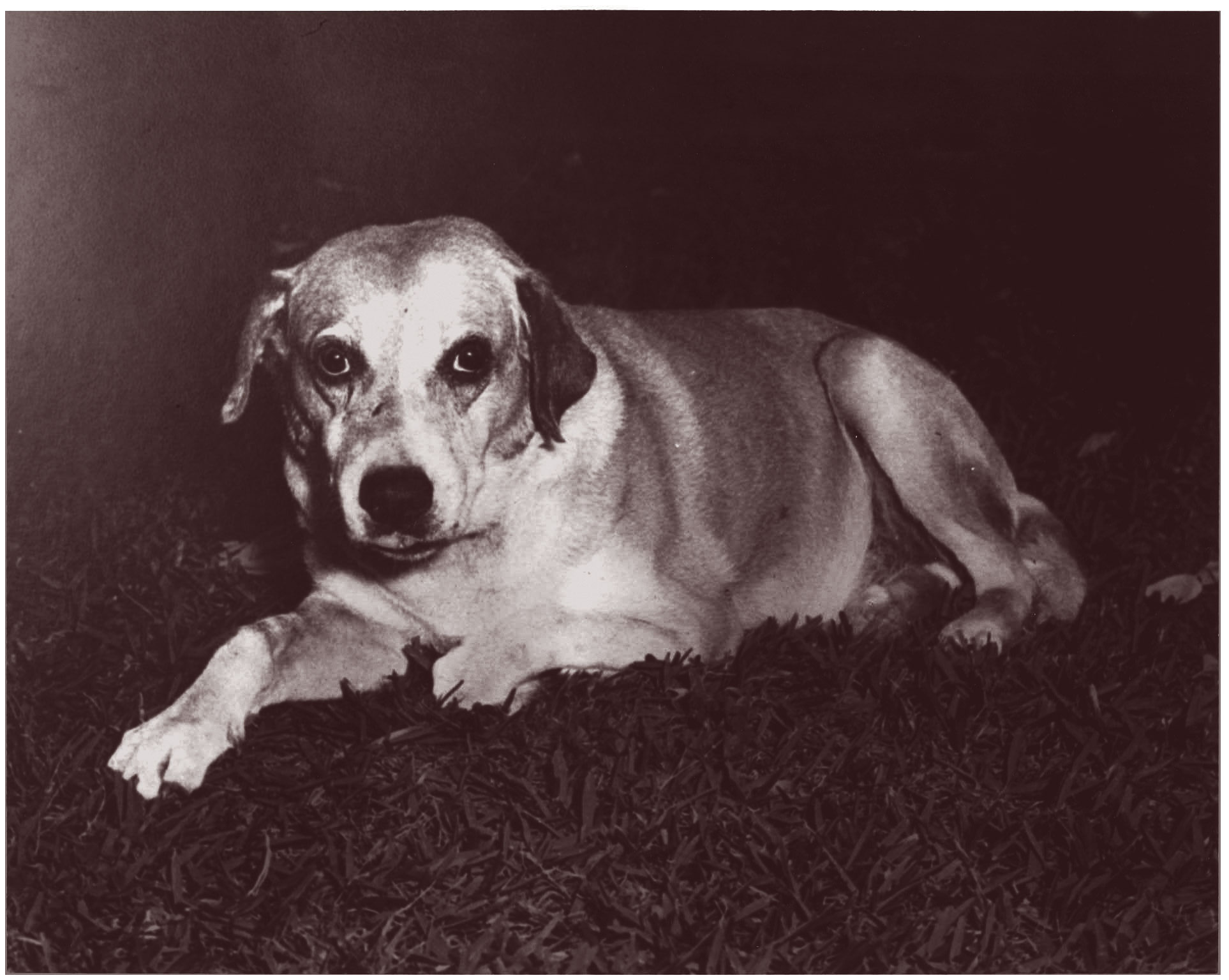 This is how Harmon Lowman began his eulogy for Tripod at his funeral on Friday, Jan. 12, 1962. Classes were called off and the student body turned out in great numbers to say goodbye to this cherished "unofficial" mascot of Sam Houston State University.
Dan Rather, in 1952, devoted an editorial to Tripod entitled "Tripod Legend Growing Fast."
Rather began by saying that "looking at things objectively, Tripod should be placed in the 1953 Alcalde as Sam Houston's 'All-College Favorite.'"
Tripod's popularity was initially caused by his hobbling around on three legs; his left front leg was broken severely and could not be repaired. One time, the student body raised $50 to have his leg fixed, but when he was taken to the veterinarian at Texas A&M, the doctors could do nothing so he was returned to campus, "unmolested and none the less contented."
To prove his popularity, another time several students thought Tripod was extremely sick so a veterinarian was called. Just to get to Tripod, "the doctor had to elbow his way through fifty or more worried students." The illness was nothing more than indigestion.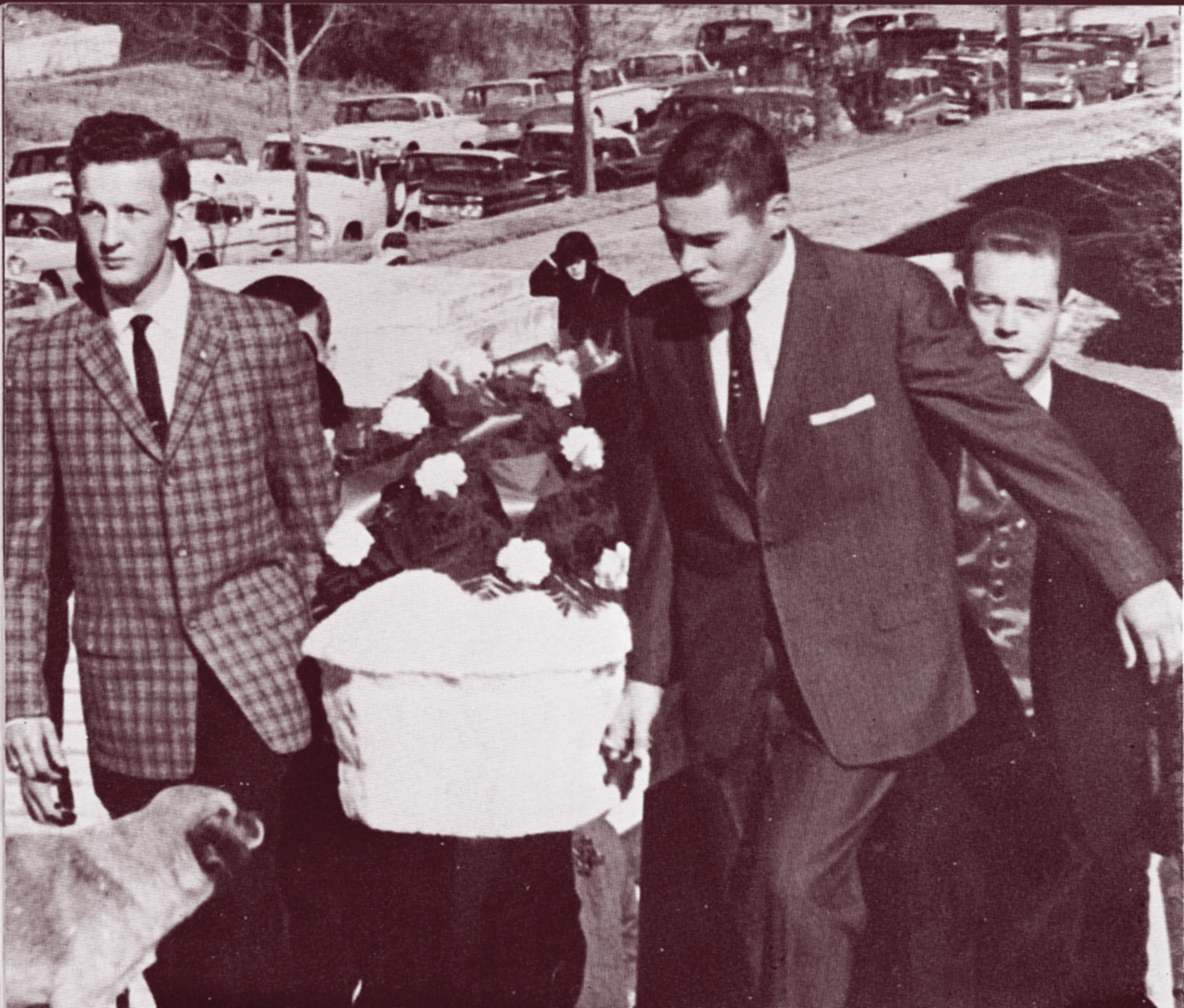 Dan Rather nicknamed him "The Three-Legged Don Juan of College Hill. More than one campus Romeo has been stymied on the hill at night when Tripod came wandering onto the scene seeking affection from the girl friend."
Tripod was welcomed everywhere. He could easily pick up a morsel or two from any of the cafeterias and more times than not, he became a welcomed guest. He could be seen just about anywhere on campus. He went to any special event and the football games. And if he got in the way, it was all right. You'd just have to wait until he felt like moving to continue the activity.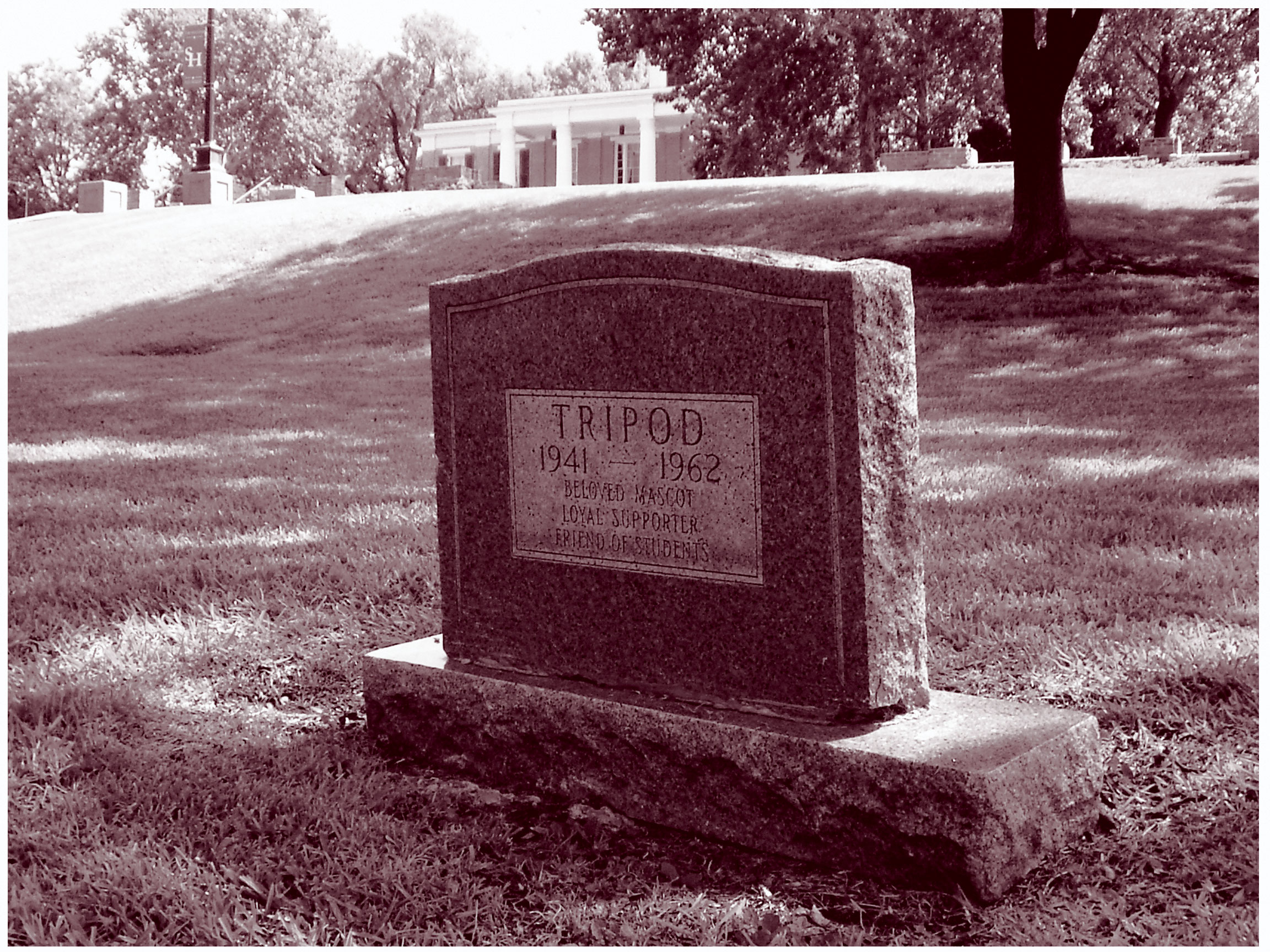 One instance is famous at a football game. Tripod wandered too far onto Prichett Field during the game. The referee attempted to get him to return to the sidelines, which went unheeded by Tripod. Since Tripod had done this at other times, the football fans just laughed and waited for him to decide to return. But the impatient referee kicked at Tripod and the fans went wild, booing and yelling at the referee, who quickly learned not to "mess" with Tripod.
Sam Houston's world was Tripod's world and he reigned. The whole campus was his—and the students'. No other dog stayed long on campus with Tripod around. He challenged vagabond mongrels, sometimes to his injury. But he was always looked after by his loyal fans which also included the faculty and the townspeople. The school had lost its most famous resident when Tripod was found dead in Sam Houston Park by Jerry Roe and carried to the Sigma Chi House on that unhappy January day.
Dan Rather ended his editorial by saying: "To students he's sort of a Rin Tin Tin, a Fella or Pluto—a dog whose name may become a Sam Houston legend."
Back to top