Curtains Up To Academic Excellence On Stage
The academic success of Bearkats comes in a variety of forms. It is not simply measured by graduation, but is defined by how students are transformed in intellectual, emotional and social development. |
Details

First-Year Experience Boosts Freshman Success
You just finished your senior year of high school and the caps have come down from flinging them into the air with your fellow classmates. You've been accepted into SHSU. Now what? | Details

Tale Of The Chile Box –
Success With Food Trailer Business
What does the combination of a rapidly growing business and genuine passion for Mexican food add up to? A perfect, ideal opportunity for Christian Flores and fiancée Marissa Alejos. | Details

Third Consecutive Student Chosen As Regent
Tyra is the third consecutive student and sixth overall to be chosen from SHSU and will attend all board meetings and be a voice for the students of all eight schools. | Details

"Katributes:" Skills Needed For Workplace Success
Businesses today exists in a world that is competitive, dynamic and more connected than ever before. | Details
---
Curtains Up To Academic Excellence On Stage
The academic success of Bearkats comes in a variety of forms. It is not simply measured by graduation, but is defined by how students are transformed in intellectual, emotional and social development. Through academic success, students at Sam Houston State University become career and world ready, capable of sharing their knowledge and passion.
For Dominic Pecikonis, a 2017 graduate from SHSU's musical theatre program, that passion and academic success takes place on the theatre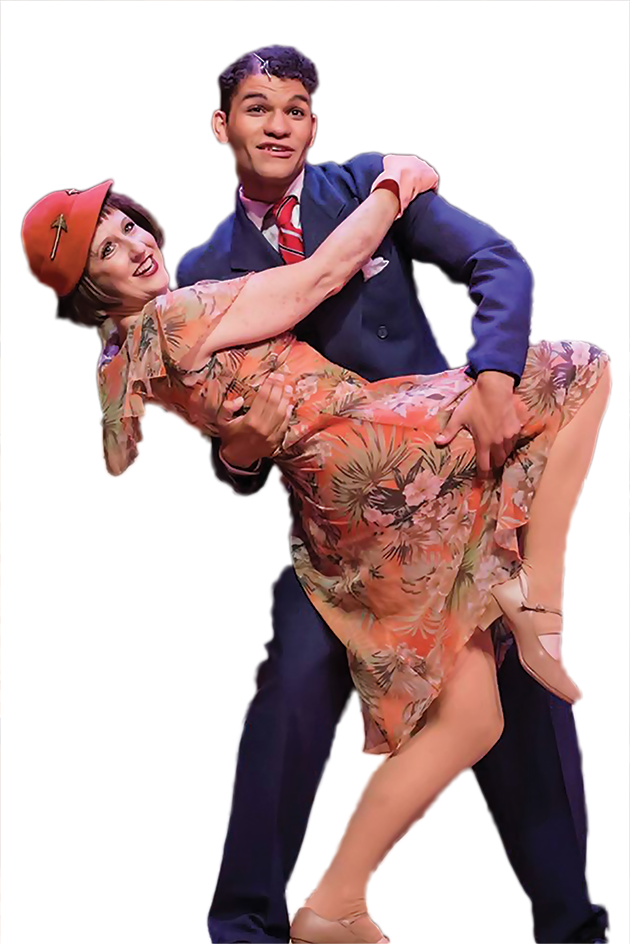 stage. Having recently won a National Kennedy Center American College Theatre Musical Festival Award, Pecikonis was offered the amazing opportunity to attend a prestigious summer institute in New York City.
After joining SHSU's musical theatre program, Pecikonis landed a variety of roles in university productions. Last year, he joined fellow SHSU musical theatre students competing against other area universities in the Region VI Kennedy Center American College Theatre Festival. From the competition, Pecikonis' role in "Peter and the Starcatcher" was noticed by festival judges and earned him the one-and-only prominent spot to represent the Southwest region in Washington, D.C.
"This is a special accomplishment because only nine students are accepted from across the country, one from each region, to participate in the national festival. The winner must be exceptional in the criteria for the initiative," said Penelope Hasekoester, associate dean in the College of Fine Arts and Mass Communication.
Joining outstanding musical theatre students from nine regions across the country, Pecikonis headed to Washington D.C. to compete on the national level. Students were judged based on a variety of skills including their ability to play with strong and clear acting objectives, singing with vocal excellence, connecting to the song physically and demonstrating range as an actor and singer.
Enjoying an informative week of workshops and performances, Pecikonis was delighted to learn that he had received the festival's top achievement, winning first place in the national competition. Along with a $600 scholarship for being selected as the regional representative, his national award earned him a full tuition scholarship to the Open Jar Summer Institute for 2018, which covers his expenses for all classes, meals, tickets to four Broadway shows, plus air fare and hotel.
According to Laura Avery, associate professor of voice, the Open Jar Summer Institute will serve as an excellent opportunity for Pecikonis to connect with the Broadway theatre community where students attend Broadway shows, participate in talkbacks with the cast and enjoy backstage experiences.
"It is NYC's most Broadway-integrated actor training program and provides select students intensive one-on-one training with Broadway's biggest stars, performers, directors, choreographers, agents and casting directors," said Avery.
Undoubtedly Pecikonis' academic excellence at SHSU has already led him to worthy opportunities in the work-force. After graduating this past May, Pecikonis quickly landed a role in the musical "Gypsy" with Oregon's premier musical theatre company, Broadway Rose Theatre. Next up, he heads to Dallas where he has been hired to perform in the regional premiere of "The Hunchback of Notre Dame" at the
Lyric Stage. – By Emily Binetti
Back to top
---
First-Year Experience Boosts Freshman Success
You just finished your senior year of high school and the caps have come down from flinging them into the air with your fellow classmates. Your college application has been filled out and you've been accepted into Sam Houston State University. Now what?
The freshman year of college is an important milestone in a student's academic life, but can also be intimidating, and frankly, a little scary.
To support the transition from high school into college, SHSU developed the First-Year Experience program, which provides academic and selected non-academic services dedicated to supporting the success of new students.
FYE draws on campus-wide resources, including Freshman Orientation, Freshman Learning Communities, Convocation RSVP, University 1301 and Bearkat Camp. They are also involved in Bearkfat Family Weekend, the Parent Relations Office and Financial Aid Outreach Calendar for parents and families.
One program that freshman have found particularly helpful is University 1301.
This class provides an introduction to SHSU as an academic community, explores fields of study and areas of interest available to students, and acquaints students with learning tools and resources available at the university.
Here's what a few students wrote during their sophomore year about their experience participating in FYE, as well as some advice to SHSU's newest cohort of freshman.
Dear Future Bearkats,
As an incoming freshman, I was terrified of what was in front of me.
Not only did I have to leave my home, but transferring from my hometown high school where everyone knows everyone else, to a large campus where I knew no one, was completely nerve-wracking.
During freshman orientation, I was lucky enough to find the First-Year Experience table. Joining this organization was definitely the best decision that I could make as an incoming freshman at Sam.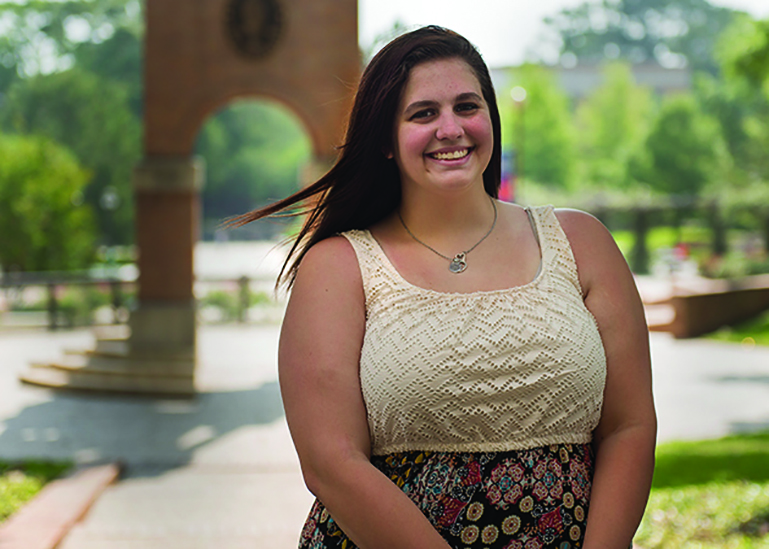 Within this organization, I was put into a specific cohort that included people who had the same goal as me—becoming a teacher. With this group, we were put into certain classes together in order to help one another.
One class that stood out the most was University 1301. It was created to help freshmen gain better study habits and skills and become more involved in the Huntsville community, as well as make many different connections that you may not be able to make without the class.
Through this class, we had to volunteer within the community, and this truly was a blessing. Volunteering helped me become a well-rounded person and also helped me open my eyes to those in need in my community. Because of this class, I also became a better studier. The habits I learned, as well as the tips I received, helped me in the long run.
Lastly, it also helped me gain connections with people I would have never even met. I was able to become linked with a librarian who is designated to help me whenever I need to find sources for a research paper, help on the library website, or even when I just need to find a good book.
I also became connected with the dean of the College of Education, Stacey Edmonson. I was able to interview her while working on a research paper, and now she remembers my name and I am able to go to her with anything I need.
This class was an amazing tool for my freshman year and I am so glad that I was able to be in it. Joining a Freshman Learning Community also allowed me to make amazing friends, join clubs and gave me tools that I will be able to use in my future.
I truly believe that this class helped me make the College of Education Dean's List, as well as make a 3.75 GPA. Freshman year was a blast and I owe it all to my Freshman Learning Community!—Mikayla Bilbo
Dear Future Bearkats,
Hello, my name is Jacory Bellnamy and I am the first person in my entire family to go to college.
I was born and raised on the southwest side of Houston. I have a stepfather who plays a very big role in my life, right along with my amazing mother. I developed study habits while I was in high school because I knew I needed to start early and not wait until I got to college.
I knew I wanted to go to college, but I did not know where because I had never been out of Houston before. Therefore, I did my research, applied to different universities, and then I saved up for a flight to Atlanta to visit Morehouse College.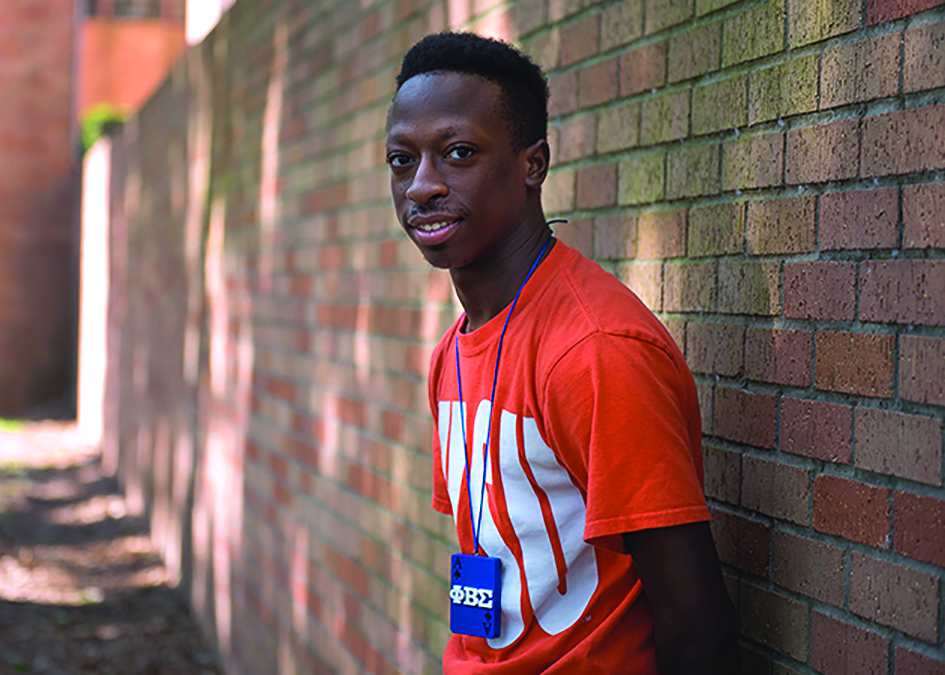 I was so nervous because I was accepted, and I had never been in another city let alone another state by myself. My mom was freaking out. She called me literally almost every two hours. I decided I would not go that far off to college, at least not just yet as a freshman.
A couple weeks later, I traveled to Sam Houston State University with three of my friends to visit—and we fell in love with it. SHSU is one hour away from Houston, which gives my mom and I the comfort that if anything happens, push 90 on the freeway, and be in Huntsville in 30 to 40 minutes.
On move-in day, which was emotional because my parents helped me, we moved my stuff in my dorm and we said our goodbyes. Then it hit me when they got in the car that I was not going with them. I told myself not to look back because I just wanted to scream "Mom do not leave me here!" but I had to realize that I am here to get a degree.
I needed to be "the solution not the pollution"— that phrase helped me throughout that week, because I needed to be the one to break the curse of not going to college or step out of my comfort zone. The pollution would be me sitting at home all day, eating all the food.
After two months, the homesickness was kicking my behind. I called my godmother and I just cried because I was overwhelmed. I did not have anyone to talk to in my family that could relate to what I was going through. So, we prayed on the phone and I had to take it day by day.
What was so ironic was that in my University 1301 class, we discussed homesickness and how to deal with it. I used what my professor Ms. Tipton taught me, "Go out and meet new friends, take a break from studying for couple of hours to let your brain rest, join organizations that you feel comfortable in, and stay connected to home, but not too connected."
So, I did. I joined NAACP, I interned with the Exceptional Men of the Talented Tenth Inc., I became a member of E.L.I.T.E., and I joined Men of Honor in the fall semester of my freshman year. If I am feeling sad, I have so many people I can talk to and they're willing to listen and give feedback.
That is something else my University 1301 class taught me, "Talk about your feelings and do not hold them inside. It may feel weird at first but after a while, you start to feel better."
University 1301 also helped me with my time management, which is what I needed when I went through and completed my Membership Intake Process for Phi Beta Sigma Fraternity Inc. in my spring semester as a freshman. Ms. Tipton even got each of us a planner, which helped a lot to plan my day, organizing meetings and financial spending. I ended up getting a checking and savings account to put money aside for personal spending, emergencies and school spending.
I also learned how to keep track of how much money I have and how much I am spending. University 1301 gave me lessons that I will take with me for the rest of my college career. I highly recommend taking it to any incoming freshman, especially if you're a first-generation student. People in the Bearkat Learning Community and University 1301 are there to help you.
Everyone wants success, but do you have the drive and determination to put that plan into action? I leave you with a quote from William Ernest Henley, "I am the master of my fate. I am the captain of my soul." You have to go out and get the resources; they're not going to come to you. You are now in control of your life.
Have a great semester.—Jacory Bellnamy
Dear Future Bearkats,
The Pre-Law Learning Community was something I didn't know anything about and didn't know I wanted, but when I was accepted, it was one of the best things that has ever happened to me.
Being in the cohort opened many doors for me and it helped me understand what it really took to get to my ultimate goal of being a lawyer. I made new friends that were interested in law, which I had never had before, and we collaborated and worked well with one another.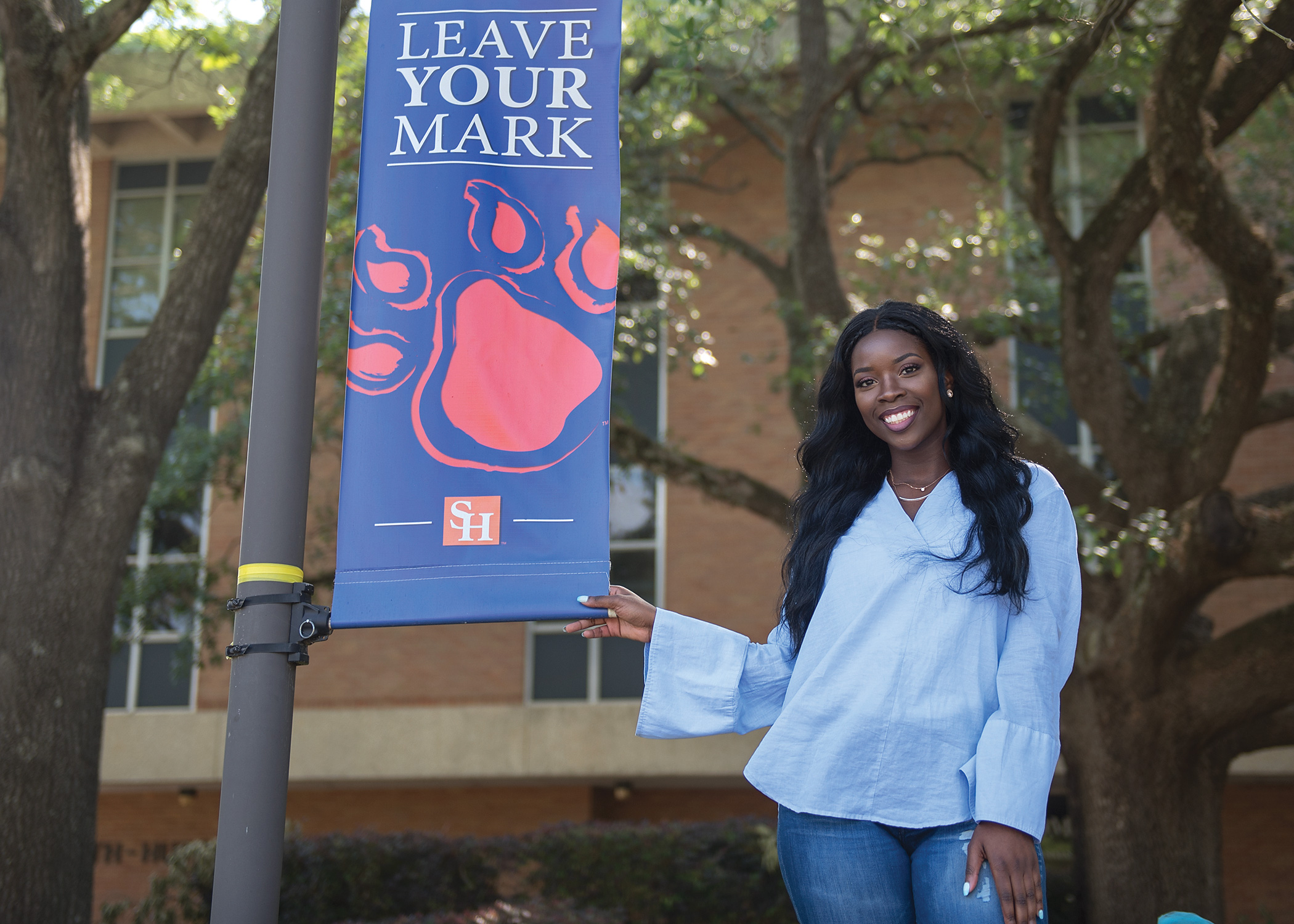 A program that I was introduced to through the cohort was the LEAP (Leadership, Engagement, and Politics) Center. LEAP has helped me see all the sides of law and where I can go after I graduate from undergrad and from law school. They host events where government officials and people in different areas of law speak and give insight on certain topics. Joining this program was a real eye-opener for me because I got to see all the programs that are connected to LEAP and how each of them would benefit me in some way.
My professor really enlightened me through advisement and the UNIV 1301 Pre-Law section because I got to learn about my degree plan and all the different options I had to complete it. That honestly made me so excited to go through with school.
Beginning college, I was so scared that I wouldn't be cut out for it, but I'm happy to say that my biggest achievement has been to make the Dean's List my first semester and I thank God for that.
A challenge for me has been note taking. I would hand write my notes and my handwriting is really bad, which I didn't notice at first. This would lead to procrastination, because studying for big exams became difficult since my notes were a mess.
So, one day I transferred to electronic notes using my laptop, which has made everything so much easier. I could actually see my notes I was working so hard to take and, therefore, study more efficiently.
Procrastination is the enemy of success. That has been my motto and something that has always come naturally to me because I hate the stress and pressure that comes with being a college student. What I do to overcome procrastination is take a mental note of the things I need to do for the next day and I write them down on a sticky note and put it on my desk. So, every day I have my mini list of things to do.
Sometimes it leads up to an exam or just to weekly assignments. I organize them by importance then cross out as I go. Also, finding a place on campus where I can sit down, think, organize and get work done is really important in being successful.
For me, I use the library because of how quiet the upper floors are and how easy it is for me to stop by after my classes and complete assignments. When it comes to staying on top of your schoolwork, find the methods that work best for you and stick to it!
When you find an organization and people that are interested in what you want to do, things become easier and that's not hard to find here at Sam Houston State University!
I hope your first year at SHSU is splendid and more than you expected!
God Bless!—Elizabeth Mintah
Back to top
---
Tale Of The Chile Box—Success With Food Trailer Business
What does the combination of a rapidly growing business and genuine passion for Mexican food add up to? A perfect, ideal opportunity for Christian Flores and fiancée Marissa Alejos.
Flores is a business and entrepreneurship student at Sam Houston State University, while Alejos sees becoming a Bearkat in her future plans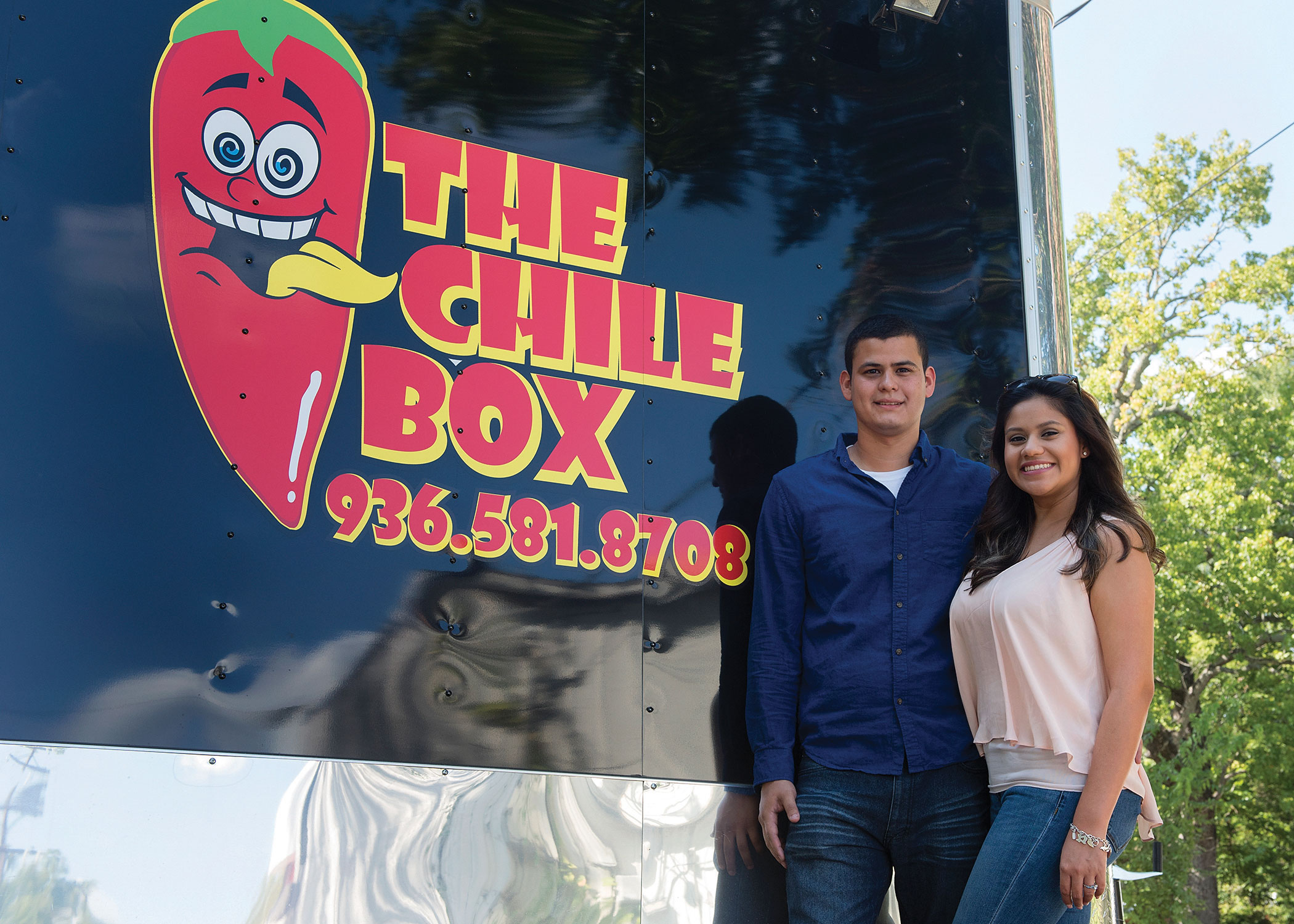 .
The couple met each other in high school, then both attended Lone Star Community College where they began dating and became engaged. Flores was in manufacturing and already owned his own business when he was just 18.
"Once I came here to Sam, I had some money saved up, but it was kind of disappearing quickly," he said. "I have a friend on Facebook who attended Sam earlier, and she had posted a video of these authentic Mexican foods that aren't really served here in Huntsville. I kind of jokingly played around with my fiancée and told her, 'Let's do this.'
"She agreed," he said. "We just went for it. I had the savings and we had the resources. My fiancée's mother has been in the food industry for a while. She's familiar with a lot of these foods."
They worked out the details and business plan then purchased a food trailer in Austin for a good price. After setting up the business and obtaining all the necessary permits—The Chile Box was opened in May 2016.
"Since then, it's been kind of on and off due to school," he said. "I'm a fulltime student, so it's been difficult to be consistent with the business. We've had really good points where I see a lot of potential in the business. As of right now, we're growing.
"I have customers come up to me and share how happy they are we're here before they even try anything," he said. "Some do it because it's food from their hometown. Every time I see that it brings me joy. We've also been told we have the best tacos in the area.
"When we had our old trailer, we would play music and people would dance in the parking lot," he said. "Seeing that made me happy because I want people to enjoy themselves during their dining experience."
A study done in 2015 showed the food truck industry had seen its seventh year of consistent growth, recording a 12.4 percent increase in industry revenue and overall $1.2 billion annual revenue, according to Mobile-Cuisine.
While startup costs aren't as high as the typical new business, costs still average around $90,300.
"The trailer is the biggest cost, then you have to put in the grills, refrigerator units and all that," he said. "You have to negotiate rent costs and set up utilities. From there it goes to permits, then just stocking up on inventory and labor.
"Marketing is a big deal, and I didn't think too much about it before I started," he said. "I realized soon after it's about branding and putting yourself out there. We're trying to get the name to stick, and not just the taco stand."
Flores credits some of their success with The Chile Box to his time at SHSU.
"The longer I'm in the business, the more I learn," he said. "In class, we talk about different concepts, which really relates to me and makes me think about why I should be doing those things in my own business. The entrepreneurship professors have been very supportive and try to give me ideas on how to grow the business."
The Chile Box reopened its doors on Oct. 16. You can find the food trailer parked at 2020 Sam Houston Ave., across the street from Jimmy Johns.
They're open Monday-Thursday 11 a.m. to 8 p.m. and Friday 11 a.m. to 10 p.m. They're closed on the weekends for now, but are going to try and open on Saturdays in the future.
You can find The Chile Box on Facebook. – By Lane Fortenberry
Back to top
---
Third Consecutive Student Chosen As Regent
Tyra is the third consecutive student and sixth overall to be chosen from SHSU and will attend all board meetings and be a voice for the students of all eight schools in the system for her one-year term as a student regent.
Her commitment to improving herself as a leader and student is what Tyra credits to being able to handle such a prestigious position.
"One of the things I have done at SHSU that I'm most proud of is serve as a LEAP (Center for Law, Engagement, And Politics) Ambassador," Tyra said. "The LEAP Ambassadors participate in over 40 events a semester, such as our annual 'heART of Huntsville' program and hosting the Texas Supreme Court on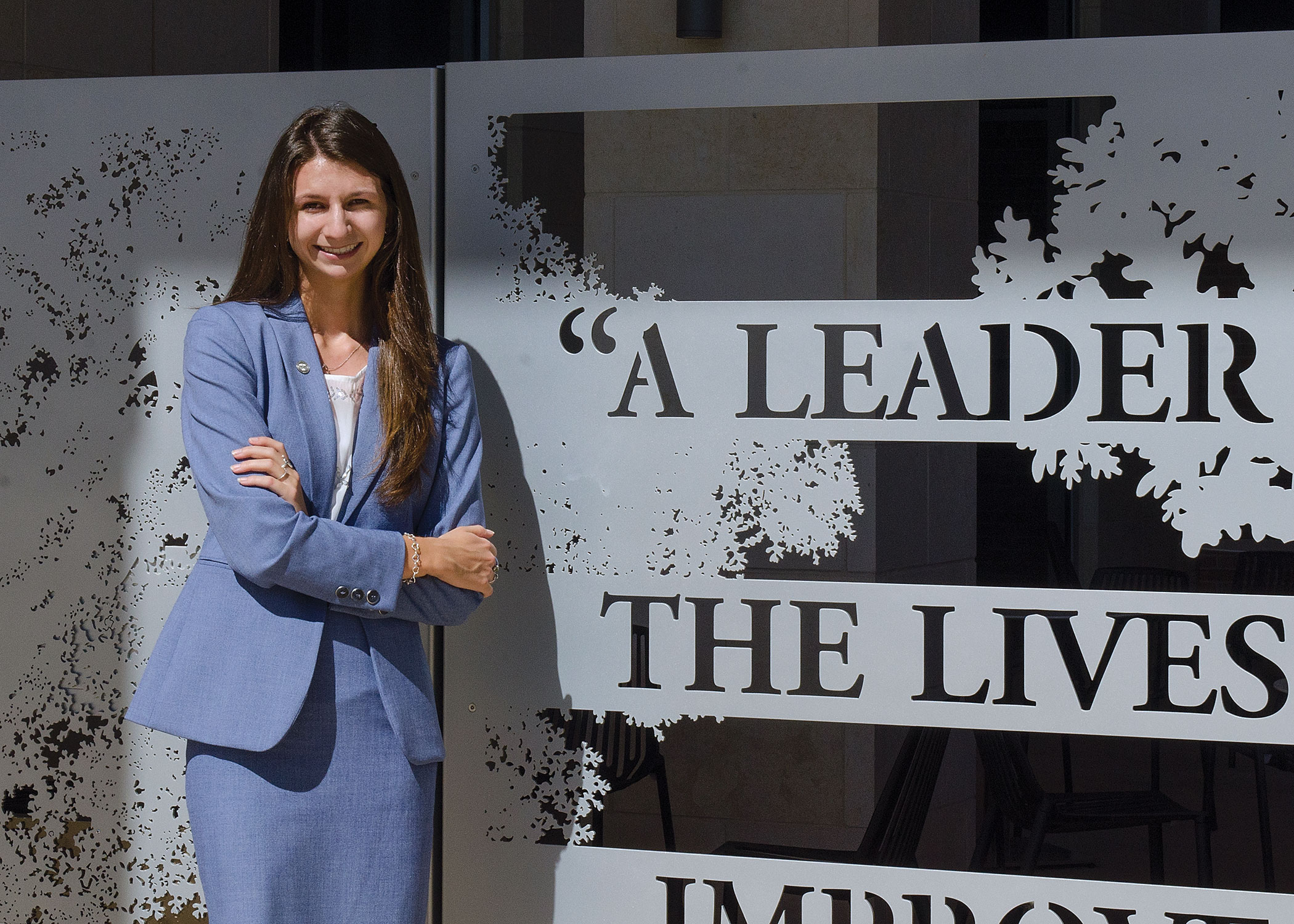 campus."
It is her time in balancing her service to programs like LEAP that Tyra believes contributed to her preparation for the role of student regent.
"With the privilege of participating in exciting events and engaging in unique learning opportunities comes the responsibility of preparation and planning for them," Tyra said. "Balancing classwork, a part time job and extracurricular activities have helped me learn how to effectively manage my time."
Tyra has already had the opportunity to meet with other student regents in early July for their annual Student Regent Leadership Forum.
"I got to attend the forum in Austin this summer," Tyra said. "The University of Texas System was nice enough to host the forum to connect current and former student regents in an effort to build a strong support network. We discussed the expectations and responsibilities of a student regent and acquired helpful resources to utilize throughout our terms on the Board of Regents."
As she is a full-time student and student regent, Tyra will have a busy schedule during this school year as she also serves as the president of the LEAP Ambassadors and is a member of the Pre-Law Society and Honors College.
"I am excited to grow in my role as a student regent," Tyra said. "I am confident that my previous commitments and activities on campus have helped me prepare for my new responsibilities."
Much like a leader should, Tyra believes that engaging with the community is important for growth, and she continues to have a passion for volunteering, even with her busy schedule.
"Being a LEAP Ambassador, I participate in about 40 events every semester. One of my favorite programs is the annual Republican-Democrat charity football game, which brings the Huntsville community together. We have raised around $32,000 over the past decade, which has been split between the Huntsville YMCA and the John Holcombe Scholarship."
Mike Yawn, director for LEAP, affirms that Tyra is a perfect choice to be a student regent.
"Kaitlyn is a great student and great selection for TSUS Student Regent," Yawn said. "She's conscientious, intelligent and a hard worker. Since being at SHSU, she's made the most of her time and has even travelled to more than 20 states as a LEAP Ambassador."
Tyra believes that her continued commitment to bettering herself through service is what she brings to the group as a student regent.
"Recently, I interned during the 85th Legislative Session for Texas State Sen. Charles Schwertner," Tyra said. "My experience working in the legislature gave me new perspectives regarding how government views higher education. I will be able to combine my experience as a student, a community member, and a staff member in the legislature to provide a unique perspective to the Board of Regents." – By Tyler Pointer
Back to top
---
"Kattributes:" Skills Needed For Workplace Success
Businesses today exist in a world that is competitive, dynamic and more connected than ever before. To thrive and move forward, they look to build a team of employees who will emerge as leaders and problem-solvers.
While having a degree is certainly beneficial to new graduates seeking employment, employers are also looking for those who possess what are called "soft skills," or skills that involve the ability to analyze data and situations, react well under pressure, express ideas, use good judgment, and put their education into action quickly.
A committee was formed at SHSU to identify those skills and attributes and how to market them. From discussions with executives, employers and alumni who have either already hired Sam Houston graduates or have expressed interest in hiring them, the committee decided upon five broad topics that would help students be successful after they complete their academic careers. They include: communication, teamwork, critical thinking, ethics, and career ready.
"The committee wanted something that would be unique to Sam Houston State University and that students would embrace," according to Angie Taylor, SHSU's director of admissions. "So they decided to call this collection of skills 'Kattributes.'"
Several alumni who have enjoyed success in their professions recently discussed the importance of having "Kattributes" upon graduation.
JOHN AND JENNIFER GARRETT
John Garrett, along with his wife and business partner Jennifer, launched the first edition of Community Impact Newspaper in 2005 with three full-time
employees covering Round Rock and Pflugerville. Today, the award-winning newspaper has 24 hyperlocal newspapers in Texas covering 38 communities with more than 190 employees.
"I really didn't learn the value of communication as a whole until I became involved in several student organizations while at SHSU," said John.
"What I learned about communication is that you have such different perspectives from people," he said. "We all come from different backgrounds and experiences, and we don't necessarily look at things the same way.
"The really great communicators are the ones who are naturally curious and know how to listen. They have a desire to learn, and by learning they have a better understanding what's going on around them."
JEAN HENDRICKS
Following her graduation with a Bachelor of Business Administration degree in 1982, Jean Hendricks focused her talents and abilities on her faith, her family and her community.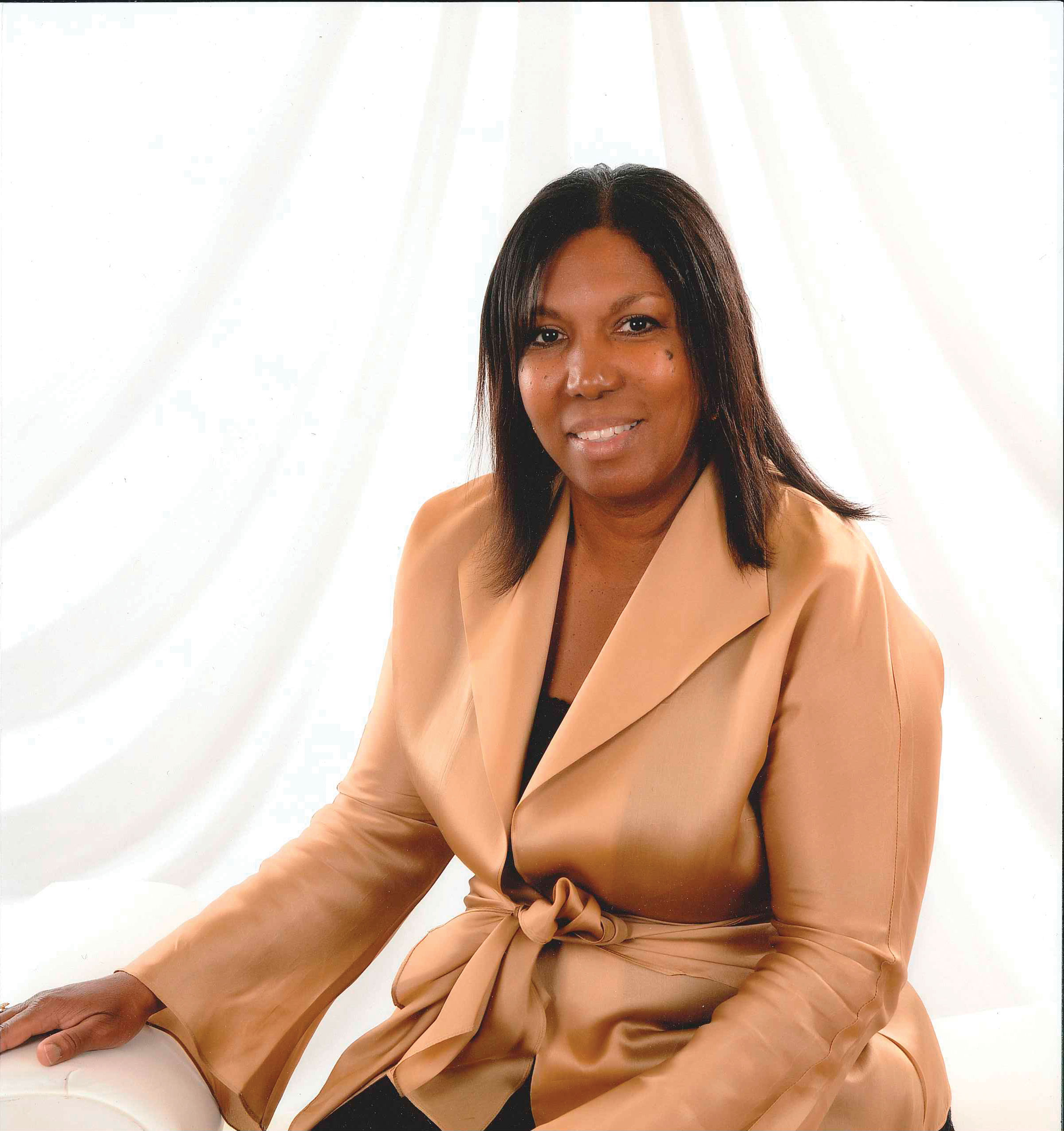 Her husband, Roland—who is also an SHSU business graduate and had a successful career as financial director for Dow Chemical prior to his retirement two years ago—now serves full time as the pastor of Greater Mount Zion Church in Brazoria. As a pastor's wife, Jean, is committed to the work of the church and is often called upon to plan activities.
"We have wonderful people on our committees, and each one of them represents what's best for our church," she said. "I'm a member of the team; just because I'm the pastor's wife, that doesn't make me the leader of the group. My ideas are not any more important than anyone else's. We really work well as a team."
Jean also believes that leaders are tasked with building teams.
"You need to be a team-maker and not a team-breaker," she said. "A team-maker sees strengths and a team-breaker sees weaknesses. We all have different abilities, but each one of those abilities has an important purpose.
"The difference between success and failure is almost always determined by the strength of your team."
RICK WILLIAMS
Rick Williams '75 (Bachelor of Science in law enforcement and police science) has spent his professional career making decisions that affect the very stability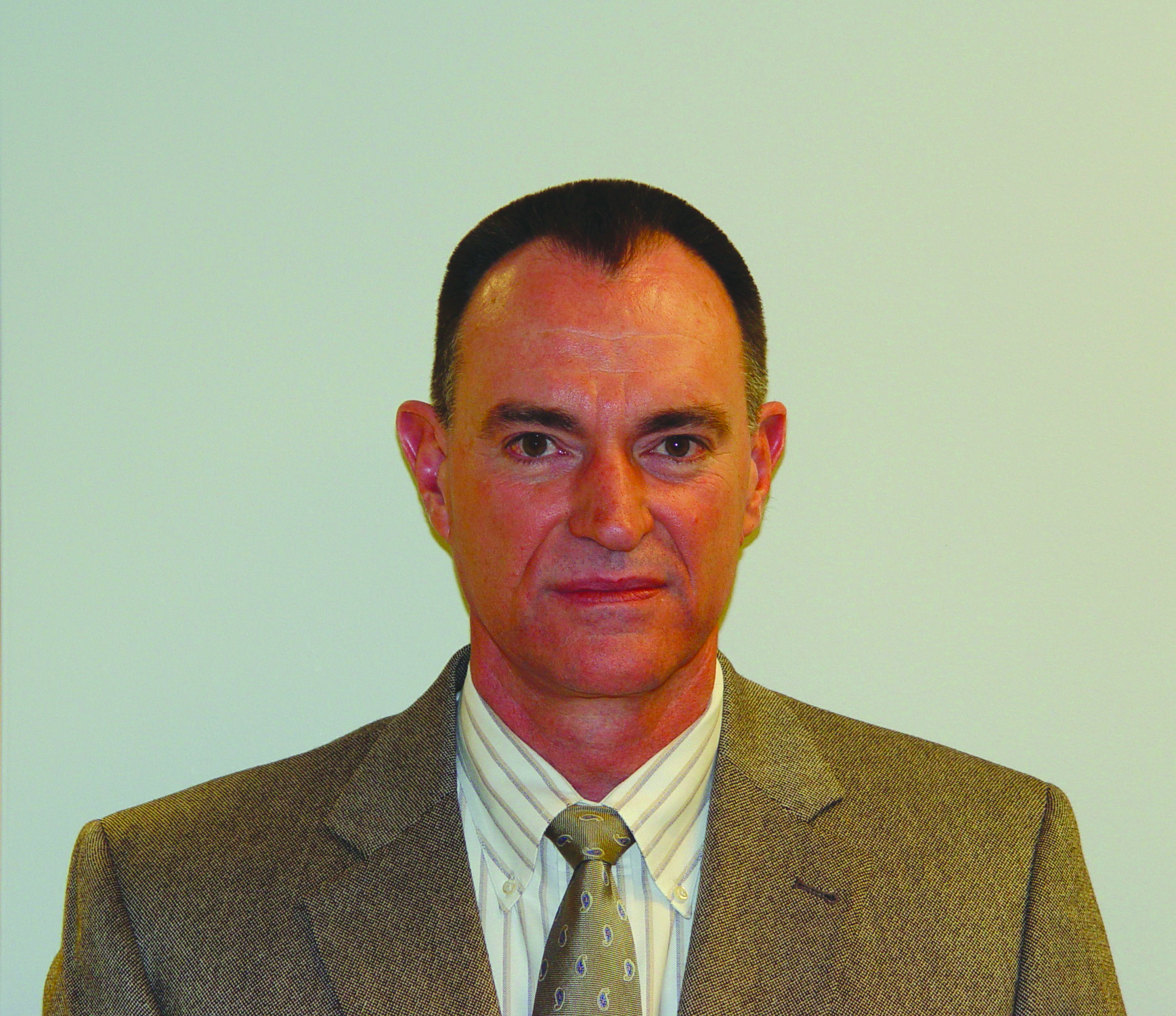 of our nation. As the current global security manager for Chevron Phillips Chemical Company and a retired member of the U.S. Secret Service, Williams knows how valuable critical thinking is in determining a successful outcome.
"I think the best thing about the process of critical thinking is that it helps you alleviate bias, and we all struggle with bias, whether we want to admit it or not," Williams said. "You need to discipline yourself to remain open, objective and willing to see other views and opinions".
"In my business, we do a lot of analysis regarding threats to people and assets," he said. "Sometimes, you have time constraints, limiting your ability to thoroughly investigate a potential threat. In those situations, you have to know which sources of information you can turn to quickly, that have been reliable and unbiased in the past."
"For someone who is interested in it, sees the value in it, and is willing to commit to the concept, I believe can learn and become proficient in the critical thinking process."
JOHN PELTIER
Following his graduation with a Bachelor of Science degree in industrial technology and photography in 1972, John Peltier became the founder, CEO and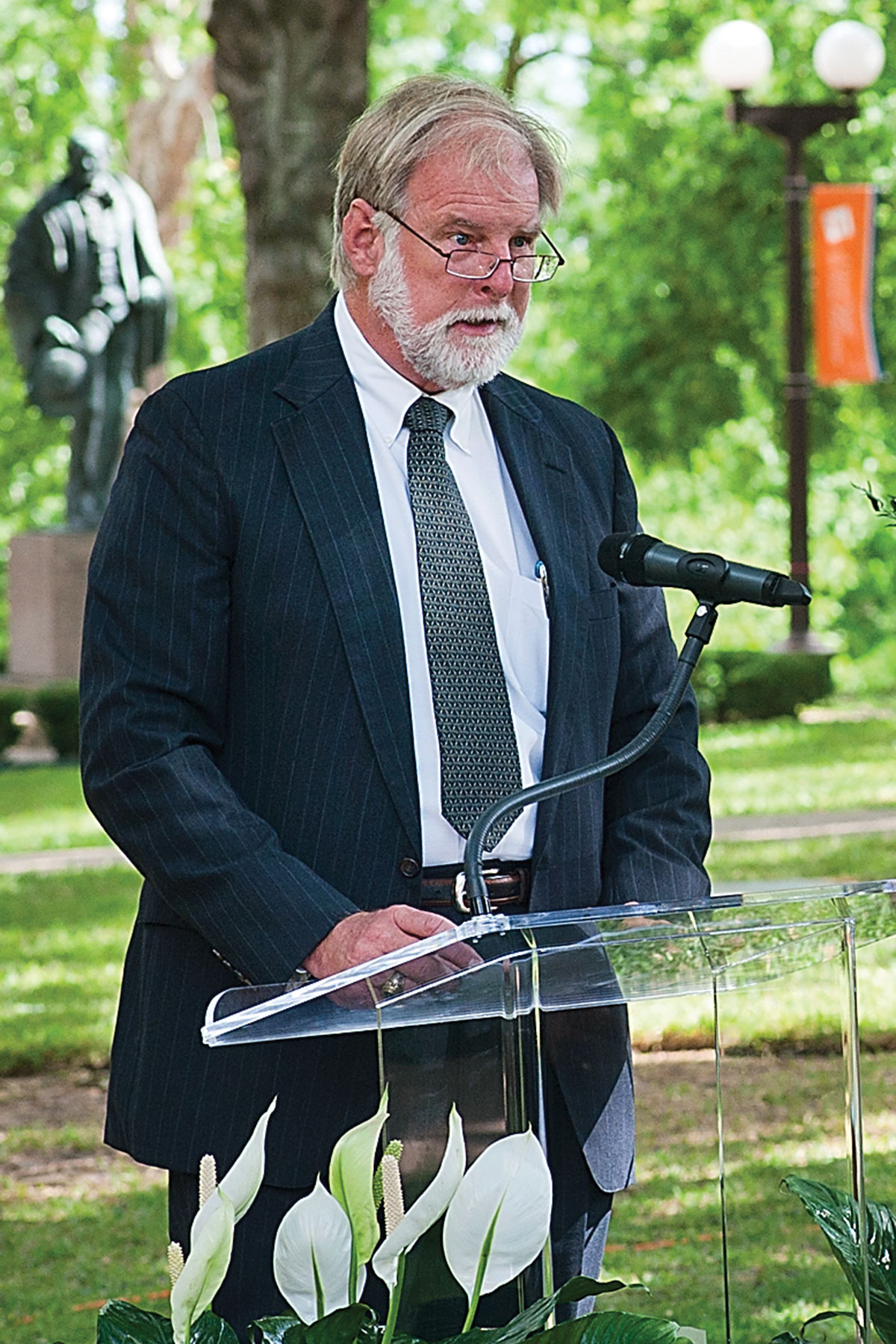 partner of Peltier Brothers Construction. Today, the business is a multimillion dollar organization, where many Houston-area builders have gotten their start.
"Being successful in business involves being successful with relationships," Peltier said. "When you care about people, your business will do well.
Peltier also firmly believes that you are only as good as your word, and if you don't live up to your word, people remember.
"I remember one project where one of our sub-contractors had done the welding wrong. It failed five years later and they hired us onto the project to fix it, not knowing that we had been responsible for the original work. When we realized it was our job, we didn't even blink, we just fixed it at no cost."
Although the job was very expensive, and the work was only guaranteed for one year, Peltier knew it was the right thing to do. He has tried to always be truthful with people.
"The first time someone finds out you weren't truthful, they stop trusting you. If you don't have trust in the relationship, then you're going to have a hard time with your business."
DR. TOM OLIVERSON
Dr. Tom Oliverson '94 (Bachelor of Science, Biology) wears two hats in the professional world—one of a practicing anesthesiologist and another as state representative for District 130 in the Texas Legislature.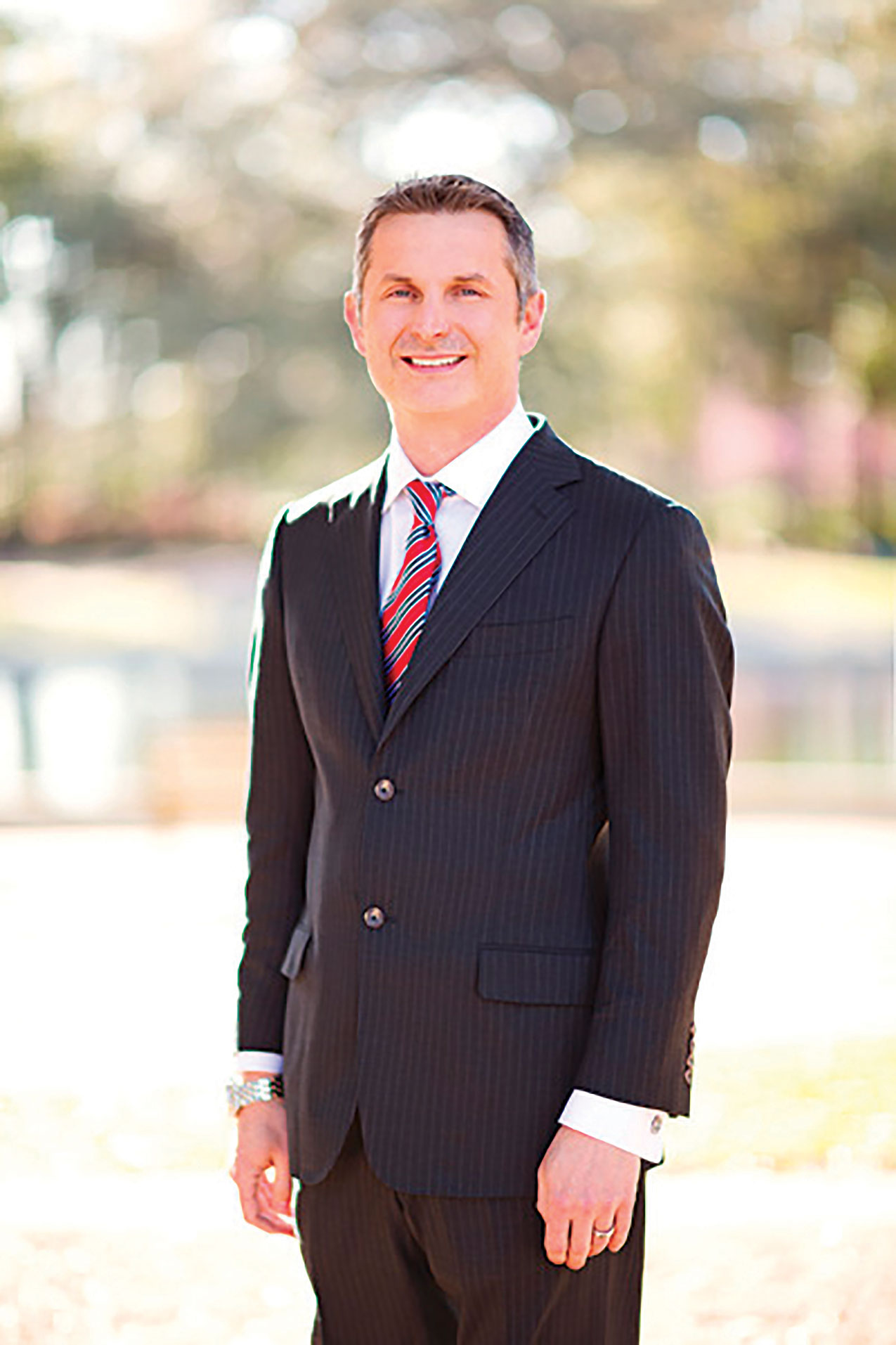 Through his own experience in the health care arena, both as a medical specialist and as an advocate, he knows the value of being career-ready and how possessing those skills are not just for the newly-employed.
"The most important thing in our field right now is to understand adaptability," Oliverson said. "Health care is changing. For example, it's no longer sufficient to just be a good clinician, to be able to diagnose and treat. One also has to be a good business person.
"When most in my generation graduated, having business skills were not as critical, and it's something we've had to learn. This shows that just because you have a job, your education never ends," he said. "There are constantly needs you have to fill in terms of information gaps where you have to learn something that you didn't cover in your training and you didn't anticipate having to do."
"Going back to my days at Sam, my statistics coursework prepared me to objectively look at data," he said. "However, (to be career-ready) you should understand that things change, and what once was considered a quality measure might now be something that doesn't correlate well with quality at all."
Back to top