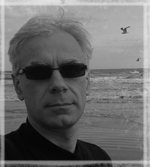 Tudor Mitroi
Visiting Assistant Professor
Art D, R100
936.294.1320
tmitroi@shsu.edu
Teaching Area: Drawing
Tudor Mitroi was born in Bucharest, Romania and has traveled the world, sharing his love of Art. He earned his MA, in Art History and MFA in Painting/ Drawing form the University of North Texas in 2002. Tudor has been a Lecturer for the Art Department at Sam Houston State since 2010 teaching painting and drawing. He currently has a studio space at Box13 Art space in Houston, Texas and continues to actively show his work throughout the United States.