Art Educators' Summer Studio Intensive
Sunday, June 23- Thursday, June 27, 2019
The 2019 SHSU Art Educators' Summer Studio Intensive, from Sunday, June 23rd through Thursday, June 27th, offers a unique opportunity for art educators to nurture and feed their inner artist. The retreat style workshop aims to re-energize educators in their own creative practice while introducing ideas, materials, and inspiration to take back to their classrooms. The intensive will be led by Cynthia Reid and Edie Wells, Department of Art faculty at Sam Houston State University.
Participants will stay on campus and all lunches are provided. Participants are on their own for dinners; suggestions will be provided for Huntsville restaurants. All materials will be provided, and extended hours for access to campus studio space will be available.
Each day will feature an introduction to a particular medium, with demonstrations of specific techniques, projects, and ideas for further exploration that can be used by the teacher as artist, as well as with students. A notebook of hand outs, lesson plans, resources, and supplementary materials will be provided. Both 2D and 3D projects will be featured. Writing activities, guest speakers, videos, and artist presentations will supplement the studio activities, as well as tours of some of Huntsville's most interesting places.
There will be ample opportunities to share ideas with like-minded professionals, and keep the dialogue going through social media once the workshop has ended. The week will culminate with an exhibit of the work of the participants attended by the public. This workshop is suitable for art teachers of all levels and in all situations.
$395 per person.
For more information about Department of Art Summer Camps contact Britney Ketkoski brv001@shsu.edu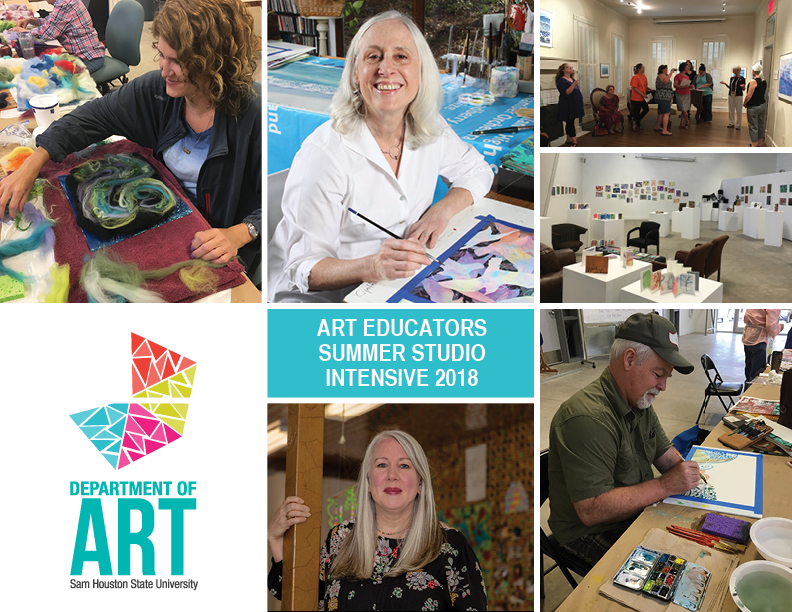 Animation Creation Summer Camp
Animation Creation is a week-long day camp for students in middle school and high school (grades 7-12.) Students will use facilities in the Department of Art and work with professional artists to develop their creativity. The day camp is divided into morning and afternoon sessions. In the morning, they make animations in the computer lab, and in the afternoon, students focus on drawing skills . Students will learn the principles of animation and will experiment with various digital and hands-on techniques in the creation of 2D animation. All the tools and supplies will be provided.
For more information about Department of Art Summer Camps contact Britney Ketkoski brv001@shsu.edu
Art on the Edge will not be held in Summer 2019
Check back in 2020 after we have moved into new facilities
Animation Creation Camp - Pachyderms from SHSU Computer Animation Program on Vimeo.
---
Art on the Edge
Art on the Edge is a week-long day camp for students grades 7-12. The 2018 theme, "Better Together" will focus on celebrating diversity. This fun packed week offers opportunities to explore traditional and contemporary arts and crafts from around the world. The camp will be led by SHSU faculty, Edie Wells, of the Department of Art, and SHSU art education students.
For more information about Department of Art Summer Camps contact Britney Ketkoski brv001@shsu.edu
Art on the Edge will not be held in Summer 2019
Check back in 2020 after we have moved into new facilities