Min Kim Park
David Swenson

Zummarella

October 7 - 28 , 2010
Artists Talk: 4-5 October 7
Reception: Thursday, October 7, 5-7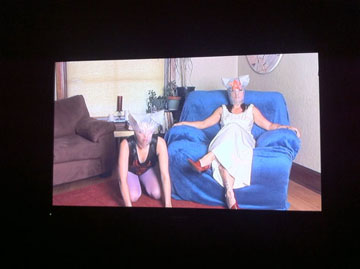 Zummarella is a collaborative installation of photography and video by Min Kim Park and sculpture by David Swenson.

Zummarella is a caricature about a woman who has it all. The work deals with the status of empowered women in a rapidly globalized world. The challenges facing these women, whether self-imposed or imposed by society are super-heroic in proportion. This work examines tragicomic, impossible situations, and the isolation stemming from the conceitedness of feeling different and superior. It also deals with the hypocrisy of seeking to be different and the agony of contemporary women unable to escape from a self-made predicament and social mores in the land of entitlement.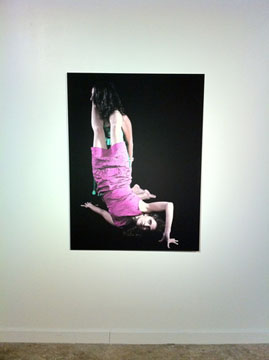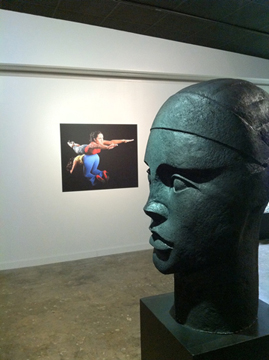 Min Kim Park explores issues of gender, ethnicity and identity in performance, video and installation. She has exhibited her work at the University of Wisconsin, Eau Clair, Arizona State University, Emory University and North Dakota State University. She hs been a resident at the Bemis Center for Contemporary Art and North Dakota State University. She is a Visiting Assistant Professor at College of St. Benedict and St. John's University and has an MFA in Photography from the University of New Mexico.

David Swenson focuses on sculptural media and research in wood kiln design and construction. Recent exhibitions have included the International Snow Carving Symposium in Winnipeg, Manitoba, Abstraction 100 at the Roland Dille Center for the Arts and an appearance on the Food Challenge Networks Incredible Edible Landscapes. He is an Associate Professor of Art at North Dakota State University.
SHSU Art Educators' Summer Studio Intensive
Sunday, July 10-Thursday, July 14
The SHSU Art Educators' Summer Studio Intensive, from Sunday, July 10 through Thursday, July 14, offers a unique opportunity for art educators to nurture and feed their inner artist. The retreat style workshop aims to re-energize educators in their own creative practice while introducing ideas, materials, and inspiration to take back to their classrooms. The intensive will be led by Cynthia Reid and Edie Wells, Department of Art, Sam Houston State University.
Participants will stay in dormitories on campus; all breakfasts and lunches are provided, as well as an introductory dinner on Sunday night. (Participants are on their own for dinner on Monday, Tuesday, and Wednesday; suggestions will be provided for Huntsville eateries.) All materials will be provided, and extended hours for access to campus studio space will be available.
Each day will feature an introduction to a particular medium, with demonstrations of specific techniques, projects, and ideas for further exploration that can be used by the teacher as artist, as well as with students. A notebook chock full of hand outs, lesson plans, resources, and supplementary materials will be provided. The proposed topics include Creating Hand-painted Papers with Acrylics; Textural Techniques in Watercolor; and Making Art with Recycled Materials. Writing activities, guest speakers, videos, and artist presentations will supplement the studio activities, as well as tours of some of Huntsville's most interesting places, such as the recycled houses built by the Phoenix Commotion, the Hospitality House, and the Wynne Home Arts Center.
There will be ample opportunities to share ideas with like-minded professionals, and keep the dialogue going through social media once the workshop has ended. The week will culminate with an exhibit of the work of the participants at the Satellite Gallery downtown attended by the public. This workshop is suitable for art teachers of all levels and in all situations.
Check back April 2016 for registration information.