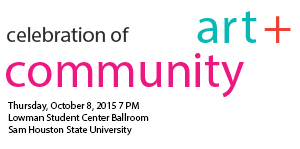 Department of Art Gala Fundraising Dinner and Awards, Thursday, October 8, 7pm, LSC Ballroom
---
Artist's Talk by Kelly O'Connor, Thursday, September 3, 5-6pm, Art Auditorium, Art Building E 108.
Click here for map and parking info.
Reception for Still Summer: Debra Barrera and Kelly O'Connor, curated by Dr. Melissa Mednicov, Thursday, September 3, 6-7pm, Gaddis Geeslin Gallery.
---
The SHSU Satellite Gallery (located at 1216 University Ave.) will be open Saturdays during the summer 10am-2pm. The current exhibit is "Narrativity: SHSU Artists in Europe" featuring art made by SHSU art students in response to a study abroad trip this summer to Rome, Florence, Paris, and London.
Reception, Thursday, September 10, 6-7pm.
---
2015 - 2016 Gallery Exhibition Schedule
---
---
Department of Art PO Box 2089, Sam Houston State University Huntsville, TX 77341-2089 Phone: 936.294.4311