Thursday, October 29, Receptions

3G Gallery • Oogly Boogly Reception • 6 - 7 pm

Sofa Gallery • Waking Nightmares, curated by Kaia Magnusen. Reception • 6 - 7 pm

LSC Gallery • Sticks and Stones in a 2D World, Scott McCarly and Harold Hutchinson. Reception • 5 - 7 pm

Public Lectures in Art Auditorium (ART E 108)

Oogly Boogly artists Heather Joy Puskarich & Shaun Griffiths • Thursday, October 29, 5 pm

Artriprapyap, John Runnels, Thursday, November 5, 11 am

Texas as Nonsite: Robert Smithson's Unfinished Works in the Lone Star State, Leigh Arnold, Thursday, November 5, 5 pm

Oogly Boogly artists Lauren Clay & Jessica Simorte, Thursday, November 12, 5 pm

Muralist Richard Haas, November 19, 2 pm

Senior / Professional Practices Exhibitions at Satellite

Ashley Bynum & Haden Henderson • October 26-30

Gabriela Cruz & Benjamin Prochazka • November 1-7, Reception Thursday, November 5, 6-7pm

Erika Aguirre & Caroline Aguirre • November 9-14, Reception, Thursday, November 12, 6-7pm

Frank Graham & Matthew McEver • November 16-21, Reception, Thursday, November 19, 6-7pm

Other Exhibits

Drawing 1 Showcase • SOFA Gallery, November 2-14

Watermarks • curated by Kaia Magnusen, SOFA Gallery, November 16-20

Ceramic Critiques • SOFA Gallery November 23 - December 12

Zeitgeist • Satellite Gallery, December 1- January 21

Graduating Senior Show • 3G Gallery, December 7- 12, Reception Saturday, December 12, 3:30 ish
---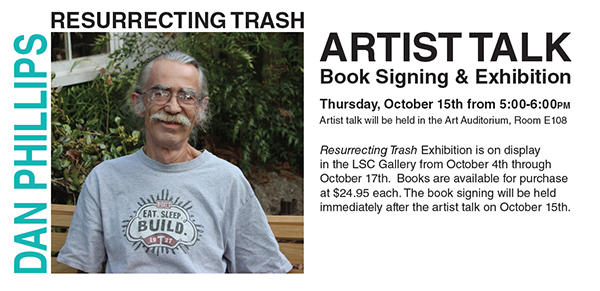 ---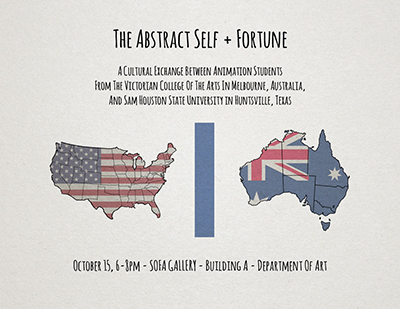 Abstract Self + Fortune
A cultural exchange between animation students from the Victorian College of the Arts in Melbourne, Australia, and Sam Houston State University in Huntsville, Texas.
SOFA Gallery, Building A, Department of Art
Thursday, October 15, 6-8pm
---
Artist's Talk by Kelly O'Connor, Thursday, September 3, 5-6pm, Art Auditorium, Art Building E 108.
Click here for map and parking info.
Reception for Still Summer: Debra Barrera and Kelly O'Connor, curated by Dr. Melissa Mednicov, Thursday, September 3, 6-7pm, Gaddis Geeslin Gallery.
---
The SHSU Satellite Gallery (located at 1216 University Ave.) will be open Saturdays during the summer 10am-2pm. The current exhibit is "Narrativity: SHSU Artists in Europe" featuring art made by SHSU art students in response to a study abroad trip this summer to Rome, Florence, Paris, and London.
Reception, Thursday, September 10, 6-7pm.
---
2015 - 2016 Gaddis Geeslin Gallery Exhibition Schedule
---
---
Department of Art PO Box 2089, Sam Houston State University Huntsville, TX 77341-2089 Phone: 936.294.4311