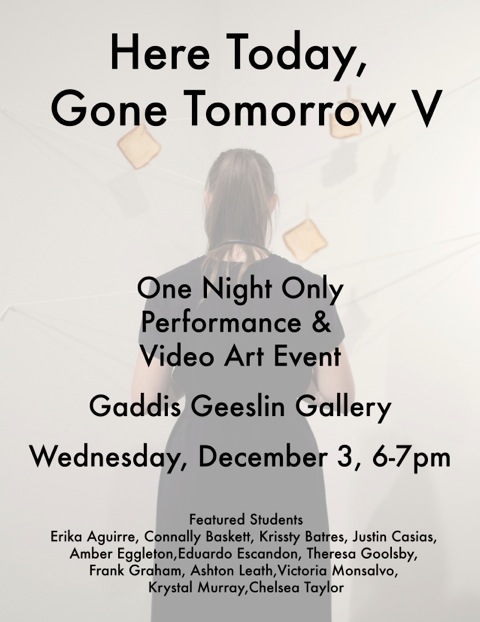 Here Today, Gone Tomorrow V is a one night only event featuring live performance art, video and video installations from the 12 students in Professor Annie Strader's Performance and Video Art class in the Department of Art.
The exhibit will present the results of an intense semester of practical and theoretical study of performance art and video. Performance Art relies on the relationship between the performer and the audience and this one night event allows the students to engage with their peers, faculty and community. This is the fifth year this exhibit has happened in the Gaddis Geeslin Gallery. The show is on Wednesday December 3; live performances will begin at 6 pm and go until about 7:30.

Featured Students
Erika Aguirre, Connally Baskett, Krissty Batres, Justin Casias, Amber Eggleton, Eduardo Escandon, Theresa Goolsby, Frank Graham, Ashton Leath, Victoria Monsalvo, Krystal Murray, Chelsea Taylor
Wednesday, December 3, 6-7pm. Gaddis Geeslin Gallery.

---
Upcoming Events
December 7-13 • "Nereides" Adrienne Mapps, Reception December 10th 6pm- 7:30pm LSC Gallery
December 10, 5-7pm • WASH Greatest Hits. WASH Building.
December 8-13 • Studio Art, Photography, & Animation Senior Show. Reception Saturday December 13, 11am. Gaddis Geeslin Gallery.
---
Department of Art PO Box 2089, Sam Houston State University Huntsville, TX 77341-2089 Phone: 936.294.4311