Hours
Monday - Friday 10am -5pm
Saturday 1pm-5pm
Closed on University Holidays.
Location
1028 21st Street Huntsville, TX 77340
On the Campus of Sam Houston State University
in Art Building F
For more information contact the Art Office
shsuart@shsu.edu
936-294-4311
Parking
Vistiors may park in the SHSU parking garage, or obtain a Visitor Parking Permit from Parking and Transportation. Visitor Parking information. Due to construction on campus around the Art Complex, parking may be a challege. Street parking may be available and is free in the Avenues acrooss Sam Houston Avenue from campus.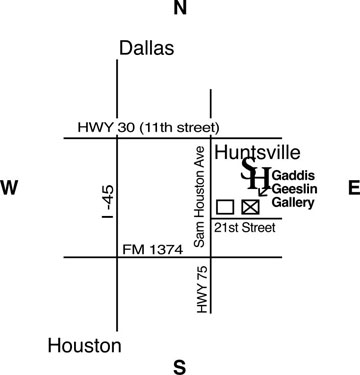 ---
Department of Art PO Box 2089, Sam Houston State University Huntsville, TX 77341-2089 Phone: 936.294.4311