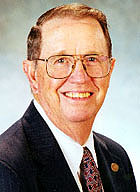 Sikes earned his bachelor of science degree in agriculture in 1955 and master of education degree in agriculture in 1957, and did post-graduate work at Texas A&M University. He taught in public schools in Mexia for one year and returned to teach at SHSU in 1959, retiring as a full professor in 1997.

As a student he was a member of the first National Intercollegiate Rodeo Association championship team, and won four national titles during his years as a collegiate cowboy. As a coach he has had eight national championship teams and many individual champions, with the best win record of any college or university in the nation.

He served as executive secretary for the National Intercollegiate Rodeo Association for 18 years and led the association during its growth. He has built three rodeo arenas at SHSU with little or no cost to the university, and the SHSU Rodeo Club is one of the oldest and best known in the nation. In addition, he established the SHSU Rodeo Alumni Association which provides scholarships to SHSU students.

He has a number of professional, civic and community honors including election as honorary member of the Golden Key National Honor Society, Who's Who Among America's Teachers, lifetime member of the SHSU Alumni Association, honorary lifetime member of the SHSU Rodeo Alumni Association, and life member of the Pro Rodeo Association.

He is also a member of the Texas Senior Pro Rodeo Association, the Texas Association of College Teachers, served on the Huntsville school board for six years, is a member of the First United Methodist Church of Huntsville, lifetime member of the Walker County Fair Association, served as judge for the Texas Prison Rodeo for many years, served on the SHSU Registration Committee since its inception and on the Convocation Committee for 25 years.

The Texas State University System board of regents adopted a resolution honoring him for his service to SHSU in 1996. He was inducted into the Texas Cowboy Hall of Fame in 1999, and established the Sikes Family Endowment at SHSU. His wife, Joanne, and both children-Sherri Stephens and Larry Sikes, are graduates of SHSU.
As profiled at the October 15, 1999 Distinguished Alumni Banquet