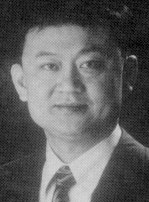 Thaksin Shinawatra, 47, is the Deputy Prime Minister of Thailand. He graduated with his doctorate in criminal justice from Sam Houston State University in 1978. Shinawatra was a member of the Royal Thai Police Department between 1973 and 1987. Between 1987 and 1994, he served as chairman of Shinawatra Computer and Communications Group, a business he formed and developed into a multi-million dollar industry. Shinawatra was named foreign minister of Thailand in 1994, and in 1995, he became the Palang Dharma party leader. He then was appointed Deputy Prime Minister to be in charge of traffic and transportation in Bangkok.

He is the founder of THAICOM Foundation, which initiated the satellite education program for young children in the remote areas who were otherwise unable to continue their education in the secondary school.

Shinawatra is president of the Association of the Thai Government Scholarship Students and of the Association of the Police Cadet Academy. This year he received the outstanding criminal justice alumnus award from SHSU. Shinawatra was named the "1993 Outstanding Telecom Man of the Year," a 1992 award in economical development and the "1992 Asean Businessman of the Year."
As profiled at the October 26, 1996 Distinguished Alumni Banquet