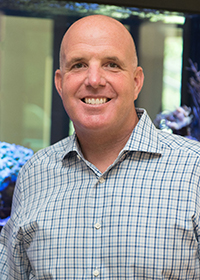 As CEO and COO of Quanta Services, Earl "Duke" Austin manages his business in the same way he manages every aspect of his life–with integrity, humility and grace.
A 1992 recipient of a Bachelor of Business Administration in management degree, Austin served as president of North Houston Pole Line until it was acquired by Quanta Services in 2001.
He was named chief operating officer and president of Quanta's Electric Power and Natural Gas and Pipeline divisions because of his strong leadership abilities. In 2016, he was promoted to chief executive officer.
Austin has remained an avid supporter of Sam Houston State University by contributing to numerous projects and programs and serving on the Sam Houston State University Alumni Association Board of Directors.
"For more than 25 years, Duke Austin has been an exemplary representative of Sam Houston State. He has typified SHSU's tradition of excellence and brought credit to the university by his personal accomplishments, professional achievements and selfless support," a nominator said.
He was diagnosed with non-Hodgkin's lymphoma in 2000 and continued his battle with cancer for five years. Keeping faith, family and friends as the pillars in his life helped him conquer his battle, and he has been cancer free for more than 10 years.
In addition to his contributions to SHSU, Austin is actively involved in fundraising for projects at the John Cooper School in The Woodlands, is a member of the Young Presidents Organization, serves on the calf scramble committee for the Houston Livestock Show and Rodeo, and is a board member of The Junior Achievement.
"Duke prefers to fly under the radar. He has contributed to numerous schools, charities and organizations, but rarely desires recognition," a nominator said. "He has risen to the pinnacle of the public corporate world and has done so with intelligence and integrity."
Austin has four children and lives in Houston with his wife, Sanette