John McManners
Awarded 2012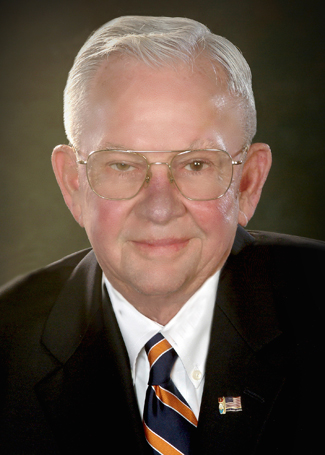 A 1962 SHSU graduate, Col. John McManners has led a distinguished career in the military.
Born in Weldon, Texas, McManners spent his formative years in Huntsville, where he earned his Bachelor of Science degree in history from SHSU in 1962. He also is a graduate of the Armed Forces Staff College, the United States Army War College, the United States Air War College, and earned his master's degree from Webster University.
At SHSU, he was commissioned a second lieutenant in field artillery through the ROTC and spent his initial tour as a paratrooper in the 82nd Airborne Division.
McManners retired in 1992 after a 30-year military career, which carried him to many parts of the world including Europe, Vietnam, Bosnia and Laos, where he worked with the famed Hmong Mountain Tribe in guerrilla warfare against the Pathet Lao and the North Vietnamese. He was personally decorated by the King of Laos as a "Knight of a Million Elephants" in 1969.
Among the many other military recognitions he received are Legion of Merit (2); Bronze Star; Defense Meritorious Service Medal; Meritorious Service Medal (3); Air Medal (2), Army Commendations Medal (2); National Defense Service Medal; Vietnam Service Medal; Army Service Ribbon; Overseas Service Ribbon; and Vietnam Campaign Medal.
After retirement from the military, he worked for a law firm in San Antonio and Austin specializing in social security disability.
Since returning to Huntsville in 2005, McManners has been an active university and community leader, with such organizations and committees as the SHSU Alumni Association, the Lowman Student Center Advisory Board, Friends of the Museum Board, and Military Memorial Committee; the Rotary Club and The Huntsville Item Reader's Advisory Board; and the East Texas Chapter of the Military Officers Association of America. He currently serves on the advisory board of the College of Humanities and Social Sciences and on the City of Huntsville, Texas, Veterans Affairs Advisory Board.
McManners and his wife, Geanie, reside at Elkins Lake. They have two daughters, Shannon McManners Hurst, who lives in Arlington, Va., with her husband Tres, and Kathleen McManners Seleny, who lives in The Woodlands with her husband Alex; two grandsons, Noah Daniel and John Alexander Seleny; and one granddaughter, Annelise Marie Seleny.