John Garrett
Outstanding Young Alumni
Awarded 2010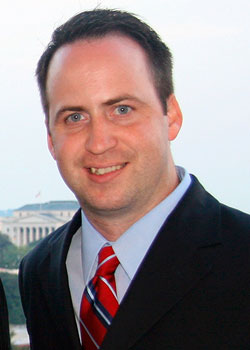 The owner, founder and publisher of Community Impact Newspaper, John Garrett built a company from three employees to one with 65 employees in less than five years, generating $6.9 million in 2009, just four years after it was established.
A 1997 graduate, Garrett's Community Impact Newspaper has become the most widely distributed newspaper in Central Texas, producing seven separate, free publications that serve Round Rock, Pflugerville, Cedar Park, Leander, Northwest Austin, Central Austin, Lake Travis, Westlake, Georgetown, Hutto, Taylor and Southwest Austin.
In 2009, Garrett began a new publication in the Cypress-Fairbanks area of Houston, adding an additional circulation of 105,000 to his 450,000 Austin-area circulation.
"There are many community newspapers being printed today, and there are even several that depend solely on advertising revenue, just as Community Impact Newspaper does," a nomination letter said.
"However, I haven't seen any with the standard for excellence, honesty and integrity that John has demanded from day one."
"The readers can't stop talking about how much they love our paper—how useful it is and how much they are learning about their community by reading our paper," the letter said.
The company has been recognized in multiple focus groups as the "first and only news source" where local residents get their news and is also the only 2009 National Newspaper Association award-winning newspaper in Central Texas, according to his nomination form.
In addition, Garrett's leadership, for which he was recognized earlier this year when Concordia University Texas selected him to receive the 2010 "Excellence in Leadership" award, sets him apart from other employers. One letter noted how he pays employees well above industry standards and provides benefits "not typically offered by small businesses," such as a 401k plan and good health and time off benefits.
"His leadership skills have made working for the company a privilege," one letter said. "A recent meeting started when John recognized that the hectic pace seemed to have some team members stressed. He thanked us as a group, but wanted to take it a step further, so he decided to go around the room and tell each employee what he appreciates about them."
"John is a remarkable talent with an innovative business that has changed the way a region of the state receives local news."
Garrett, and his wife, Jennifer, reside in Round Rock. They have three children: Mollie, Ruby and Sophie.