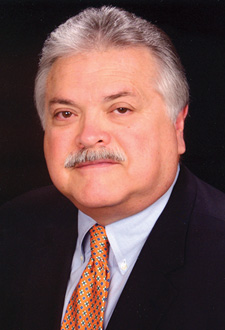 A public servant for more than 35 years, Ed Reyna's favorite saying is "making a difference today for tomorrow."

He has lived by those words throughout his career in the criminal justice arena and in his personal life as well.

The 1971 SHSU and Sigma Chi alumnus from Mission, Tex. also holds a master's degree from Southern Methodist University and attended the Harvard University JFK School of Government. He was one of the first federal probation officers to implement pretrial services for the Federal Court System.

He worked with the Texas Department of Corrections, Dallas County Juvenile Department and finished his career with the U.S. Probation/Pretrial Services Office for the Northern District of Texas.

Reyna also was chosen to establish the first U.S. Pretrial Services Office in the Southern District of Florida and was selected by the Federal Judicial Center to help train newly-hired federal probation and pretrial officers.

Many of the programs he helped create and implement are still in use today, including the mobile Pretrial Services unit dealing with the processing of large numbers of arrests; education services, in conjunction with the U.S. Bureau of Prisons, for families of soon-to-be incarcerated defendants; and "The Alternatives for Detention," a guide used for setting bail.
He is qualified as a mediator and a Family Law mediator and has shown a heart for his community by offering "pro bono" mediations for citizens of Dallas County who were not able to afford court ordered mediations. He has also taught English to Third World refugees.

Reyna and his wife, Carla, live in Dallas. They have three children — Courtney, Blake and Sara.