Ronny Carroll
Awarded 2009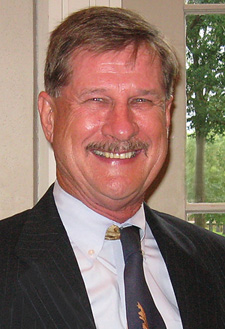 Ronny Carroll is a well-known name in the Houston area homebuilding industry.

A first-generation college student, Carroll came to Sam Houston State College on a football and baseball scholarship and graduated in 1965 with a business degree.

He was called into active duty by the U.S. Army and spent a year in Vietnam where he served as captain. A high point of every year for Carroll is his unit's Vietnam reunion. At the 25th anniversary of the Vietnam wall in Washington, D.C., he was given the honor of reading the names of 50 fallen soldiers.

After leaving the Army, Carroll became a pharmaceutical sales representative and was named the No. 1 salesman for two years.
He then received an offer from two college friends to go into the homebuilding business. Since then, has been named the Houston Custom Builder of the year (in 2000) and one of the 25 largest homebuilders of Houston (in 2008).

He has also served as a director of the Greater Houston Homebuilders Association and is a life director for the Texas Association of Home Builders.

Carroll is an active member of the Sigma Chi fraternity, for which he has served as chapter adviser; has coached little league and youth baseball; and was on the board of directors for Texas Guaranty Bank.

He is a past president and member of the SHSU Alumni Association board of directors.