John R. Ragsdale
Awarded 2008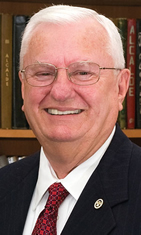 John R. Ragsdale is a name that will forever be emblazoned on the Sam Houston State University campus.

A recent donation by the 1959 graduate provided funding for the Office of Alumni Relations, the Enrollment Management division and for SHSU students through the creation of the Winnie Laurene Ragsdale Scholarship Endowment fund, named in honor of Ragsdale's mother.

For his generosity, the SHSU Visitor and Alumni Center became known as the John R. Ragsdale Visitor and Alumni Center.

A Caballero as an undergraduate—the precursor to the Sigma Chi fraternity, of which he was also initiated as a member—he went on to earn his Bachelor of Business Administration degree and a commission in the U.S. Army.

After working with the Goodyear Tire and Rubber Company for several years, with whom he was named one of the "Top Ten Sales Representatives," Ragsdale decided to branch out, opening a Burger King franchise in Houston. At the time of his retirement in 2000, he owned or co-owned a chain of 23 restaurants, with gross sales of $20 million annually and more than 450 employees.

During this time, he also became affiliated with Klein Bank, serving on the board of directors and becoming one of five major stockholders. Klein Bank was later sold to Amegy Bank.

Ragsdale currently volunteers with the Montgomery County Emergency Assistance program and serves on the board of directors for April Sound Church, where he is an active member.

"I have been blessed with much financial success and many friends, but I have not sought nor received honors or awards for these accomplishments," he said. "I consider them great blessings rather than great achievements."

Ragsdale, who now lives on Lake Conroe with wife Judy, has two daughters, Georgia and Laura.