Quatro E. Brooks
Outstanding Young Alumni
Awarded 2008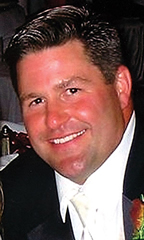 A former "Big Man on Campus" who found his home on the Bearkat football field, Quatro Brooks is now "building dreams into reality."
The 1995 SHSU graduate with a bachelor's degree in kinesiology is the Alumni Association's "Distinguished Young Alumnus."

Brooks, who coached high school football and baseball for several years after graduating, found his calling in home building in 2000, when he was named D.R. Horton's "Builder of the Year."

In 2002, he and friend Mitchell Moore established a custom home-building business, BrooksMoore Custom Homes, and in 2005, after Moore got out of the industry, Brooks started Brooks Custom Homes, LLC, which has become a multi-million dollar business.

He now creates approximately eight homes per year, "each true custom, ranging in size and price," and was recently featured on the cover of The Builders Journal with his wife, Kimberly.

"Although there have been periods of considerable change along the way, Quatro, the person, has not changed," said a nomination letter. "His ingredients for success are at his core: honesty, determination, a commitment to serving others and a strong faith in God.

"Even at a time when the housing market has slowed considerably, Quatro's ingenuity and 'Do the right thing' reputation within the market continue to enable his company to move forward."

A Sigma Chi fraternity alumnus who was voted homecoming duke, Brooks' generosity in the Houston area hasn't gone unnoticed.

"He and his employees donated their time to organize and lead the construction for a deserving family," said another letter. "The home of Bob and Sherri Weis, who foster 13 'special needs' children, was in real need of repair and expansion.

"Brooks Custom Homes teamed up with a local church, and with the help of 800 volunteers, they added 1500 square feet and completely renovated the home.

"The team worked around the clock for five days. This incredible project was televised on Channel 11 News."