Cecil N. Neely
Awarded 2007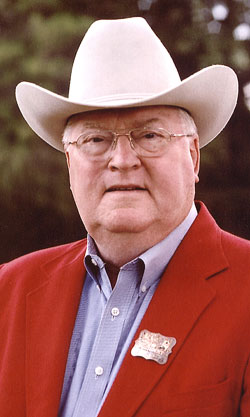 After one exceptional career in the military, Cecil Neely was primed to continue public service in a second distinguished career.
Neely came to Sam Houston in 1953 from Madison County, where he had demonstrated his leadership abilities as the first president of the Madisonville High School Honor Society.
After completing approximately 90 hours at Sam Houston State, he joined the United States Army as a private and rose to the rank of brigadier general during the 29 years he served. He was recognized on many occasions for the service he provided that went above and beyond the call of duty.
He holds the nation's highest peacetime award, the Distinguished Service Medal. He also received the Bronze Star for valor in Vietnam, as well as the Combat Infantryman's Badge, the Parachutists' Badge and numerous other U. S. and foreign awards. He has also been inducted into the Infantry "Hall of Fame" at the United States Army Infantry School in Fort Benning, Ga.
He was a member of the Joint Chiefs of Staff at the Pentagon and served as Nation's Duty Officer for the President of the United States and the Secretary of Defense.
During the time he was enlisted, he completed his undergraduate degree at the University of Nebraska and earned the Master of Arts degree in history from Sam Houston State in 1971.
After his retirement from the military, Neely began a second career in public service. In 1995, he returned to his Texas roots and took the role of county judge for Madison County. During his term he improved hospital service, resolved a long-standing redistricting problem to the satisfaction of the Justice Department, and helped reduce property taxes by 43 percent in two years, taking the county from the seventh highest taxed county in the state to approximately the 150 th . He was also instrumental in establishing Madison County's own District Attorney's office to help solve legal problems within that county.
In an old elementary school owned by Madison County, Neely established a "one-stop" center for the Texas Department of Health, GED Center, Work Force Development Center, Texas Department of Human Services, County Extension Agent, Texas Department of Transportation Driver's License office, Alcohol and Substance Abuse Program, and other youth programs.
Neely has also been a member of the Brazos Valley Council of Governments since 1994, serving as chairman for two years. The regional planning council covers a seven-county area providing services in the areas of health, housing, assistance to the elderly, and public safety planning.
He and his family have supported Sam Houston State University through the establishment of scholarship endowments for the College of Business Administration.
"Mr. Neely has represented himself, his family, his community, his country and his school with integrity, bravery and honor," said Jim Dunnam, Texas state representative for District 57.
"A man with accomplishments of this kind in all aspects of life is beyond the dreams of most people in this world. He represents all that it means to be distinguished and honorable," Dunnam said.
"After he assumed the position of county judge, I had numerous occasions to work with Judge Neely in a professional setting. He has been conscientious and caring with accomplishments too numerous to mention," said Alan Tinsley of Madisonville.
"Judge Neely is one of the finest persons I have the honor and pleasure to know and call a friend," Tinsley continued. "He has done Sam Houston proud by his accomplishments in life. He is the epitome of everything the Distinguished Alumnus Award represents."
Neely and his wife, Lynn Hardy Neely, who received her Master of Education degree from Sam Houston, are the parents of three children -- Susan, Russell and Michael.