William Dan Womack
Awarded 2005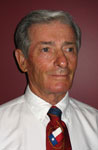 William Dan Womack is a 1960 graduate with a Bachelor of Science degree who spent the majority of his career working with the National Aeronautics and Space Administration.

A recipient of the NASA Exceptional Achievement Medal, Womack "took a degree in physics from SHSU to new heights," a nomination letter said.

"He was associated with NASA for 37 years and had scientific experiments on four Gemini missions and on lunar surface projects," the letter continued.

At the time of his retirement in 1998, he was the assistant to the director of space and life sciences for the Space Shuttle Program.

He and his wife, Jean, have four children and four grandchildren. The two currently reside in Guntersville, Ala.