Thomas Lee Ely
Awarded 2003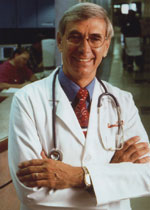 Thomas Lee Ely is a 1964 graduate with a Bachelor of Science degree in chemistry. He received is Doctor of Osteopathy degree in 1980 from Kansas City College of Osteopathic Medicine.

Ely, who had been a ROTC corps commander, was commissioned into the U.S. Army after earning his bachelor's degree, serving in the medical service corps and ultimately attaining the rank of Major.

While in the Army, he graduated with honors in the U.S. Army Aviation Flight Class and the Army Medical Department Officer Advanced Course. He took two tours in the Republic of Vietnam as a medical evaluation "dustoff" pilot and commanded medical evaluations in Vietnam and Fort Ord, Calif.
After working within the medical service corps for 12 years, Ely resigned to attend Kansas City College of Osteopathic Medicine, in Kansas City, Mo., on a health professions scholarship through the military. In medical school, Ely served as class president during his second, third and fourth years, graduated 10th out of 150 and was the recipient of the Upjohn Achievement Award as Outstanding Graduate.
Upon completing medical school, Ely returned to active duty in the Army, serving as chief of the department of primary care at Blanchfield Army Hospital in Ft. Campbell, Ky.; chief of the department of family medicine at Womack Army Hospital in Ft. Bragg, N.C.; family practice residency program director at Womack Army Hospital; and chief resident at DeWitt U.S. Army Hospital in Ft. Belvoir, Va.
In 1988, Ely retired from the Army after 20 years with the rank Lieutenant Colonel to work at a private practice in Clarksville, Tenn., where he worked for 14 years. In 2000, he was elected as chief of medical staff at Gateway Medical Center and in 2002, accepted the position of vice president for medical affairs/director of medical education.
During Desert Storm, in 1991, he was recalled into the Army and assigned as department chief at a large teaching hospital.
In 2001, Ely was the recipient of the Tennessee Osteopathic Medical Association's "Physician of the Year" Award, which is reserved for individuals with a record of meritorious service to their community, county, state and national professional associations, as well as the osteopathic profession.
"I met Tom while interviewing a replacement for my physician, who had taken care of my family and me for most of my adult life. I met with five or six doctors before a friend recommended Tom Ely as a true 'family doc', not just someone who saw patients," a nomination letter said. "It only took a minute or two to realize he really cared for his patients. And he has."
Currently, Ely is a member of many professional organizations and is a member, grand trustee, and president of Eta Xi Sigma Chi House Corporation.
"Tom Ely is a people person, with high integrity and clarity and someone with whom it has been a pleasure to work along side on many projects," the letter continued. "I'm sure there are Sam Houston alums that have distinguished themselves. Tom Ely's credentials, accomplishments and service puts him right there with them."
Ely and his wife Donna Ruth live in Clarksville, Tenn. He has three sons: Kevin, Theodore and Brad, and two stepdaughters: Kim and Wendy.