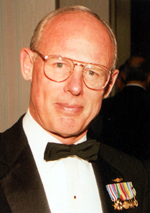 Born and raised in Texas, Ken Jordan was commissioned as an officer in the U. S. Marines following graduation from Sam Houston State University in 1961 with a degree in business administration.
While attending Sam Houston on an athletic scholarship, Jordan was a four-year letterman and captain of the track and field team, secretary of Sigma Chi fraternity, vice president of the junior and senior class, junior class favorite, and member of the Letterman's Association and the Student Union Board. Shortly after entering the Marine Corps, Jordan was a member of a nationally-ranked mile relay team and was an all-Marine track and field athlete.
His Marine Corps service includes duty in command from platoon to regimental level, encompassing combat duty in Vietnam with a Force Reconnaissance company. He compiled an outstanding military record and was recognized with numerous awards during his time with the Corps.
He has received numerous military decorations, including the Silver Star, the Legion of Merit, the Navy Commendation Medal, the Vietnamese Cross of Gallantry and the Combat Action Ribbon, among others, and he wears the Navy/Marine Corps parachute insignia.
Jordan was serving as director of personnel, Headquarters Marine Corps in Washington D.C., when he retired in 1988, after 27 years of service. He was then employed as a vice president with Bank of America in San Francisco where he was responsible for multiple levels of managers with offices throughout the country. While with the Bank of America he was awarded the CEO's Eagle Award for consistent exemplary performance.
Since 1998, Jordan has been a career transition counselor for Lee Hecht Harrison, providing assistance to military members leaving service and to clients who have been affected by employee layoffs.
He is a frequent contributor to publications, and his articles have been featured in many major newspapers and magazines.
Jordan has been active in community affairs and non-profit charitable organizations for many years. He served on the board of directors of the United States Olympic Committee and the Amateur Athletic Association, as president of the Marine Corps Force Recon Association, chairman of the board of directors of the Marine Memorial Association in San Francisco, and as a member of the editorial board of the Marine Corps Gazette.
He is currently president of the board of directors of the USO of San Diego, serves on the board of directors for the MCRD Museum and Historical Society, and was recently elected to the Marine Corps Association board of directors.
In 1999 he was inducted into the SHSU Lettermen Association Hall of Honor.
Jordan and his wife, Lee Ann, are the parents of two daughters.
As profiled at the October 25, 2002 Distinguished Alumni Banquet