J. Michael Myatt
Awarded 1991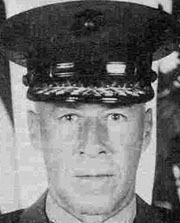 Major General JAMES M. "MIKE" MYATT has achieved prominence in the military resulting in national recognition by his peers and radiating to his alma mater. Mike has served his country with honor and has the distinction of being the youngest man in the history of the Marine Corps to be promoted to the rank of General. "Every assignment, good and bad, he has approached with the same integrity and intensity he showed as a student and fraternity officer at Sam Houston. His values and personal sacrifice have remained the same," comments his wife, the former Jill Bell, also a Sam Houston graduate in 1963.
Mike came to Sam Houston in 1959 and earned a Bachelor of Science degree in Physics in 1963, receiving the Physics award in 1962. Mike worked his way through school sacking groceries at Piggly Wiggly and became involved in many aspects of campus life. In 1960 he became a member of the Caballero Club, serving as their rush chairman and Inter fraternity Council representative. A charter member of the Epsilon Psi Chapter of Sigma Chi, Mike became the fraternity's president in 1962. Mike served on the Student Council, was Vice President of the Junior Class in 1961, Junior Class Favorite in 1961-62, and named to Who's Who the same year.
Mike enlisted in the Marine Corps Reserve in September, 1960, and was commissioned 2nd Lieutenant upon his graduation. He served in various command and staff positions within the 1st Marine Amphibious Brigade and the 2nd and 3rd Marine Divisions. He served two tours of duty in the Republic of Vietnam: one year as platoon commander, S-4 officer, and company commander with the 1st Battalion, 4th Marines, and sixteen months as Team Leader, Defense Special Projects Group and as Senior Infantry Battalion Advisor to the 5th Battalion, Vietnamese Marine Corps. Subsequent tours included instructor duties in Systems Engineering at the U.S. Naval Academy; Executive Officer for the 3rd Battalion, 2nd Marines; S-4 Officer for the 2nd Marines; Assistant Chief of Staff G-5; Operations Officer for the 4th Marine Amphibious Brigade; Plans Officer at Headquarters Marine Corps; and Marine Corps Member of the Chairman's Staff Group for the Chairman, Organization of the Joint Chiefs of Staff.
Mike attended the Naval Postgraduate School, Monterey, California, earning a Master of Science Degree in Engineering Electronics and earned the Naval Electronics Systems Command Award for professional achievement. He attended the Command and Staff Course of the Naval Way College in Newport, Rhode Island, graduating with distinction. He was the first Marine Corps officer to attend the Norwegian National Defense College in Oslo, Norway.
From July, 1985, through September, 1987, Mike commanded the 26th Marine Expeditionary Unit, participating in two Mediterranean deployments with the Marine Corps' first Special Operations Capable Unit. In December, 1987, he was selected for promotion to Brigadier General at the age of 46, which he received on June 27, 1988. Ten days later he was assigned as Director of Manpower Plans and Policy Division in Washington, DC.
On August 8, 1990, Mike was assigned Commanding General of the 1st Marine Division at Camp Pendleton, California. As Mike was assuming command, President Bush announced immediate deployment of troops to Saudi Arabia. The next day, the first units were sent: Mike and his men were off to the Gulf area, training intensively in Operation Desert Shield. In January, 1991, Mike was promoted to Major General in the field. When Operation Desert Storm began, he and his men were ready for their part. In February, he led his men successfully in the takeover of Kuwait City.
Mike has earned several medals and decorations including the Silver Star, Defense Superior Service Medal, Legion of Merit, Bronze Star, Meritorious Service Medal with gold star, Joint Service Commendation Medal,