Margaret McManic (BS '70)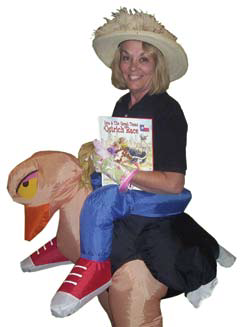 With a love for literature evident as she obtained a degree in Library Science at SHSU, Margaret McManis has made her own personal contribution as a children's author. McManis has worked as an assistant librarian/audio/visual director at Spring High School, as well as in other libraries of Houston, Austin, Angleton, and Spring. With an appreciation for children's literature, McManis desired to write her own work and began exploring her talents while attending college. She conceived the inspiration for her series of children's books after reading the biography of Ima Hogg and has since written two children's books. Ima and the Great Texas Ostrich Race and The Wild Texas Stampede have delighted children while the third book regarding Ima's circus experience is anticipated.
Along with her adventures in writing children's literature, McManis works in the career and disabilities department of Montgomery College in The Woodlands as well as a library volunteer at the Bonnie Wilkinson Elementary school in Conroe. She obtained a Master of Fine Arts degree in writing for children from Vermont College in Montpelier, Vt., in 2003. Some of her instructors there were such notables in children's literature as Eric Kimmel, Brock Cole, Ellen Levine and Jack Gantos.
McManis enjoys traveling and finds it beneficial in the writing process. She has traveled to Seguenza, Spain, where she worked with a team of missionaries in an English camp as well as visiting local elementary schools. She has spent time in Versailles, France, to write about the gardens and the influence they had on the Bayou Bend in Ima Hogg's home in Houston. She plans to revisit and write about locations in Europe and possibly write bilingual board books with her daughter, Meghan Scank, who is a bilingual literacy coach in Conroe.