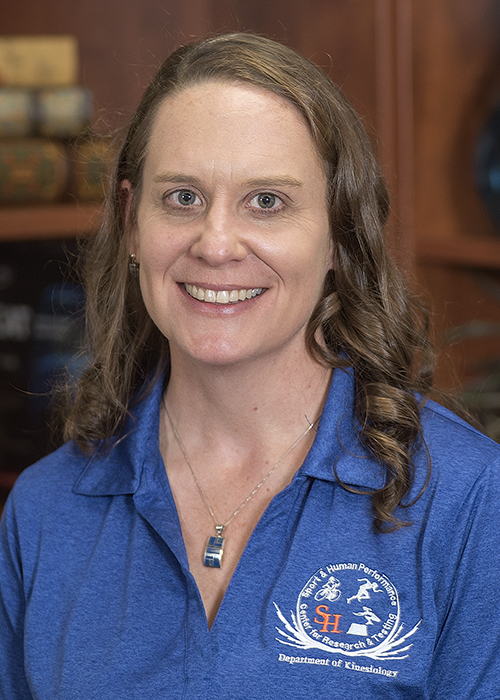 Jennifer J. Didier
Interim Chair, Professor
936-294-1183
LDB 107D
---
Bio
Dr. Jennifer Didier has an active research agenda which includes preventative measures for ACL injuries in female athletes, reliability and validity of testing measures in exercise science, integrating motor learning in physical education, and most recently virtual reality in motor skill learning and pedagogy. She has published in journals such as Gait and Posture, The Journal of Strength and Conditioning Research, Exercise Medicine, Perceptual and Motor Sports and many others. Dr. Didier serves on the NASPSPA Motor Learning & Control Area Program Committee, an international professional organization for the field of Motor Behavior and Sport Psychology.

Dr. Didier joined Sam Houston in 2010, with 8 years of experience as a professor at Southeastern Louisiana University, and has been an active faculty member in many roles across campus. Her primary courses are Motor Learning and Biomechanics at the undergraduate and graduate levels. In 2018, Dr. Didier completed the Certificate of Effective College Instruction through ACUE and has also completed numerous trainings and certifications in effective online pedagogy. She serves the Huntsville community in various roles. In 2011, Dr. Didier and her husband started developing the 1st ever Huntsville High School Mountain bike team and coached and managed the team for 5 years, before passing the torch to their priceless volunteers and families. As a 'retired' cyclist, triathlete, and soccer player, she currently spends her spare time volunteering in the schools; teaching bike skills and bike safety; and volunteering at fitness events in the community.
---
Education
Louisiana State University, 2003, Ph.D., Kinesiology, Concentration - Motor Behavior, Minor - Psychology
Texas A&M University, 1998, M.S., Kinesiology, Major - Motor Behavior, Minor - Psychology
Texas A&M University, 1996, B.S., Kinesiology, Major - Physical Education, Minor – Psychology
---
Selected Publications
Glave, AP, Didier, J.J., Weatherwax, J. Browning, S. J., & Fiaud, V. (2016). Testing postural stability: Are the Star Excursion Balance Test and Biodex Balance System Limits of Stability test consistent? Gait & Posture, 43 (1), 225-227. http://dx.doi.org/10.1016/j.gaitpost.2015.09.028.
Glave, A. P., Didier, J. J., Oden, G. L., Wagner, M. C., & Rivera, S. M.# (2018). Caloric Expenditure Estimation Differences between an Elliptical Machine and Indirect Calorimetry. Journal of Exercise Medicine, 2 (8), 1-5. DOI: https://doi.org/10.26644/em.2018.008
Didier, J. J., Glave, A. P., Montz, J.# (2013). In-season plyometric training transfers to sport specific movements. Journal of Fitness Research, 2(2), 14-22.