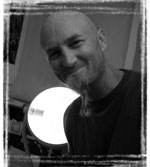 Michael Henderson
Associate Professor
University of North Texas, M.F.A.
Art Building D, R103
936.294.1314
mhenderson@shsu.edu
Teaching Area: Museum and Gallery Practices, History of Animation, Painting and Drawing
http://www.michaelhendersonstudio.com
Michael Henderson studied painting and drawing at the University of North Texas, where he received his MFA in 1986. From 1986-87, he was a fellow in the Whitney Independent Study Program of the Whitney Museum of American Art in New York. He is the recipient of grants from the Pollock-Krasner Foundation and Artists Space. His videos, video installations, digital prints, drawings, and paintings have been exhibited in museums and galleries throughout the United States.