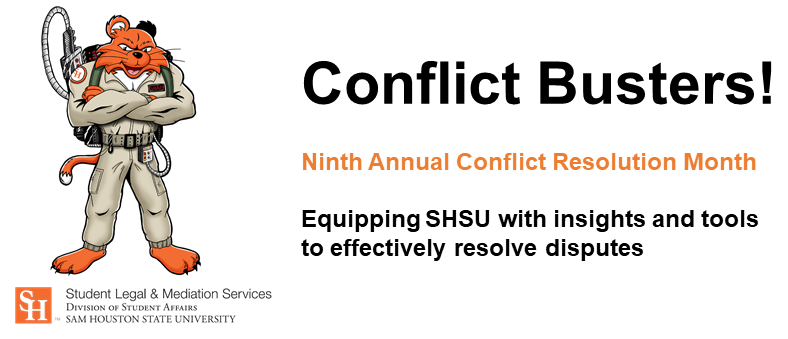 Become a Conflict Buster! Learn about mediation, negotiation, and restorative circles. All of the presentations (except Restorative Circles) are conducted via Zoom, with registration required.
The schedule of events includes:
Doug Noll, JD
De-Escalation Techniques
October 6, 6:00 pm - 7:00 pm (Register here)
Doug Noll, JD will provide an online training on de-escalation, listening to emotions, and emotional competency.
Jeanine Rispoli, JD, President, Texas Young Lawyers Association and Stephen Rispoli, JD, Assistant Dean, Baylor Law School
Civility
October 13, 7:00 pm - 8:00 pm (Register here)
Jeanine Rispoli, JD & Stephen Rispoli, JD will discuss the difference between lawyering on tv vs. the real practice of law. The importance of and why being civil and professional is our ethical obligation, how to build that environment in your practice, how it actually benefits the client, the opposing counsel, and the opposing party, and the challenges of doing so.
Karey Barnes, MSPA, Director of Student Rights and Responsibilities, South Texas College
Restorative Circles
In collaboration with the Office of Institutional Diversity & Inclusion
October 18, 8:30 am - 5:00 pm
(6.5 hours of Talent Management Credit)
(LIMITED SEATING--25 People only--Register here)
Karey Barnes, MSPA will lead a training on Restorative Circles. Restorative circles are an intense conflict resolution technique. It's origins are in restorative justice, where all persons who are impacted by a conflict have an opportunity to fully understand the conflict, promote accountability and behavioral change, develop empathy, and build community. The "circle" process is one that can be used in response to an issue that faces a community. The circle helps group members get to know one another, build relationships, increase understanding, and create a sense of community. As a result, the members of the circle can learn how to make better decisions, develop agreements for the mutual good, and resolve issues. This training is limited to a maximum of 25 people. The training will consist of theory and practice and it may be emotional.
Lee Jay Berman, President, American Institute of Mediation
Dealing Effectively with Anger: Theirs and Yours
October 26, 6:00 pm – 7:00 pm (Register here)
Lee Jay Berman, President, American Institute of Mediation will present about dealing with anger, both one's own and others, and how to identify issues that come up during arguments and being able to create logical and organized solutions.
Hesha Abrams, JD
Holding the Calm
November 16, 6:00 pm – 7:00 pm (Register here)
Hesha Abrams, JD will present about staying calm during conflict, including how to identify the motivations behind aggressive reactions and how to control one's own reactions in the face of adversity or provocation.
This year's presenters are extraordinarily competent conflict resolution professionals and leaders in their field. Their reputations are known throughout Texas and the country, and we are excited that they are sharing their knowledge with the Sam Houston community.
Follow our social media pages to keep up with our office events.
Follow us on Facebook by clicking here.
Follow us on Instagram by clicking here.
Follow us on Twitter by clicking here.