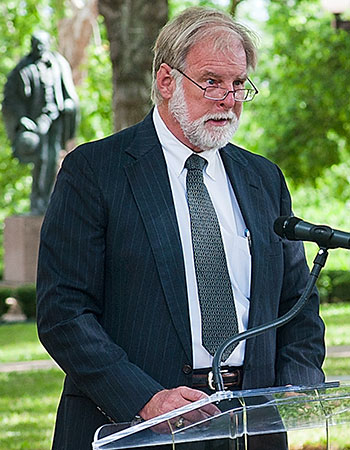 John Peltier '72
John Peltier
The founder, CEO and partner of Peltier Brothers Construction, John Peltier has made a name for himself as a builder of things that go well beyond the facilities his company creates.
Since the inception of his now multi-million-dollar organization in 1978, Peltier has constructed a reputation that incorporates integrity, humility, a strong work ethic, and, above all, service.
"John is the epitome of success in every aspect of his life, but he is a strong, unselfish and unassuming person, always working quietly behind the scenes, steadfastly doing things in selfless service to others," a nominator said. "He works very diligently to direct recognition of service to others, rather than himself."
Peltier's history of service began upon graduating high school, when he immediately enlisted in the military and served as a medic during the Vietnam War. Through the Medical Civil Action Program, he worked with a team that went to villages, schools, orphanages and refugee centers several times a week and provided medical and dental services to the Vietnamese civilian population living in rural areas.
As one of 12 siblings, he was able to utilize his GI Bill to attend SHSU, where, while working to obtain his bachelor's degree in 1972 in industrial technology and photography, he supplemented his income as a correctional officer with the Texas Department of Criminal Justice, while also serving as a member the Pi Kappa Alpha fraternity.
Since graduating, the attributes he developed in his strong Christian family have carried over into his service at SHSU as a supporter of Bearkats in Business and presiding over the 2012 memorial service of alumnus Fred Pirkle, as well as in his home in Tomball as a visible family and church leader.
In 1974, Peltier married his college sweetheart, Janie, to whom he points as his compass in negotiating life's many failures and successes.
Their involvement with TOMAGWA Healthcare Ministry, for example, has aided in the provision of quality health care and restoration dignity to uninsured, low-income families and individuals in the Tomball, Magnolia and Waller areas. His Grace Foundation also benefits the Texas Children's Hospital.
But Peltier's service extends beyond the boundaries of Greater Houston area, and even beyond the SHSU campus; his work has touched the lives of people around the globe.
"John's passion is best demonstrated by his dedicated hard work to demonstrate the love of God and take Christ to the poor, needy, and oppressed by serving alongside the poorest of the poor to drill water wells, build churches and homes, and provide for the care and education of children," another nominator said.