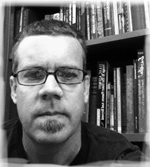 Edward Morin
Assistant Professor
Syracuse University, M.F.A.
Art Building D, R100
936.294.1320
emm026@shsu.edu
Teaching Area: Computer Animation
Edward Morin received an MFA from Syracuse University in Syracuse, New York, and a BFA from the University of North Texas in Denton, Texas. He has also completed 40 hours of post-baccalaureate work in Computer Science, including 18 graduate level hours, at Columbus State University in Columbus, Georgia. He has been working in digital and electronic formats since the late 90's, including animation, interactive multimedia, physical computing, rapid prototyping, sound and video.