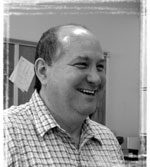 Patric Lawler
Associate Professor
University of Iowa, M.F.A.
Art Building D, R105
936.294.3726
art_pkl@shsu.edu
Teaching Area: Design
Pat entered college in 1971 as a Math major who lacked maturity and discipline to be in school. After the birth of their first child, returned to school as an Art major. Encouraged to pursue the BFA degree, he had to redo 4+ years of work for faculty portfolio review to pursue the BFA. While still a grad student at the University of Iowa, he applied at SHSU, was hired, completed his MFA.