What is UNIVERSITY 1301?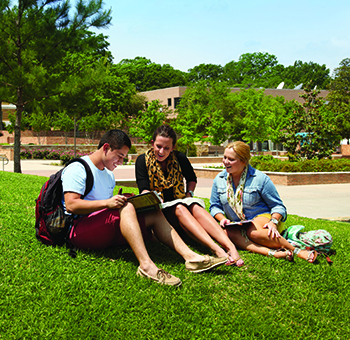 UNIV 1301 – Introduction to Collegiate Studies – is a three-hour, writing-enhanced elective for first-year students. Coursework provides an introduction to Sam Houston State University (SHSU) as an academic community, explores fields of study and areas of interest available to students, and acquaints students with learning tools and resources available at SHSU. The course is designed to engage students in learning and to orient them to the university community from the outset of their undergraduate studies in a way that will bridge to later experiences in their chosen majors.
Each section of UNIV 1301 is limited to 25 students to foster student-based support and study groups. Interested students should register for this class under the University-Wide link in the registration menu or please contact the First-Year Experience Office at fye@shsu.edu or (936) 294.3422 for information on major-based select reserved sections.
Specialty UNIV 1301 Sections
Specialty sections of UNIV 1301 are tailored to the themes and experiences of select academic programs. A special section of UNIV 1301 has been reserved for students in the following groups:
Honors Students:- UNIV 1301.60 (CRN 82253) is designed specifically for honors students (fall semester only)
Pre-Vet Students:- UNIV 1301.14 (CRN 82264) is required for all first-year Pre-Vet students (fall semester only)
Terry Scholars: UNIV 1301.02 (CRN 82240) is required for all first-year Terry Scholars (fall semester only)
Spring Connections: UNIV 1301.05 (CRN 22656) is designed for students starting their SHSU experience in the spring (spring semester only)
If you are in one of these groups, please register for the section listed above. In the case of the Pre-Vet UNIV 1301, please contact your Agricultural Science advisor or the Student Success Initiatives office to release a reserved seat for you to proceed with registration.
For students who are interested in taking several courses with students in a learning community based on a major or interest see Freshman Learning Communities.
Who Teaches it?
UNIV 1301 is led by faculty, staff, and administrators who have a special interest in the success of freshman students.
Why Enroll in it?
Nationally, students who actively take part in a freshman seminar course have higher GPA, higher retention rates at that college, and higher graduation rates. Students will receive academic and personal survival tools, get a general orientation to the resources and services available at Sam Houston State University, get to know other students, receive personal attention, and have fun. UNIV 1301 is designed to help make the transition to college life a little easier.
Need help registering? Steps To Register