Cultural Contributor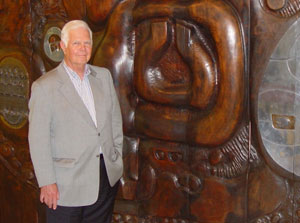 During a recent trip to the campus Donald M. Rose '58 was able to revisit a sculpture that he helped create and helped contribute to Sam Houston State University. Although an accountant not artist by trade, Don was instrumental in crafting the original abstract that has been on display in the Newton Gresham Library since 1988.
Don was vice president and controller of Gulf Resources & Chemical Corporation from 1967 to 1986 and is very knowledgeable about the piece. Sam Houston State University art professor Charles Pebworth sculpted the relief abstract for the Gulf Resources & Chemical Corporation in 1976 and the untitled piece was exhibited in the lobby of GR&C corporate headquarters in downtown Houston for twelve years. When the company relocated their offices to Boston in the mid '80s, Don made sure that the sculpture was donated to Sam Houston State University.
The sculpture weighs over 3000 pounds, he says, and features massive panels of Honduran mahogany that are 12' high. The central image is an interpretation of a chemist's beaker – the GR&C corporate logo – and is surrounded by samples of metals and minerals that were at the time produced by Gulf Resources & Chemical. The arrangement includes lead, spodumene ore, zinc, silver and coal and Don can identify each piece, as he selected and shipped the ore and metal samples to the artist.
Don helped commission the artist for GR&C and has an eye for talent. "Charles Pebworth," Don states, "was 1987's Texas Artist of the Year and his trademark is the use of stainless steel. It was quite thrilling to commission him early in his career and then watch him gain recognition."
Don's corporate involvement with the Pebworth project has led to a life-long interest in the arts and today he and his wife Shirley participate in several Houston foundations. Shirley is chairperson of the Blaffer Gallery and serves on the executive committees of the Alley Theatre and the Moores School of Music. They are season subscribers to the Houston Grand Opera and to the Alley Theatre and regularly attend those performances, as well as special art events at galleries throughout the area and in New York. Don's eye for artistic talent continues to serve the community; both he and Shirley are members of the Collectors Group, which helps procure new acquisitions for Houston's Museum of Fine Art.
When not fundraising for the arts or searching for fresh artistic talent, Don likes to spend time in Canada, fishing. And to date -- not counting the ones that got away -- his best acquisition in that endeavor has been a 10-pound Northern Pike!
For more information about this article, please contact the author: Margaret Quarles at (936) 294-4997.