The National Science Foundation has funded a new Research Experience in Mathematics (REU) grant awarded to Principal Investigator Dr. Scott Chapman and Co-Principal Investigator Dr. Ken Smith, both faculty members in the Sam Houston State University Department of Mathematics and Statistics. The nine-week summer program will provide an opportunity for 12 undergraduate students, working in four teams of three students each, to study under a professor in an area of specific interest. The selected students will work with their professors to produce research results (publications, presentations, etc.).
Students participating in the REU program will also receive a stipend and provisions for housing for the duration of the program.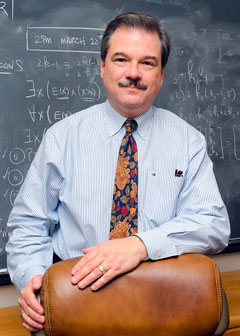 Dr. Chapman is no stranger to directing REU programs. Before coming to SHSU in 2008 as a full professor and Scholar in Residence, he served for nine years as principal investigator and program director of Trinity University's Mathematics Department's NSF-funded Undergraduate Research Experiences in Mathematics Program. His work with this program resulted in over $800,000 in National Science Foundation funding. Students he directed in Trinity's REU have received or are currently pursuing graduate degrees at Harvard, Berkeley, UCLA, Rice, Chicago, Michigan, Rutgers, California Santa Barbara, Nebraska, and MIT. Three of his former research students have won NSF Graduate Fellowships. His work with REU students has led to 19 publications in refereed mathematics journals with 31 different undergraduate co-authors.
In 20 years of involvement with undergraduate students, Co-PI Dr. Smith has directed a variety of research projects in matrix analysis, cryptography, graph theory and algebraic combinatorics. Dr. Ken Smith directed or co-directed three different NSF funded REU grants at Central Michigan University, and directed an NSF undergraduate research program at Sam Houston from 2007 to 2011. His research students have won many local and national awards for their work and presentations. Recently Dr. Smith chaired a university-wide committee that created an undergraduate research center at Sam Houston and a summer on-campus research program.
Students wishing to apply for the Summer 2014 REU program will need to do so by the end of February 2014. Offers will be made in March 2014 and the program will begin in June, near the beginning of the Summer 2014 term.
The Sam Houston State University Department of Mathematics and Statistics is clearly a national leader in promoting undergraduate research. It also operates a REU program in Hawaii, the Pacific Undergraduate Research Experience (PURE), with faculty members Dr. Rebecca Garcia and Dr. Brian Loft serving as the principal investigators. In addition, the department recently partnered with the Department of Biological Sciences in an NSF-funded pilot program. Principal investigators included Dr. John Alford and Dr. Ed Swim of the Department of Mathematics and Statistics, and Dr. Bill Lutterschmidt and Dr. Jeff Wozniak of the Department of Biological Sciences.