Dean John Pascarella participated in the 2014 Germany Today program June 14-21, as a guest of the German Higher Education Exchange agency, known as DAAD in German. Nineteen individuals, from American and Canadian universities and government agencies, participated. Besides enjoying good food and World Cup soccer games, Dean Pascarella learned about the different types of universities in Germany, differences between higher education in Germany and the United States, and explored opportunities for student and faculty exchange and study abroad in Germany and vice versa.
German higher education offers a three-year bachelor's degree, a two-year master's degree, and the doctoral degree. The shorter bachelor's degree is due to the lack of general education requirements, which are covered in high school in Germany, and the focus on the specialization in the major. Most bachelor degree programs in Germany are only taught in German, but many master's degrees and most doctoral degrees can be done in English. Universities of Applied Science do not offer doctoral degrees, faculty must have at least five years of industry experience, and teaching loads average 18 hours per week, while teaching loads are less and research expectations much higher at comprehensive and technical research universities. Interesting fact: Tuition is not charged at any German public university for German citizens!
The group visited the DAAD headquarters in Bonn, Germany, two universities of applied science (UAS-Cologne and UAS-Trier Birkenfield campus), a comprehensive research university (University of Cologne), a governmental research organization (Franhofer Institute), and a technical research university (Technical University of Munich). The University of Applied Science-Trier Birkenfield campus offers summer study courses in sustainability and renewable energy, and is a leader in these topics among German applied science universities. Dean Pascarella says, "We hope to begin developing programs with this campus in our engineering technology disciplines related to renewable energy technologies." Students and faculty members interested in studying, teaching, or doing research in Germany are encouraged to contact Dean Pascarella for more information.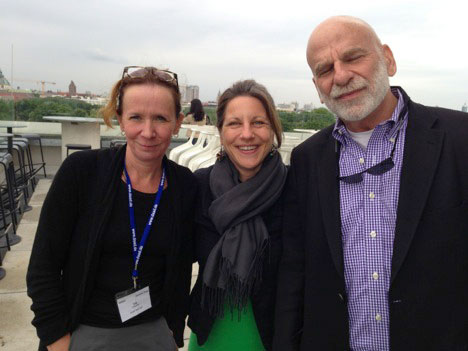 DAAD (German Academic Exchange Agency) hosts Uta Gaedeke and Miriam Hippchen and Germany Today participant Dr. Jeffrey Peck (Dean, Weismann School of Arts and Sciences, Baruch College, City University of New York) at the Technical University of Munich, Germany.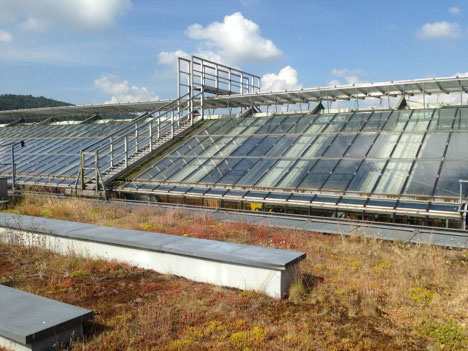 View of the roof at University of Applied Science-Trier Birkenfield Campus with a green roof and solar photovoltaic panels. The University generates approximately 1/3 of its total electrical power needs from a combination of solar panels and wind turbines.