Welcome From the Chair
Thank you for taking the time to visit our website. Whether you are a prospective student, interested parent, alumnus, or just surfing through, I hope you will find something of interest to you here.
About the Department's Programs
The Agricultural Sciences program has multiple educational centers and complexes. The Horticulture Center has two greenhouses and laboratory facilities for floral design. The Agricultural Engineering Technology Center provides students with hands-on experience in metal fabrication, electricity and electronics, hydraulics, structures, alternative energy resources, and soil and water conservation. The 1,740-acre Gibbs Ranch Education and Research Facility, located north of campus on Highway 75, serves as a living laboratory for all aspects of agricultural and natural resource management.
Industrial Sciences encompasses diverse programs which prepare students for a wide variety of careers in many important fields. Programs include design and development, industrial education, industrial safety management, construction management, and electronics.
Contact Info
Department of Agricultural Sciences and Engineering Technology
Sam Houston State University
Box 2088
Huntsville TX 77341
936.294.1216
---
Heath Schielack Memorial BBQ Cook-Off
November 21st and 22nd @ Walker County Fairgrounds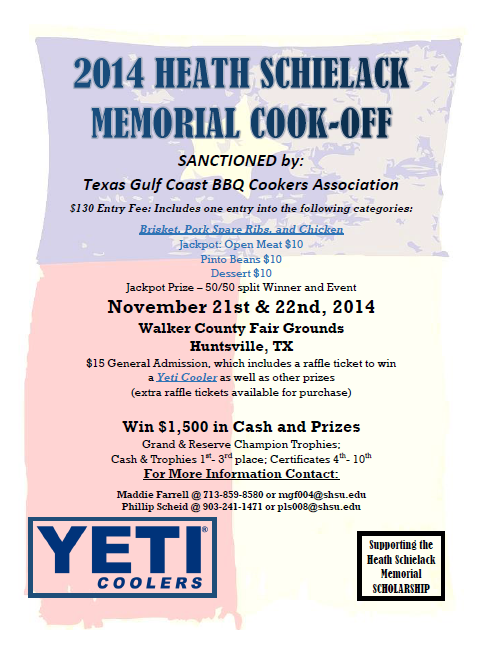 Don't Forget Curtis Grimes on November 19th @ Shenanigans 10pm
Proceeds go the Heath Schielack Memoral Cook-off you can get your tickets at Cavendars in Huntsville and Conroe or from the SHSU Ag Business Club. Tickes are only $10.00. Come support a great cause and listen to great music!!!
Block and Bridle 2014 Chili Cook-Off Thursday December 4th @ Indoor arena/ Ag complex
5 person Team- $50.00 entry fee per team. New for 2014 Beans and Dessert categories. Please See the registration form for more details.