Sam Houston State University Planetarium Schedule, Summer 2015
| | | | |
| --- | --- | --- | --- |
| Date | Time | Show | Notes |
| Thursday, June 11 | 3:00 p.m. | Back To The Moon For Good | |
| Thursday, June 18 | 3:00 p.m. | Magic Treehouse: Space Mission | |
| Thursday, July 9 | 3:00 p.m. | Back To The Moon For Good | |
| Tuesday, July 14 | 7:30 p.m. | TBA | PLUTO! PLUTO! PLUTO! |
| Thursday, July 16 | 3:00 p.m. | Magic Treehouse: Space Mission | |
| Thursday, July 23 | 3:00 p.m. | Back To The Moon For Good | |
| Thursday, July 30 | 3:00 p.m. | Magic Treehouse: Space Mission | |
| Thursday, August 6 | 3:00 p.m. | Back To The Moon For Good | |
| Thursday, August 13 | 3:00 p.m. | Magic Treehouse: Space Mission | |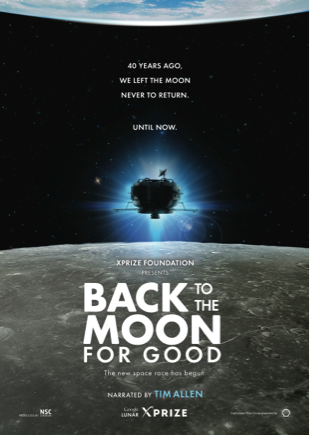 Immerse yourself in a race to the Moon 40 years after the historic Apollo landings.
Learn about the history of lunar exploration, and the Moon's resources. Discover what humanity's future on the Moon might hold. See how a competition among privately funded international teams is ushering in a new era of lunar exploration.
Narrated by Tim Allen, BACK TO THE MOON FOR GOOD presents the Google Lunar XPRIZE, and the personal stories of competition and collaboration it inspires.
Travel with the brother-sister duo, Jack and Annie, in their Magic Tree House as they discover a note that asks them to answer a series of six questions about space. With the help of the astronomer, the Internet, an astronaut, books and the writer of the mysterious note, Jack and Annie are taken on a wondrous journey of adventure and learning.
This exciting voyage will carry visitors to the planets and far out into the Universe where Jack and Annie nearly get… Well, we don't want to give it away. The adventure is just beginning!
The planetarium is located in the Farrington Building Room 102, email Mike Prokosch at mwp007@shsu.edu for more information.

---
Sam Houston State University Observatory Schedule, Fall 2015
Dates (Day of Week):
September 14, 2015
September 15, 2015 Asteroid Ceres is stationary, 2:00 EDT
September 23, 2015
September 24, 2015 Mars 0.8 degrees north of Regulus, 1 P.M. EDT
September 30, 2015 Mercury is in inferior conjunction, 11 A.M. EDT
October 1, 2015
October 5, 2015
October 6, 2015
October 14, 2015
October 15, 2015
October 19, 2015
October 20, 2015 Last Quarter Moon
November 2, 2015
November 3, 2015
November 11, 2015 New Moon
November 12, 2015 Northern Taurid Meteor Shower Peak, 15 ZHR
November 19, 2015 Last Quarter Moon
November 20, 2015
Time (for all dates): 8:00 p.m.
These are all of the possible dates for the observatory. Any of these dates can and will be canceled if the weather is raining. If the weather is merely overcast, the lab at the observatory will remain a go but with different requirements. Call 936-294-3664 to see if the observatory lab has been canceled. Students arriving later than 15 minutes after start time will not be admitted. Arrive early. Bring a red flashlight and expect mosquitoes.
There will be no makeup days for any labs canceled. Any questions or concerns should be directed to Dr. Miller.
The address to the observatory is 26 Knox Circle, Huntsville, Texas...that is the address you should use with Google Maps. Allow for 25 minutes of drive time once you leave campus.
Directions to Observatory: