Sky Soldier Travis Watson, All-American Success Story
Travis Watson, class of '12 and '14, is an All-American success story if there ever was one; but he will be the first to tell you that earning the accolades has never been as easy as placing the trophies on a shelf.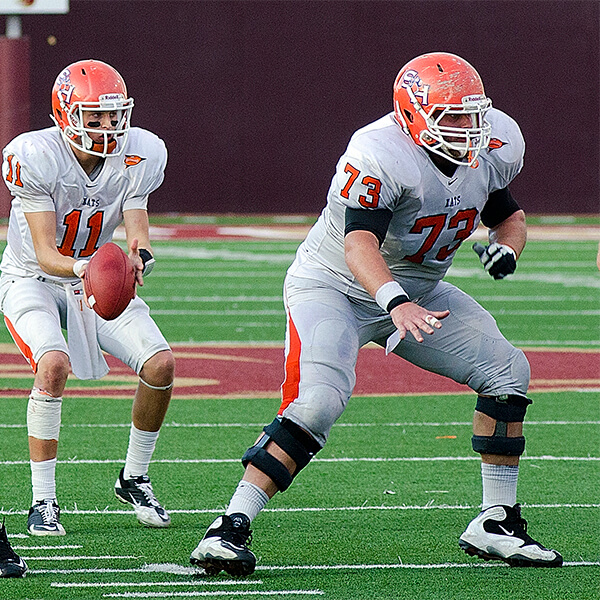 He credits his coaches on the Bearkat football team for showing him that when the going gets tough, you get tougher.
"That discipline shaped me and paid more dividends than I could have imagined," said Watson.
One lesson in discipline came when his coaches suddenly changed his playing position from tackle to center, right after he missed an entire season because of a broken leg.
"I thought 'what are you talking about? I have never played center in my life,'" said Watson.
His coach didn't give him an option, so Watson rose to the occasion and took control of the line.
He and the 2011 Southland Conference championship team finished the season 14-1 and reached the FCS National Championship game. While at Sam, he was selected to three All-American honor squads and was named Southland Conference Football Student-Athlete of the Year in 2012.
Early in his undergraduate studies he had taken Arabic courses and secured a State Department scholarship to study Middle Eastern culture for one summer in Jordan.
After graduating with a degree in political science, Watson went to infantry school and was able to train with a National Guard unit in Texas while getting a master's degree in Homeland Security Studies.
He graduated and earned his commission in December 2014 and was soon on his way to Ft. Benning, Georgia. He could not have been happier.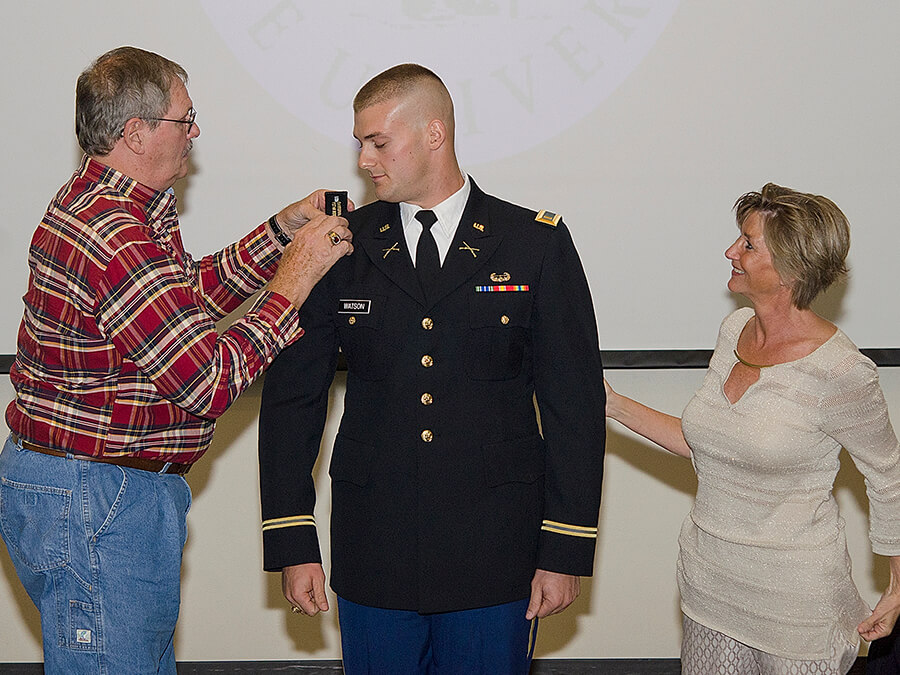 "Everything had been great. Then I got knocked down," he said.
Watson was dropped from Ranger School on the first day when he was told his push-ups weren't up to the school's strict standards. But he did not give up.
In October 2015, after completing Airborne School, he was given a second chance at becoming a Ranger.
He successfully made it through the first phase of training and at the end of the second or "mountain" phase, which included 10 days of sleep and food deprivation and 40 pounds of weight loss, Watson was faced with another challenge. He remembers walking into the bathroom one morning, but he doesn't remember anything else.
"I passed out and cracked my head open. I had a subdural hematoma; my brain was bleeding and I was in ICU for a week," he said.
He woke up to learn he would recover from his injuries, but he had once again been dropped from Ranger school.
He admits it would have been easy for him to feel sorry for himself, but anyone who knows Watson knows that is never going to happen.
"You have to sit back and realize nothing is going to go as planned; life is not fair. The only way to get to where you want to go is to work your butt off and never quit. If people doubt you, shake it off and keep going," said Watson.
Watson now has recovered and will be in Italy for the next three years with the prestigious 173 Airborne Brigade Combat Team and his new bride, SHSU alumna Lauren Davis.
Watson is proud of becoming a "Sky Soldier" and is determined to complete Ranger School. He hopes to one day become a Green Beret.