Thanking Heroes with Hi-Tech Engineering
Imagine for a moment not being able to brush your own teeth, comb your hair or feed yourself.
Assistant professor of management Pamela Zelbst admits she never did until she and a group of colleagues and students made a trip to the Center for the Intrepid, a rehabilitation facility in San Antonio that treats veteran amputees and burn victims.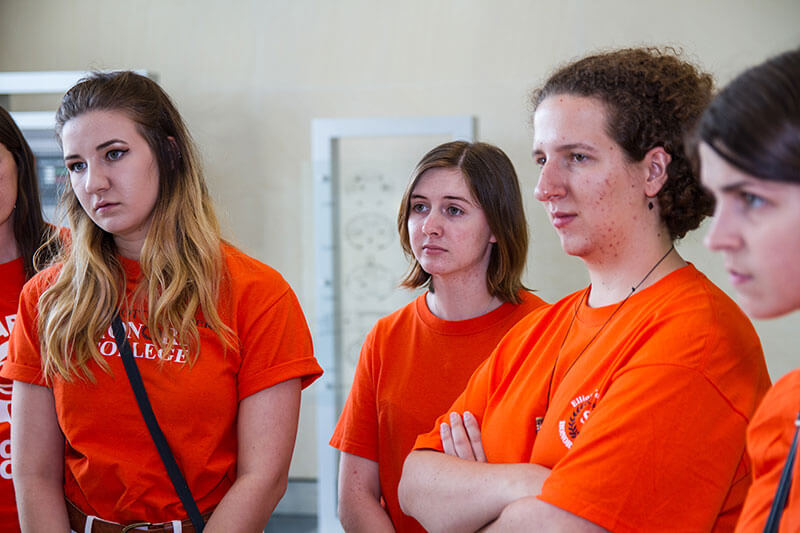 "We don't have problems. When you look at these individuals, you know they have problems," Zelbst said.
Zelbst and the others, including Honors College student Maureen Reynolds, knew they had to do something to help.
"Seeing all of the things the veterans have to go through to recover was very moving," Reynolds said. "I was able to realize more personally what a great need for adaptive devices there really is."
The first thing they wanted to do was meet the needs of a female veteran who has no arms or legs.
"She simply wants to put on her own deodorant. When you think about that, it simply astounds you," Zelbst said.
Zelbst, who runs the Center for Innovation and Technology at SHSU, knew the center's state-of-the-art 3-D printer had the capability to print a device to help this veteran; she just wasn't sure how to do it.
It changes you. This is one little product, and it had an intensely profound impact on somebody's life.
Graduate student Devon McCullough teamed up with Reynolds to start designing a product. McCullough was able to create a basic concept for the device but felt it was too large to provide the most benefits, so he called on fellow Bearkat Scott Golightly to help. The finance major surprised himself with how quickly he took to the design process, and a smaller device was completed.
"It changes you. This is one little product, and it had an intensely profound impact on somebody's life," Golightly said. Another reason to be excited—they have a patent pending on their invention.
"It's astounding," said McCullough. "I never thought in my life I would have a patent."
"I am very excited," added Reynolds. "This whole experience has given me valuable insight into the world of 3-D printing, as well as contacts for future jobs."
As for Golightly, the experience has led to a decision to pursue a degree in engineering after earning a finance degree.
"I love the idea of being a problem solver and working on tools that will help people," he said.
The students are going to have another chance to help a veteran very soon when they create a "home kit" to meet the specific needs of a veteran as part of the Wounded Warrior project.